Top 5 Things to Know When Moving to the UK
8th June, 2019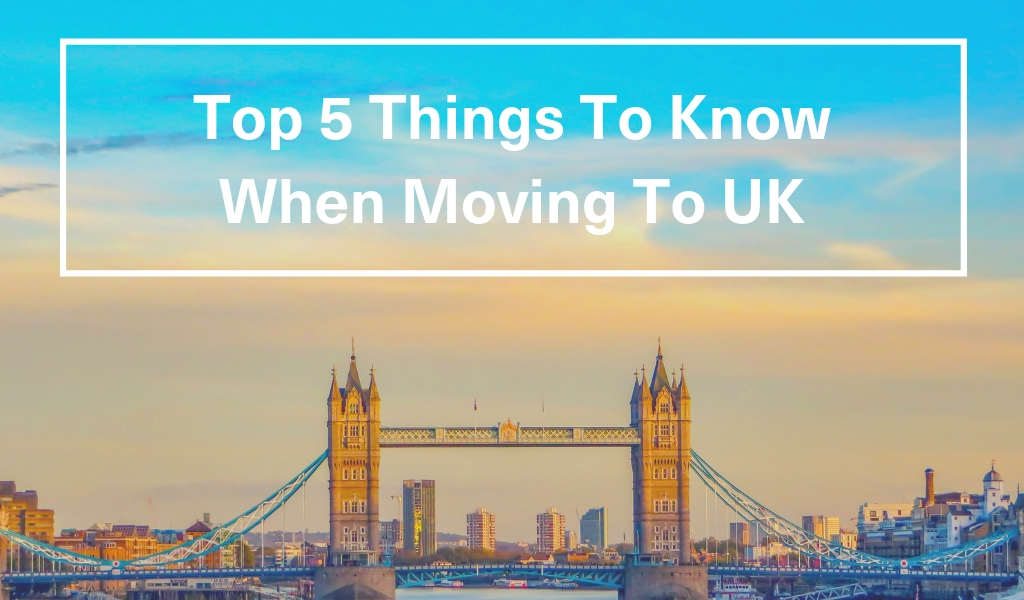 With a population of over 68 million, the United Kingdom has one of the largest economies in the world and is a major player in world affairs. It is an attractive destination for Australian expats, with plenty of career opportunities available and an easy assimilation, given that there are no language barriers. In addition, the United Kingdom is a melting pot of ethnicities and religions and, as such, is quite a tolerant nation.
The United Kingdom may be home to some of the coldest, wettest weather on the planet, yet it has been a significant player on the world stage for well over a thousand years. It is a country steeped in history, with its culture informing the way of life in countries all around the world.
If all that sounds like the optimum living and working environment, here are the five things you should know before you make the move to the United Kingdom:
The United Kingdom is much more than just England (or London!)
The United Kingdom is incredibly diverse
The weather can be terrible
Contrary to popular belief, the food can be delicious
There could be changes to visa requirements post-Brexit.
1: The United Kingdom is Much More than Just England (or London!)
The United Kingdom consists of four distinct countries—Scotland, Wales, England and Northern Ireland—each with their own culture and even language.
Scottish, Northern Irish, Welsh and English people do not appreciate it when they are lumped together as one people. You need to be considerate when discussing nationalities. It's always safer to talk about someone being from 'the UK' if you're unsure about their nationality.
In addition, the term 'Britain' encompasses the large island on which England, Scotland and Wales are located. It does not encapsulate Northern Ireland.
When relocating to the UK, most people have their sights set on London—for good reason. It is one of the world's great cities and has a population of over 8.6 million. But, when deciding where in the UK to relocate to, don't feel you are limited only to London.
Firstly, London is expensive and it can be very competitive when it comes to securing employment. The UK is full of other great cities, from Cardiff, Belfast and Edinburgh, right through to Glasgow, Manchester, Liverpool and Birmingham. All these great cities offer plenty of positives for an Aussie expat.
2: The United Kingdom is Incredibly Diverse
If you're moving to the UK for cups of tea, cosy pubs and bangers and mash, rest assured that you'll find plenty of that. But, these days, you'll find so much more—the UK boasts influences from all over the world.
The UK has embraced multiculturalism wholeheartedly. If you visit its major cities, you'll find Indian, Pakistani, Caribbean, Chinese, Japanese, Middle Eastern and almost every other culture making its presence known, either through their food or their language. You can literally explore the world just by walking down the local high street.
3: The Weather Can Be Terrible
If you love sunny days and blue skies, make sure you get as many in as you can before you move to the UK.
In London, July is the hottest month with an average temperature of 19°C. You can expect the most hours of sunshine a day in June, when there is an average of 7 hours of daylight per day. The coldest month is January, which has an average temperature of just 5°C. The wettest month is October with an average of 71mm of rain.
Moving north to Edingburgh, the weather is even colder. The coldest month is January, which has an average temperature of just 3°C. July is also the hottest month, with an average temperature of 15°C. You do get a little more sunshine in Edinburgh than in London, with 10 hours of sunshine in August. But, rainfall is even heavier than in London, with an average of 80mm of rain in October.
On the plus side, you can enjoy plenty of green, rolling hills and cosy moments in pubs and restaurants. When the sun does come out, be prepared for every patch of grass to be filled with people making the most of the fleeting moment of warmth.
4: Contrary to Popular Belief, the Food Can Be Delicious
The UK has always been saddled with a reputation of having bad food, dominated by bland flavours and plenty of deep frying. Expats will be pleased to learn that this is no longer the case. The influx of various cultures to the UK means you can sample flavours from all over the world. Local chefs are focused on creating authentic dishes with local produce to serve incredible meals. You can expect perfectly roasted meats and vegetables, and exciting takes on staples and culinary fusions—the UK is a veritable foodie paradise.
5: There Could Be Changes to Visa Requirements Post-Brexit
With the United Kingdom leaving the European Union in 'Brexit', there is some uncertainty as to whether there will be new visa requirements. It is expected that the UK Government will introduce some sort of a quota system that will screen applicants based on to the contribution they are likely to make to society. However, if you have qualifications and skills in areas that are currently in short supply in the UK, then obtaining a visa should not present too many issues. Keep in mind that this is general advice only, and it is always best to consult an immigration and visa expert.
If you are planning on moving with family read our guide on transportation and housing, childcare and education, and working in United Kingdom. Or if you are just an avid traveller exploring the Great Britain read our top 5 things to know when in UK.
If you'd like any further information about UK, or the relocation process, don't hesitate to get in touch with our friendly international removals team.
Blog Author: