Glenn Pile
7th May, 2019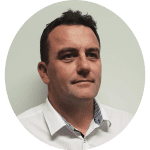 With nearly 3 decades of experience in removals and storage, Glenn Pile began as a removalist and moved on to Branch Manager and most recently National Operations Manager, he has a wealth of knowledge when it comes to moving.
Glenn was recently recognised as dux of his 2017 class in the Masters of International Moving (FIDI) and created the Kent removals national Training Program.
As National Operations Manager, Glenn's key focus is on productivity, profitability and efficiency of the removals operations alongside other operational management duties, while keeping the customer at the forefront.
Glenn Top Tips when Moving:
Declutter First – don't pack things you don't need.
Have a plan with dates and actions
Start packing non-essentials early
Label cartons clearly with room and contents so you can easily unpack
Relax on move day and trust the professionals – that's what they are there for!
Glenn Plie
National Operations Manager
Kent Removals and Storage