The Top 5 Things to Know When Moving to Singapore
8th June, 2019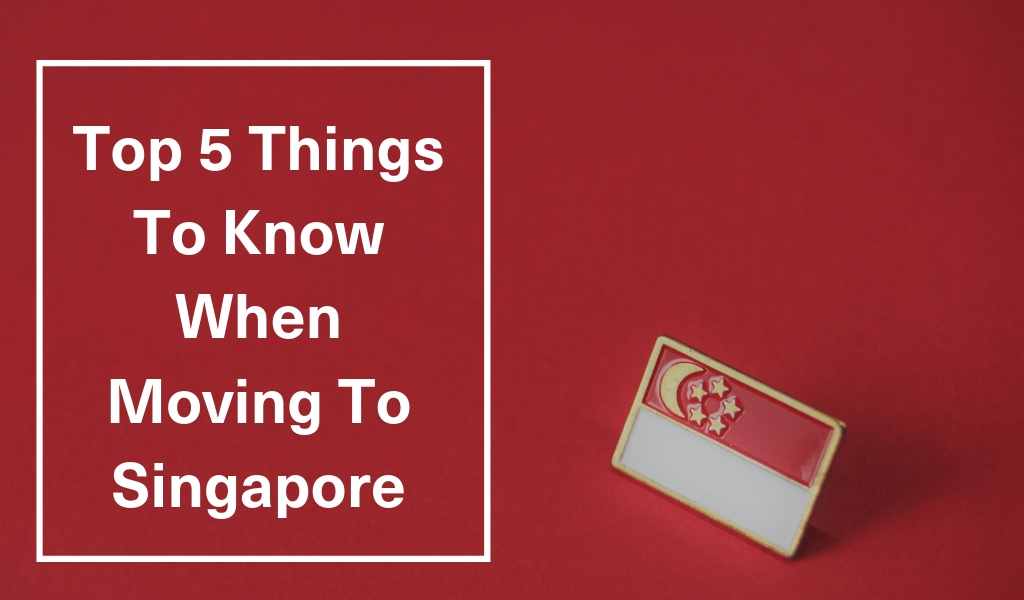 Singapore is often ranked as one of the most popular expat destinations. It offers incredible career opportunities in one of the strongest economies in the world. Its exotic location comes complete with tropical temperatures. Plus, with a thriving expat community, as well as locals who are among the most tolerant people in the world, you're sure to settle in quickly and easily.
So, if all that sounds like the optimum living and working environment, here are the five things you should know before you make the move to Singapore:
You must secure employment before relocating to Singapore
The weather is hot, humid and tropical all year-round
Public transport is the main mode of transportation
Housing can be difficult to find, so book short-term accommodation
Singapore is home to an extremely diverse array of cultures and languages.
1. You Must Secure Employment Before Relocating to Singapore
You need to secure an offer of employment from a Singaporean employer before you relocate. Singapore has strict work permit laws in place, which makes it difficult—if not impossible—to simply turn up and start hunting for work. You can learn more about Singaporean work permits here.
That being said, Singapore is one of the world's top performing economies, and there are always opportunities for skilled international workers to find employment. Just be sure to start the search well before you plan on relocating.
2. The Weather is Hot, Humid and Tropical All Year-Round
Singapore is located in the tropics, which means you have to be prepared for year-round hot and humid weather. The temperature hovers around 30°C every month of the year. There is no autumn, winter, summer and spring in Singapore, just a wet and dry season.
Singapore has two monsoon seasons that run from mid-November to early-March, and then June to September. The wettest month is December, with an average of 15 days of rain for the month. The driest month is June, with an average of 9 days of rain.
As a tiny island city-state, it doesn't matter where you choose to live; you will be dealing with same weather. The eastern side is slightly drier, and hotter than the western side of the island.
3. Public Transport is the Main Mode of Transportation
Australia is still very much a car-based country. As a result, many Australians hate the idea of public transport. But, if you're making the move to Singapore, you need to get used to the idea of public transport—fast!
Driving a car in Singapore is super expensive. It can cost over AU$100,000 just to register a car. Plus, the Singaporean Land Transport Authority (LTA) controls the number of vehicles allowed on the roads using a vehicle quota system that was designed to encourage people to use public transport. Under the quota system you must bid for a Certificate of Entitlement (COE) before you can register and drive a car. Only a fixed number of COEs are made available every month, and these must be competed for at auction.
As the Government actively encourages residents to use public transport, trains and buses are incredibly clean, efficient and easy-to-use. So, put aside your public transport prejudices and do as the locals do.
You can learn more about transport in Singapore here.
4. Housing Can Be Difficult to Find, So Book Short-Term Accommodation
Due to its small size, housing in Singapore is limited and can be expensive. While you'll still want to do your research when you arrive and inspect a few properties before locking yourself into a long-term lease, it's a good idea to organise short-term accommodation while you're still in Australia. This way, you'll have a secure base while you're looking for something more permanent.
5. Singapore is Home to an Extremely Diverse Array of Cultures and Languages
Singapore is not defined by one culture, but by many. A mixture of Chinese, Malay, Indian and British influences have come together to create a vibrant culture marked by tolerance and harmony. You see this everywhere, from the food to the neighbourhoods and, of course, in the language.
Singapore has four official languages: English, Malay, Tamil and Mandarin. A focus on learning English school means that most Singaporean are fluent. Although, you're likely to hear quite a bit of 'Singlish'. This is a unique Singaporean dialect—sprinkled with words from the other four official languages—and it can take some getting used to. Most Singaporeans will switch to standard English when speaking with a foreigner.
If you planning on moving to Singapore with kids read our handy guide to education and childcare system in Singapore.
Speak to our International Consultant to assist you with your move now.
Blog Author: