Top 5 Things to Know when Moving to Hong Kong
8th June, 2019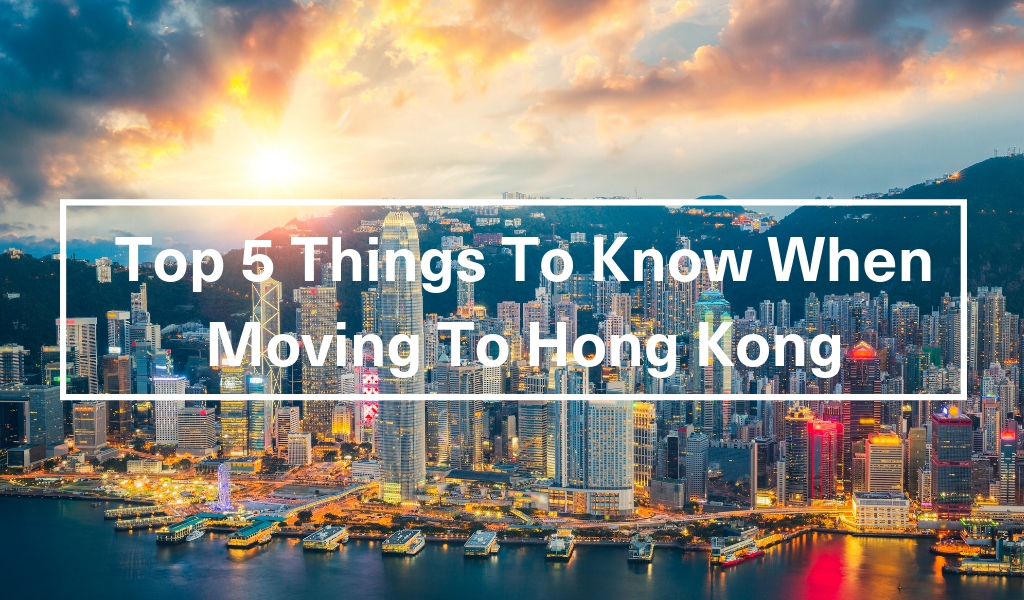 Hong Kong is one of the world's top expat destinations and most famous cityscapes. The harbour flanked by skyscrapers is almost impossibly beautiful. It has fantastic food and culture, and tranquil escapes are just an hour drive away. On top of all that, it is also one of the premier economic areas in the world, so you have a real chance to improve your career.
Whenever you're relocating, there are a few differences that you have to be aware of to minimise any shock or disruption when you arrive. Commit these points to memory to ensure a smooth arrival when moving to Hong Kong:
Hong Kong is not China
You need to get used to crowds and a different set of values
There's a lot more to Hong Kong than the harbour and city
The humidity is intense
Property is small and incredibly expensive
1: Hong Kong is Not China
In 1997, Hong Kong became a Special Administration Region (SAR) of China, but this does not mean that Hong Kong became China. The residents of Hong Kong have their own distinct culture, values, history and even language that they are immensely proud of. In fact, even speaking Mandarin, instead of the Hong Kong standard Cantonese, could offend.
If you want to settle into your new home, make an effort to learn some Cantonese. It's an incredibly difficult language, and it's unlikely you'll gain fluency, but being able to say a few phrases will make a huge difference, especially with older Hongkongers. Cantonese and English are the official languages, and English is widely spoken, so learning Cantonese is more of a matter of politeness rather than necessity.
2: You Need to Get Used to Crowds and a Different Set of Values
Hong Kong is one of the most crowded places on earth. It has the highest density of skyscrapers, and the city centre is the fourth most densely populated region in the world. If you want to move there, you just have to get used to the fact that you'll be dealing with bustling crowds, noise and traffic 24 hours a day.
You also have to realise that there are different values and modes of politeness in Hong Kong. Waiting in line, or waiting your turn are not common practices. You will have to get used to fighting your way into trains and out of lifts. You'll also notice that the dining culture is a little different, and Hongkongers will often talk with their mouth full and burp.
3: There's a Lot More to Hong Kong Than the Harbour and City
When you think of Hong Kong, you likely picture bustling urban streets and an even busier harbour. While Hong Kong is blessed with an incredible cityscape, expats need to make the effort to explore the rest of the region, which features incredible waterfalls, mountains, sandy beaches, stunning coastal vistas and a relaxed and rural setting that seems worlds away from the city. Exploring these areas is the perfect way to reset and remove some of the stress that the city can cause.
4: The Humidity is Intense
With a humid subtropical climate, there really isn't much relief from the heat and humidity in Hong Kong. It's just something you have to become accustomed to. In fact, on the rare occasion that the thermometer dips into the low 20s or high teens, you'll see locals donning clothing that resembles snow gear. If you're there long enough, a day in the low 20s will start to feel pretty chilly for you too!
5: Property is Small and Incredibly Expensive
The high-density nature of the cityscape is not by choice, it's due to the fact that there is little room for the urban footprint to sprawl out, and much of what is used is already reclaimed land. Tiny apartments in skyscrapers are expensive, so make sure you do your maths and compare your wage with rental prices, because you may end up with very little left to actually enjoy your time.
If you are planning on moving with family read our guide on education and childcare, transport & housing and working in Hong Kong.
If you'd like any further information about Hong Kong, or the relocation process, don't hesitate to get in touch with our friendly international removals team.
Blog Author: