Top 8 Things to Consider Before Moving Office
1st May, 2019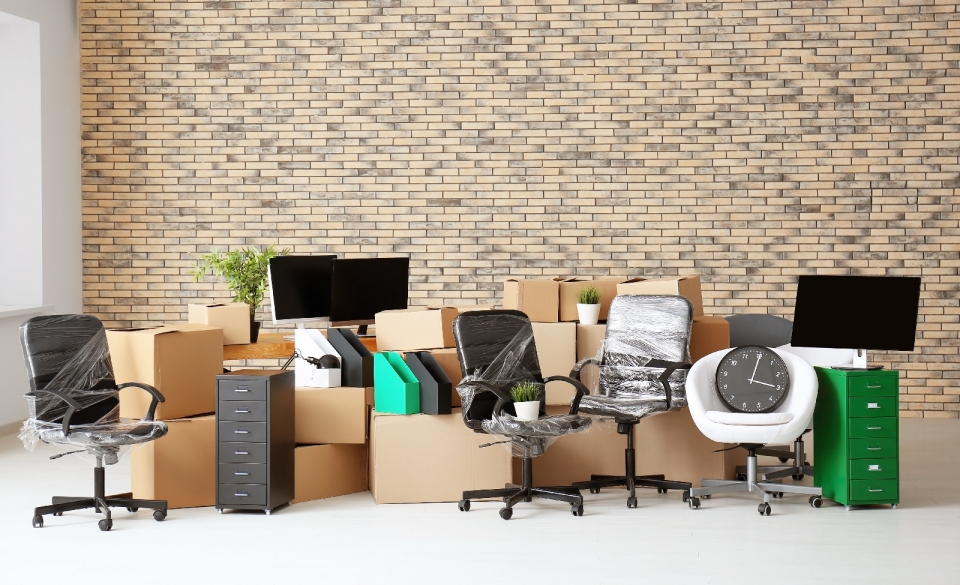 Moving to a new office is both a symbolic and real-world change for a business. It's a fresh start, but it's also a hectic and stressful time for those coordinating the move. The biggest problem revolves around trying to complete the relocation with as little disruption to the company and business activities as possible – easier said than done.
If you get anything wrong, the 'exciting' move can quickly become a drain on both morale and resources, so here's what you need to know before you move:
#1: Set (And Stick To) A Budget
Every business decision begins with the budget, and moving office is one of the most significant business decisions a company can make. To stick to the budget, you have to create an accurate and itemised set of costs, from moving to designing and setting up the new space.
Some of the costs that businesses forget about when creating their budget are:
 • The cost of restoring the old space to the agreed standard as per the original lease
 • Moving equipment that requires special handling, such as chemicals, explosives, art collections and even documents
 • The cost of setting up the new space, such as installing new cabling and making it appropriate for your business activities
#2: Choose Your New Office Space
If you live in one of the capital cities, you may have your eyes on a warehouse conversion. And why not? They are cheap, spacious and impressive. But, they do come with a few pitfalls you need to be aware of:
 • Warehouses are old and were never designed to be offices, so setting them up to house computers, or just be warm enough to accommodate desk workers can be expensive
 • Property developers love them so you could move into a warehouse only to be kicked out when it's time to knock it down and build a high-rise on the site
So, if you want that funky warehouse conversion, make sure you do your numbers on set-up costs, and check that there are no plans to make the space residential in the near future.
Obviously, the easiest and cheapest way to move to a new office is to move into an office space. They are usually set up with all the IT systems and other appointments you need, so it's simply a case of moving your operation to its new home. The space may be a little more expensive, but you could easily make your money back on set-up costs.
You also need to focus on choosing a space that is right for you now, and in the future. If your company plans to grow, make sure you have room to accommodate new staff. If the future of your business will include on-site demonstrations, make sure there is space to create a meeting room. It's all about imagining what the space could be, and not just what it is. 
#3: Communicate With Your Employees
You need to have honest and open conversations with your staff about the move. Your employees will be invaluable in ensuring that the move goes ahead as smoothly as possible. 
Involving staff in the decision-making process regarding the relocation may also be required by law. Make sure you have checked all relevant regulations and engaged with all relevant stakeholders, including:
 • Unions
 • Regulators
 • Parent Companies
 • Board Members
 • Department Heads
To create open and honest conversations with your staff focus on communicating:
 • The reasons for the move
 • How their career and day-to-day working life will benefit from the move
 • What the company is trying to achieve via the relocation
By getting on the front foot and having a conversation with both staff and staff representatives, you can solve problems before they emerge. Rumours and innuendo prosper in silence, so make sure your staff are given clear information from the get-go.
#4: Become A Real Estate Expert
If you want to find the best deal, you have to become an expert in real estate and all the lingo that estate agents use when trying to sell a space. By understanding terms like 'rent-free period,' 'fit-out costs' and even 'planning restrictions' you cut through the jargon and understand exactly what you're signing the business up for.
Understanding the jargon will also be invaluable in negotiating the best possible deal.
Read this A to Z guide on real estate terminology by Domain. 
#5: Decide Whether To Move Or Buy New Furniture
Deciding what to do with your office furniture is a huge decision. To make your choice easier, maybe you should think about refurbishing your current office furniture to suit your needs.
This can save you an enormous amount of money, give your office the design you've been looking for and prevent a colossal landfill problem from growing even larger.
If there's anything you can't refurbish, or don't want to take with you, make sure you sell or donate before disposing. Every bit of furniture deserves another life, so don't condemn yours to the local tip. 
#6: Connect Your New Space
No matter what industry you work in, you'll need to be connected. These days, everyone needs to be IT-ready, and that means either relocating your current equipment or setting up a new system.
If you're going to relocate, follow these processes:
 • Desktops: Make sure you check manufacturer instructions for moving equipment and setting it up. Ensure every desktop is backed-up to an external hard drive and moved separately
 • Data Centres and Servers: These contain critical data, and downtime needs to be kept to a minimum. Only use a professional and certified removalist to move these vital pieces of equipment
 • Leased Equipment: Make sure you get permission before you move any leased equipment, especially if vendors want to move it themselves
 • Telephones and Internet Connections: Make sure you plan so your connections can go live for the first day of business. Try and keep the same phone number if you're in the same area to prevent confusion for customers
#7: Communicate Your Move
One of the first questions you should ask before moving is who needs to know about the move: third-party suppliers, clients, and everyone from your accountants through to your utility providers. Without proper communication, your income-earning potential could actually be harmed by a relocation.
You need to have an effective communication plan that sets out who you should contact, how you should contact them and how much notice you should give. 
#8: Choose Professional Business Relocation Expert
The best way to ensure a successful office relocation is to work with a professional business moving provider. They will know exactly how long the move will take, how much it will cost and what you need to do to expedite the process. 
Always go with a provider that offers a fully-integrated service, including a packing and unpacking, cleaning and even data connection service.