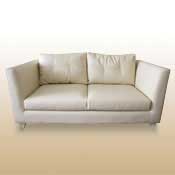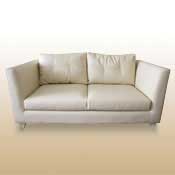 Knowing how to store a couch requires expertise in a few areas; you need to know how to move a couch, how to wrap a couch for storage and how to store couches in a storage unit. Follow these steps to ensure the utmost protection of your couch in storage:
Step 1: Measure your couch and all exit points
Step 2: Clean your couch, then treat it with leather cleaner or furniture polish
Step 3: Wrap your couch
Step 4: Move your couch safely
Step 5: Choose the right type of storage unit
Step 6: Store your couch properly.
Step 1: Measure Your Couch and All Exit Points
Begin by carefully measuring the couch itself and all the exit points between your couch's existing position, and where your moving truck is going to be parked. When measuring your couch, be sure to measure its height, width and length. You then need to measure the height and width of all access points in your home, paying particular attention to doorways and hallways that you will be moving your couch through. If your couch is able to fit, then you're ready to move on to step 2.
If your couch is too large, then you may have to consider taking a door off its hinges, disassembling your couch or even find a new exit route. Complicated isn't it? That's why we suggest you measure everything before trying to fit (a rather heavy) round peg through a square hole!
Step 2: Clean Your Couch, Then Treat It with Leather Cleaner or Furniture Polish
Next, it's time to give your couch a thorough clean. Vacuum all surfaces, and in between the cushions to remove any dirt, dust and food crumbs.
There are a few things you can do to ensure that your couch remains in as pristine a condition as the day you load into storage, particularly if you're storing a leather couch. The key in knowing how to store a leather couch is taking the time to treat it first – apply a high quality leather cleaner and even a conditioner to its surface, wiping it down with a lint-free cloth to prevent scratching its surface.
If your couch has any wooden components (such as legs or arms), it's a good idea to treat these parts of your couch with a wooden furniture wax using a soft, cotton cloth.
Step 3: Wrap Your Couch
When it comes to knowing how to wrap a couch for storage, most people make one big mistake; they use plastic shrink wrap on their couch. Unfortunately, this type of plastic wrap can trap moisture and cause mould and mildew to form on your couch.
Instead, cover your couch with furniture blankets to protect it from dirt, dust and moisture while it is in storage. It's important to protect your couch, whilst also allowing it to breathe.
Step 4: Move Your Couch Safely
Couches can be surprisingly heavy and awkward to carry. So, ensure that you enlist the help of friends or family for this step. You and your moving buddy should stand at either end of the couch, bend at the knees, and grasp the couch at its lowest point. Then, slowly and carefully use your knees (not your back) to return to standing position. Once you are both standing, move the couch into the correct position so it can fit through the exit points that you measured earlier. Remember to walk slowly so the person walking backwards doesn't trip.
Walk slowly up the ramp of the moving truck, and place the couch up against the back wall. Securely tie your couch into position so that it cannot move around whilst in transit. Regardless of how tempting it may seem, never stack other items or boxes on top of your couch. The weight of the items can leave permanent marks on your couch, and if they move around, permanent scratches.
Step 5: Choose the Right Type of Storage Unit
Of course, if you really love your couch, you should opt for a climate-controlled storage unit that will provide your couch with the best protection possible. A climate controlled storage unit will ensure that your couch is not subject to fluctuations in temperature, which can cause condensation on the walls and floor of the storage unit, as well as the build-up of mould, mildew and damp. You should also opt for a storage spaces that is clean, provides dust and pest protection, and has fire control and security alarm systems in place to keep your beloved couch safe.
Step 6: Store Your Couch Properly
If you want to understand how to store a couch, then you need to take the time to set up your storage space appropriately. To begin with, cover the floor of your storage unit with plastic sheets, or wooden pallets. This will lift your couch off the ground, protecting it from vermin, damp and condensation.
Rule number two in how store a sofa states that your couch should be stored in its proper position whenever possible to prevent structural damage. That means leaving it the right way up, rather than resting it on its side to save space.
Rule number three in how to store couches says that you should place your couch approximately 10cm away from the walls of your storage unit. This will ensure regular airflow around your couch, preventing contact with any condensation that runs down the wall of your storage unit.
The fourth, and final, rule in how to store couches in a storage unit is to never place any items on top of your couch (as they can leave permanent marks on its surface), and to keep potentially damaging items (like paint or chemicals) away from your couch.
Don't let your couch die a slow, painful death in storage. Follow this step-by-step process on how to store a sofa and your couch will be ready and waiting for you, whenever you need it.