Safe and Effortless Furniture Storage in Canberra
Kent Storage Canberra is a full-service storage company with more than 75 years of experience caring for more than one million Australians. If you're looking for the best storage solution in the Southern Hemisphere at unbeatable prices, you've come to the right place.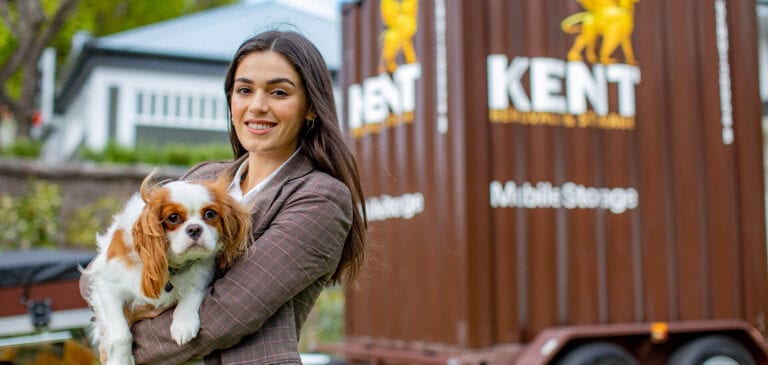 "The punctuality, courtesy, efficiency and professionalism of the packing and uplift team were extremely good and gave us great reassurance that our valuables would be carefully looked after."
Malcolm Hazell
Kent Storage Canberra Customer
Your nearest Kent Storage is on your doorstep
No matter where you are in Canberra, Kent are only phone call away to assist with your storage requirements.
Our team are here to help you pack, transport and store your items safely to give you total piece of mind.
Your closest Storage facility is at your front door
Easier and More Affordable Than Self-Storage
Our expert removalists travel to your home, office, or current storage unit in Canberra, and they carefully create detailed inventory and condition reports to keep track of your belongings. Then we carefully wrap and pack your things before loading them directly into the storage container and transporting them safely.
If you forgot to add something to your storage container, give us a call, and we'll head back to pick up anything you need. Likewise, we'll happily and conveniently redeliver any of your valuables, in part or whole, back to Canberra or anywhere else in the world. At Kent Storage, we do all this and more for up to 50 percent of the cost of self-storage solutions.
Why Choose Kent for your Canberra Storage Needs?
We do all the work for you so you don't have to deal with the headaches and stress. Not only that, but we also offer superior security at more affordable rates than any self-storage solution in the Southern Hemisphere. Kent Storage is the obvious solution.
You're just a phone call away from scheduling your items for pickup. We will send our expert removalists to wrap, pack, and stack your belongings for safe transport to our monitored facilities. Upon request, we'll redeliver some or all of your things back to your Canberra home or anywhere else in the world.
Kent Storage makes it easy for Australians. Our staff travels anywhere in the continent to inventory and create detailed condition reports of your items. You can keep track of them with dispatch records and receipts, allowing you to manage your belongings better.
Unlike self-storage:
We keep track of what you've put away and what condition it's in
We can easily and conveniently retrieve individual items from your inventory list, or entire containers, upon request
We professionally wrap your valuables and take extra care of soft furnishings like chairs, couches, and mattresses
We supply removals-grade plastic to protect all of your things from mildew, dust, and dirt while away in storage
Unlike self-storage:
You don't have to trust poor-quality plastic that is too flimsy to protect any of your things because Kent brings industrial-grade supplies
You don't have to schedule your own time to wrap up your furniture for transport because Kent does it for you
You don't have to load your own storage container because Kent skillfully packs, stacks, and stores your things for you.
Unlike self-storage:
You needn't lug around heavy boxes or furniture; let Kent do it
You don't have to guess the best possible arrangement and protection for your things; let our experts handle it
You don't have to make multiple trips between your home and storage unit; Kent handles all of your delivery needs, even if you need us to pick them up from another storage unit
Unlike self-storage:
You don't have to squeeze everything into your car
You don't have to hire a moving truck to transport your things
You can sit back and relax as Kent Storage delivers your valuables to our state-of-the-art storage facilities for any period
Our storage facilities are:
Climatised environments safe from moisture, rodents, and the elements
Protected by close 24/7 CCTV monitoring
Fully equipped with back-to-base alarm systems and fire control and monitoring systems
Purpose-built, state-of-the-art structures
Upon request, Kent Storage is happy to return to your Canberra home or office and pick up more items to add to your storage container. Likewise, we'll redeliver specific items or ship your entire inventory across the globe.
If you prefer to handle your own belongings, you can visit your container in our building with an appointment. We use appointments as an added measure of security; for your protection, the general public cannot walk in at will. Please give us 24 hours' notice for us to put your container in an accessible but secure location for you.
Kent Storage Canberra: The Safest Choice
We work hard to make sure your belongings are kept safe in our buildings, unlike self-storage:
We do not allow the public to enter our storage facilities; this is in sharp contrast to leaving your things in self-storage facilities, which are shared buildings that anyone could enter.
We create detailed documentation for your records at home; we provide inventory and condition reports as well as receipts and dispatch records. With self-storage, it's up to you to make and maintain these records for your benefit.
Our facilities have greater security demands than self-storage, bolstered by the fact that they are private buildings with limited authorised entry.
We only use sealed storage containers, unlike self-storage units that use large-diametre wire meshes in their boxes. These gates provide more of an illusion of security as pests and climate threats can still pass through.
We only build our purpose-built containers with reinforced steel, storing them inside our buildings secured by 24/7 CCTV monitoring. Reputable self-storage facilities may use CCTV but are still lax in other areas of security.
Our professional packers have expert training to safely transport and store your belongings anywhere in Canberra or Australia. With self-storage, you don't have the safety of expert help, which means it's all up to you to figure out.
Kent's Unique Four-Level Security System
Over the years, Kent Storage has refined its unique four-level security system to keep your belongings safe. We respect the trust our customers have placed in us, so we offer this sophisticated protection to everyone. As long as you trust us to protect your things, we will prioritise doing precisely that.
Security Level One: Customised Wrapping
The first level of protection comes in the form of our guardian wrapping system, which includes:
Boxes built with the intention of protecting items in transit
Professional packers with expert industry training
The use of professional packing blankets built to protect large fragile items
Heavy-duty removals-grade plastic for additional protection of soft furnishings, including chairs, mattresses, and couches
Comprehensive inventory and labelling processes
Custom crates built to protect fragile artwork
Security Level Two: Purpose Built Containers
Unlike our competitors in the self-storage industry, we use reinforced steel containers instead of plywood boxes at pickup. We load your belongings directly into the containers, and then we bring them to our state-of-the-art storage facilities. We rely on cranes and forklifts to move containers, eliminating the risk and expense of double handling.
Our containers are:
Accessible at both ends with the aid of customised doors
Purpose-built with reinforced steel for maximum protection
Constructed with the intention of keeping valuables safe during transportation and storage
Security Level Three: Superior Storage Facilities
Kent Storage uses the most advanced undercover facilities in the Southern Hemisphere. We ensure superior security to self-storage buildings that are publicly shared and draw attention in Canberra. Our facilities are:
Private buildings with limited authorised entry
Monitored 24/7 with CCTV security and fire protection systems
Climatised
Purpose-built, state-of-the-art structures
Free from pests, dust, and natural elements
Security Level Four: Storage Insurance
We can arrange your moving and storage insurance coverage through our Customer Goods in Transit and Storage Insurance Policy.
Our comprehensive policy covers the whole removals process; from the minute we pack your treasures, right up until you sign for the delivery of your boxes.
Our range of insurance options include:
Ultimate Cover and Premium Cover
Pairs and sets
Mechanical and electrical derangement
Relevant Insurance Document
Which is More Convenient?
As we mentioned, self-service means you have to serve yourself. You're the removalist, the delivery person, and the one who maintains the inventory and condition records. If you're not used to any of these roles, it can be somewhat problematic. What if you end up cramming all your belongings in a damaging way or end up leaving something behind? Paying for a second unit is a costly expense that can eat away at your budget.
Kent Storage makes sure you never have to lift a finger. You don't have to pack, and our expert packing professionals will take care of creating enough space for each of your valuables.
How Much Do They Cost?
Most self-service plans are affordable because you don't pay for the labor associated with a full-service company; all you pay for is the storage unit and an additional fee for the insurance policy.
Kent Storage uses a stackable system that allows us to help you save money. That's why we can offer you superior services for as little as 50 percent of the cost of a self-service solution.
Which Service is Safer?
Most self-service units are outside and must withstand Canberra weather. If moisture enters your outdoor unit, chances are good the wetness will ruin your belongings. Some places will let you upgrade to an indoor unit for an additional monthly fee.
Kent Storage never stores your goods outside. We also provide a complete inventory list so you're always aware of the status of your things.
Kent Storage Canberra for home and office storage is:
Easier: We use a straightforward process to eliminate the headaches of self-service. You're just a phone call away from hiring our professional removalists to pick up your things from anywhere in Canberra. We'll even ship your items out to any overseas location at your request.
More Secure: Don't let our low rates fool you; we never compromise on security. We use 24/7 CCTV monitoring as part of our unique four-level security system.
Cheaper: We never charge you for unused space, unlike some businesses that charge for an entire box.
We do it all for as little as 50 percent of the price of self-service rentals. Kent Storage is the only sensible choice for storage in Canberra.
Canberra, ACT and Other General Moving & Storage Information
Canberra, Australian Capital Territory has a population of 381,488. The Canberra postcode is 2600 and surrounded by suburbs: North Canberra, South Canberra.
The median property house price in Canberra is $542,000. The distance from Canberra to the closest Kent Storage facility in Canberra is approximately 10.9 km.
Canberra is well serviced by public transport and lifestyle amenities. There are several local schools, various shopping precincts and the area enjoys a selection of healthcare providers.
Storage around Canberra, ACT Fast Facts
Canberra Postcode: 2600
State: Australian Capital Territory, (ACT)
Other 2600 Suburbs:

Barton
Russell
Yarralumla
Parkes
Deakin West
Harman Capital Hill
Deakin

Surrounding Suburbs:

North Canberra
South Canberra

Median House Price: $542,000
Distance from Canberra to Kent Removals & Storage Canberra: 10.9 km or 14 minutes by car
Distance from Canberra to Canberra CBD: 5 km or 7 minutes by car
Population: 381,488
Population Density: 428 people per square km
State Electorates:
Federal Electorate: Canberra
Relevant Canberra links:
http://en.wikipedia.org/…