Storage West Melbourne Made Easy
If you are looking to re-organise your home or office and need more storage space, then Kent have you covered.
Kent offers a full suite of removal and depository services for W. Melbourne residents.
Secure: Our warehouses are completely private, prohibiting public access, and have round-the-clock CCTV security monitoring.
Convenience: Kent can deliver mobile and full containers straight to your residence for easy packing and delivery.
Value: Kent offers many ways to save money, starting by offering rates up to 50 percent cheaper than traditional self-storage solutions.
Get in touch with our expert staff to discuss other ways to save money with Kent:
Discounts when paying upfront: If you pay for your services upfront, you can get a discount.
Long-term deals: If you want to store your belongings for more than 12 months, you can get a special rate.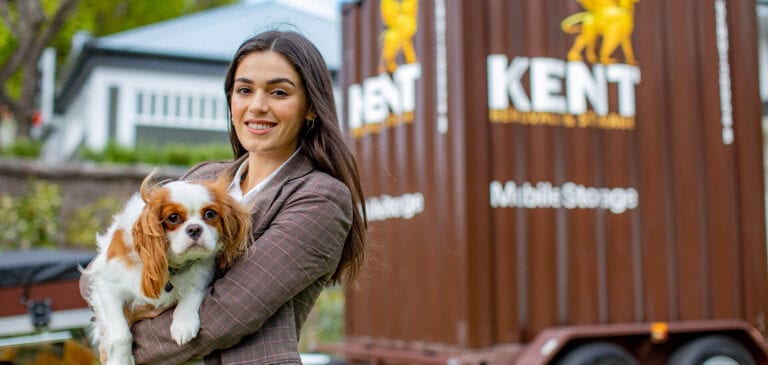 "I'm very satisfied with the service received. Every person that I dealt with at every stage of the process was helpful and knowledgeable, plus the communication was first-class."
Harith Taylor
Kent Storage Melbourne Customer
Your nearest Kent Storage is on your doorstep
Kent Storage in West Melbourne have industry leading exerts to assist you with all your moving and storage requirements.
We have an extensive range of packing materials to purchase as well as professional packing services available.
Your closest Storage facility is at your front door
The Kent Promise
At Kent, we're proud to offer affordable rates without compromising on security.
Competitive Pricing
Rates as cheap as half as self-storage
The most secure solution in W. Melbourne
Efficient use of space saves you money
Monthly promotions for all Australians
How Much is a Kent Container Per Month
Our container rates are based on how much space you need. Mobile container rates are based on the number of units you need to order. You can get in touch with one of our team members with more detailed information to get a more accurate quote for your situation.
Security and Protection
State-of-the-art warehouses
Purpose-built containers made with reinforced steel
No double handling
Industry-trained professional packers
Customised packing materials supplied by Kent
Electronic Reports and Inventory
Our depository service always includes electronic condition reports and a detailed inventory of everything you store with us. These documents give you peace of mind and help you better manage your belongings without having to step foot on the property.
Dispatch Records and Receipts
Our teams have dedicated systems to record and capture the exact moment that your valuables leave or enter our premises. We prioritise the safety of your belongings as we know how much trust it takes to let someone else care for our things.
Reputation and Experience
Trusted by 2 million Australians
Customer satisfaction
Over 75 years in Australia
Award-winning service
Doing our part for the environment
100 percent Australian-owned
How are My Goods Transported?
Kent uses dedicated transportation equipment and trucks to deliver your belongings to our warehouses safely. Our teams have expert training and are well equipped to handle fragile items on the road and our facilities.
We transport your belongings to our state-of-the-art warehouse. Here, they stay under constant vigilant monitoring via round-the-clock CCTV security and regular pest control. We take safety one step further and prohibit the public from entering our warehouses, unlike the shared buildings that self-storage companies use to house their receptacles.
Convenience and Flexibility
We travel anywhere in Australia
You pack or we can
Customise your service
A month, a year, or a decade?
Add or remove items anytime
Redeliver your belongings anywhere in Australia or overseas
What Can I Store in a Kent Container?
Kent is happy to store almost anything from your home, office, or current container at another property, including:
household belongings and furniture
surplus business inventory and stock
archived office documentation
excess office equipment and furniture
garden shed equipment and tools
vehicles at select warehouses
Please note that we cannot store any contaminated or toxic items, explosives, firearms, flammable or hazardous goods, food, perishable items, live plants, or animals at any of our warehouses for any reason.
If you're in the market for the best transportation and delivery service in Australia, look to Kent. Kent Storage West Melbourne has over 75 years of providing more than a million Australians with our award-winning and industry-leading removals service. When you work with Kent, you're working with the best; we are more manageable, cheaper, and more secure than other companies in the Southern Hemisphere.
More Accessible, More Secure, and Up to 50 Percent Cheaper Than Self-Storage
Our expert removalists will travel to W. Melbourne or any other Australian city to inventory your belongings before wrapping, packing, and delivering them to our secure facilities. We'll happily and conveniently add new items to your unit upon request, and we'll even ship the entire contents of your container to another location anywhere in the world. We do it all for less money and more peace of mind than self-storage solutions.
Why Choose Kent to Store Your Belongings?
Kent offers more robust security at rates as cheap as half of what self-storage costs. Compare this to all the work that self-storage requires you to do, and Kent becomes the obvious winner. Why wouldn't you pay less to do less?
To arrange for your belongings to be picked up, fill out our online form or pick up the phone and give us a call. We will happily send our expert team to your home to wrap, pack, stack, and load your things into our steel containers for safe transportation and securing. We are also prepared to redeliver any or all of your goods to another location in Australia or overseas.
Kent goes above and beyond to make life easy for Australians. We will travel to W. Melbourne or anywhere else to inventory and create condition reports of your things. We also provide receipts and dispatch records to help you better manage your unit from home. You'll always have a history of the things you've left with us and the condition it was in when you stored it.
Unlike self-storage:
You don't have to maintain your own records about what you've left with us, nor the condition the items are in
We will happily retrieve and redeliver individual items listed on your inventory report or ship the entire container to another location across the globe.
Kent professionally wraps your valuables, especially soft furnishings like mattresses, chairs, and couches, in heavy-duty industrial-grade plastic provided by Kent for free. This plastic keeps furniture protected from moisture and mildew.
Unlike self-storage:
We supply industrial-grade wrapping, so you don't have to rely on flimsy plastic wrap that doesn't protect anything.
You needn't spend any time wrapping your furniture because Kent takes care of everything for you.
Kent skillfully packs, stacks, and loads your belongings straight from your doorstep into our reinforced steel containers, eliminating the risks and costs associated with double handling. For that matter, you don't have to lift a finger at any point during the process if you don't want to.
Unlike self-storage:
We will handle the heavy lifting, including any furniture.
We bring our decades of experience to help us efficiently and safely pack and protect your belongings for transportation.
Kent picks up your belongings from absolutely anywhere on the continent. We will travel to your home, an office building, or even a former self-storage unit to transport your things.
Unlike self-storage:
You won't spend money hiring a moving truck or spend time enlisting your friends for help.
You won't struggle to figure out the best way to fit everything in your motor vehicle.
Kent delivers your valuables to our private warehouses for as long or as little time as you need. Have peace of mind knowing that you've chosen one of the most secure solutions available anywhere in the Southern Hemisphere.
Our warehouses are:
State-of-the-art structures built with purpose
Monitored 24/7 with CCTV security
Complete with back-to-base alarms and fire monitoring and control systems
Climatised environments safe from outdoor weather, dust, and pests
Kent is happy to carefully and conveniently travel back to your home, office, or old self-storage unit to add more items to your current container. We will also redeliver anything you want to another local, interstate, or overseas location. Never again will you have to spend time or money hiring another moving truck for your transportation needs.
Although we can handle all of the work while you stay at home, some of our customers prefer to visit their container in person for various reasons. We can accommodate this with 24 to 48 hours' notice. With an appointment set, we can put your receptacle into a secure but accessible area that you can visit during regular business hours. Kent does all the work that you don't want to deal with.
More Secure Than Self-Storage
Kent goes above and beyond to offer superior care for your belongings, unlike self-storage:
We do not allow the public to enter our warehouses at any time for any reason, unlike self-storage facilities that anyone can access with a simple keycode.
We provide detailed condition reports, inventory lists, receipts, and dispatch documentation so that you can keep track of your belongings without leaving your home. Compare this to self-storage where you're the only one who can record what you leave in the box.
Our warehouses have more robust security than self-storage, especially since they are private and have no public traffic.
Our containers are completely sealed, unlike self-storage boxes with wire meshes covering the top. These meshes only provide the illusion of security as they're too large to keep thieves and vermin out.
We strictly use purpose-built containers made with reinforced steel, storing them in our state-of-the-art monitored buildings for their protection. Compare this to self-storage solutions that give you little more than a hasp to keep your wooden box safe in a publicly-accessible building.
Kent sends our expert staff to skillfully and conveniently pack up your belongings. With self-storage, it's up to you to figure out the safest and fastest way to arrange your things in one container.
Kent's Four-Level Security System
Kent has developed a unique security system for all Australians to take advantage of. We respect the significance of entrusting someone else with your treasures, so we prioritise their security for as long as we care for them.
Security Level One: Custom Wrapping
Kent uses a unique Guardian Wrapping System that includes:
A comprehensive labelling and inventory process for record-keeping
Custom crating designed to protect large, fragile artwork and other valuable items
Kent-supplied professional packing blankets to keep your largest, most fragile items safe
Boxes built to specifically protect larger items
Heavy-duty plastic to keep your soft furniture safe, including mattresses, chairs, and couches
Professionally-trained expert packers
Security Level Two: Purpose-Built Receptacles
Unlike our competitors in self-storage, we will load your items straight into our containers at the pickup site, whether that's at home, your office, or another warehouse. We then load the receptacles onto the truck and into our storehouse using state-of-the-art cranes and forklifts. This process allows us to significantly reduce the risks and costs associated with double handling equipment.
Our containers are:
Accessible on either end thanks to custom-built doors
Exclusively constructed with reinforced steel for more robust protection
Purpose-built to keep your belongings safe on the road and in our warehouses
Security Level Three: Superior Warehouses
Our warehouses are the most advanced undercover facilities available in the Southern Hemisphere, allowing us to guarantee superior security. Our facilities are:
Climatised to prevent dust, moisture, mildew, mould, and pests
Monitored with fire control and CCTV security systems
Fully equipped with back-to-base alarms
Purpose-built structures with state-of-the-art protections
Completely private without public traffic
Security Level Four: Storage Insurance
We can arrange your moving and storage insurance coverage through our Customer Goods in Transit and Storage Insurance Policy.
Our comprehensive policy covers the whole removals process; from the minute we pack your treasures, right up until you sign for the delivery of your boxes.
Our range of insurance options include:
Ultimate Cover and Premium Cover
Pairs and sets
Mechanical and electrical derangement
Relevant Insurance Document