Launceston Depository Solutions Made Easy
Kent are the trusted storage professionals when it comes to both short and long term storage services.
Kent offers full-service solutions for Launceston and all of Australia.
Secure: Our warehouses strictly prohibit public access and are protected with 24/7 CCTV security monitoring.
Convenient: Kent is prepared to deliver your container directly to your doorstop for easy loading.
Value: We are proud to offer competitive rates; our services are up to 50 percent cheaper than traditional self-storage.
You can save even more money with Kent thanks to our discount offerings:
Discounts for paying upfront: We know how important it is to stick to your budget. Our experts can help you find all available discounts, including reduced payment for covering all services upfront.
Special value for long-term rates: If you store with Kent for 12 months or longer, get in touch with our consultants to learn about how you can save even more money.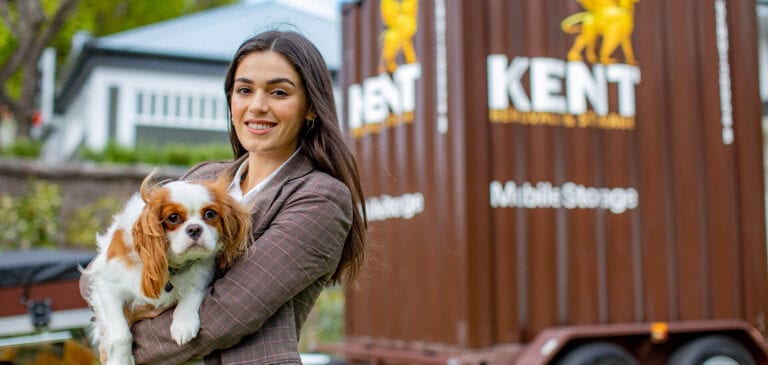 "Everything was well organised and arrived safely. A few packages have not been sighted and I haven't found them since unpacking so we are missing a few things. But nothing was broken, they were quick, communication was excellent and I couldn't recommend a better service. Thank you."
Christina Dona
Kent Storage Launceston Customer
Your nearest Kent Storage is on your doorstep
Kent make moving and storing your treasures both easy and affordable. Our experienced teams are here to help with your enquiry.
With over 75 years of experience let the Kent Storage team help plan your next move.
Your closest Storage facility is at your front door
The Kent Promise
At Kent, we're proud to offer incredible value for low rates.
Competitive Pricing
Up to 50 percent less money than self-storage
One of the most secure solutions in the Southern Hemisphere
Efficient use of space
Monthly promotions for customers
How Much Do Containers Cost Each Month?
We calculate our storehouse rates based on the volume of space your items take up. For our mobile containers, the rates are based on the number of units you need. For the most accurate quote, get in touch with one of our friendly team members with information about what you need stored, and we'll be happy to help you out.
Security and Protection
Purpose-built steel containers
State-of-the-art warehouses with CCTV monitoring
No double handling
Expert industry-trained packers
Customised packing materials
Electronic Condition and Inventory Reports
As part of our full suite of services, we provide a detailed electronic inventory and condition report of your belongings for free. These documents provide you with reassurance and comfort that we know exactly where everything you've stored is.
Receipt and Dispatch Records
Our expertly-trained staff has dedicated systems they use to capture and record the date and time your items enter and leave our warehouses. We highly prioritise the safety and security of your personal valuables for as long as they're in our care.
Reputation and Experience
Award-winning service
Over 75 years servicing Australia
Customer satisfaction
Doing our part to protect the environment
100 percent Australian-owned
How are Goods Transported to Containers?
Kent has transportation equipment dedicated to transport items to and from our purpose-built containers safely. Our teams are trained and fully equipped to handle secure and efficient deliveries.
We store your belongings in our state-of-the-art warehouse, which is outfitted with round-the-clock CCTV, complete with facial recognition and fire alarm monitoring and control. We also strictly limit the public from entering the premises for your protection, unlike self-storage solutions where your things are kept in a shared building that the public can access with a simple keycode.
Convenience and Flexibility
Customise your depository needs
You pack or we can
We travel anywhere in Australia
A month, a year, or a decade?
Add or remove items anytime
Redeliver your belongings anywhere overseas
Can I Store Anything in a Kent Container?
With Kent, you can store just about anything from your home or office in our containers, including:
household furniture and belongings
garden shed tools and equipment
extra furniture and equipment from the office
archived documentation from work
surplus business inventory
vehicles at supported warehouses
Please note that we are not able to store firearms, explosives, contaminants, toxic items, perishable goods, live plants, animals, or flammable or hazardous goods at any of our warehouses.
If you're searching for the best full-service solution in the Southern Hemisphere, rest assured that Kent Storage Launceston is everything you're looking for and more. We have over 75 years of award-winning experience removing and transporting items for over one million Australians. You can work with Kent Storage Launceston and feel confident knowing that we're one of the most accessible, most affordable, and most secure full-storage solutions anywhere in the Southern Hemisphere.
More Secure, Easier, and More Affordable Than Self-Storage
Our expert removalists are prepared to travel anywhere in Launceston or the rest of Australia to create a detailed inventory of your belongings. We also create condition reports, dispatch records, and receipts to help you keep track of your things after we wrap, pack, pick up, and deliver them to our warehouses. At your request, we can return specific items or ship the entire container to another local, interstate, or overseas location. We do it all but safer and cheaper than self-storage.
Why Choose Kent to Store Your Belongings?
Kent provides a full suite of depository services for Launceston and all of Australia at rates up to 50 percent cheaper than self-storage solutions. With fewer headaches and less stress abound, why wouldn't you choose Kent to handle the job for you?
All you have to do is fill out our online form or give us a phone call to arrange for your belongings to be picked up. We send our expert staff to wrap, pack, and securely transport your goods from your home to our private warehouses. We're also happy to redeliver anything, in whole or part, to another Australian city or overseas location.
Kent goes above and beyond to make it easier for Launceston residents. We travel anywhere in Australia to create detailed condition and inventory reports. We supply ongoing receipts and dispatch records to keep you aware of every time your property leaves or enters our warehouse.
Unlike self-storage:
You don't need to remember what you've left with us, nor the condition it was in
We'll happily and conveniently retrieve and return specific items listed on your free inventory report. We will also ship the full contents of your container to any other location in the world.
We professionally wrap your belongings in heavy-duty removals-grade plastic covers supplied by Kent. This plastic adds several layers of protection for soft furnishings, including mattresses, chairs, and couches, keeping them safe from dirt, dust, mould, and mildew while locked away.
Unlike self-storage:
You don't need to use flimsy plastic that isn't good enough to protect any of your belongings. Kent supplies industrial-grade wrapping to use on your things.
You don't need to set aside time to wrap the furniture yourself. We handle the work so you can keep living your normal life.
We skillfully pack, stack, and load your things from your doorstep right into our purpose-built steel containers. This process eliminates double handling, which reduces the risk of damage during transportation. Not only that but you're also relieved of more work.
Unlike self-storage:
You don't need to carry your own furniture or heavy boxes
You don't need to deal with the guesswork when trying to arrange your belongings in the container
We travel anywhere in Australia to pick up items from your home, office, or another storage unit that needs emptying.
Unlike self-storage:
Save money by not hiring a moving truck
Let someone else handle the arrangements
We deliver your belongings into our secure warehouses for any length of time. We want to give you the peace of mind of knowing that you're working with the best and most flexible company in the Southern Hemisphere.
Our storehouses are:
Purpose-built, state-of-the-art structures
Completely equipped with fire control and monitoring systems
Climatised environments, safe from pests, dust, and outdoor weather
CCTV-monitored around the clock, including back-to-base systems
Our staff members will conveniently return to your home or office to pick up more items to store away, or we can deliver everything you've sent to us at any time. We'll ship to any local, interstate, or overseas location, so you never have to hire another moving truck again.
If you prefer to visit your container in person, you can do so with 48 hours' notice. We place your receptacle in a secure location that you can easily access while our warehouse is open. We do all of the work so you don't have to.
More Secure Than Self-Storage
Kent takes a sharp contrast to self-storage companies. We prioritise taking the utmost care of your belongings by implementing numerous policies:
We strictly prohibit public entry at any of our warehouses, unlike self-storage buildings that are shared and accessible by anyone with a keycode.
We create a detailed inventory, condition report, and dispatch records to assist you in keeping track of your goods. Compare this to self-storage where you're the only one responsible for recording what you put away in the container.
Because we strictly limit who is authorised to enter our warehouses, our facilities are much more private than any self-storage solution.
We only use sealed containers, unlike self-storage units with large-diametre wire meshes on the top of the box. These meshes only provide the illusion of protection as weather, dust, open air, and thieves can easily pass through.
Our reinforced steel containers are purpose-built to keep your items safe. We store these receptacles in our state-of-the-art CCTV-monitored warehouses to further ensure the security of your goods. Compare this to self-storage, which provides you with little more than a hasp to protect an open-top plywood box.
We train our expert staff to efficiently and carefully pack away your belongings. With self-storage, the responsibility of figuring out the best and safest way to arrange your things is entirely yours.
Kent's Four-Level Security System
Over the decades, Kent has developed its unique four-level security system for the ultimate protection of the things we store. We make our security system available to all Australians; we understand there is a lot of trust involved in asking us to keep your things safe, so we prioritise their safekeeping at all points.
Security Level One: Custom Wrapping
Our Guardian Wrapping System uniquely includes:
Professional packers with expert industry training
Heavy-duty removals-grade plastic covers further protect soft furniture, including chairs, mattresses, and couches
Purpose-built boxes built to protect hard-to-wrap items
Supplied packing blanket to keep your large, fragile items safe
Custom crates designed to protect artwork and other valuables
Comprehensive inventory and labelling processes
Security Level Two: Purpose-Built Containers
Unlike our self-storage competitors, we bring the container directly to your doorstep. We then load your belongings directly into the container to eliminate the risks and expenses of double handling. We use cranes and forklifts to load the receptacles into our warehouses, and we pass the savings on to you.
Our containers are:
Built with the sole purpose of keeping your treasures safe and stable during transportation and long-term storing
Constructed strictly using reinforced steel for the best possible protection
Accessible on both ends thanks to a customised door plan
Security Level Three: Superior Warehouses
Kent is proud to offer the most advanced undercover warehouses in the Southern Hemisphere, allowing us to ensure superior security compared to self-storage buildings. Kent facilities are:
Private and do not permit any public entry at any time
Purpose-built structures with state-of-the-art technology
Climatised to protect against pests, dust, and outdoor weather
Monitored 24/7 via CCTV security and fire monitoring, complete with back-to-base alarms
Security Level Four: Insurance
We can arrange your moving and storage insurance coverage through our Customer Goods in Transit and Storage Insurance Policy.
Our comprehensive policy covers the whole removals process; from the minute we pack your treasures, right up until you sign for the delivery of your boxes.
Our range of insurance options include:
Ultimate Cover and Premium Cover
Pairs and sets
Mechanical and electrical derangement
Relevant Insurance Document
Launceston, TAS and Other General Moving & Storage Information
Launceston, Tasmania has a population of 106. The Launceston postcode is 7250 and surrounded by suburbs: Exeter, Weymouth, Lilydale, Deloraine, Mount Barrow, Great Lake, Longford and Campbell Town.
The median property house price in Launceston is $337,000. The distance from Launceston to the closest Kent Storage facility in Launceston is approximately 1.9 km.
Launceston is well serviced by public transport and lifestyle amenities. There are several local schools, various shopping precincts and the area enjoys a selection of healthcare providers.
Storage around Launceston, TAS Fast Facts
Launceston Postcode: 7250
State: Tasmania, (TAS)
Other 7250 Suburbs:

Blackstone Heights
Newstead
Norwood
Prospect
Prospect Vale
Ravenswood
Riverside
St Leonards
Summerhill
Travellers Rest
Trevallyn
Waverley

Surrounding Suburbs:

Exeter
Weymouth
Lilydale
Deloraine
Mount Barrow
Great Lake
Longford
Campbell Town

Median House Price: $337,000
Distance from Launceston to Kent Removals & Storage Launceston: 1.9 km or 6 minutes by car
Distance from Launceston to Launceston CBD: 0 km or 0 minutes by car
Population: 106
Population Density: 1,116 people per square km
Local Government Area: City of Launceston
State Electorates:

Paterson
Windermere
Rosevears

Federal Electorate: Bass, Lyons
Relevant Launceston links:
http://en.wikipedia.org/…
http://www.launceston.tas.gov.au/…