Sydney Storage Solutions Made Easy
If you are renovating, moving or decluttering Kent are the experts in providing a complete range of storage solutions.
Most of us would rather not put away our items for long periods, imagining dusty buildings that receive little-to-no attention at all. At Kent Storage, we go above and beyond to ensure your experience is a positive one.
We're experts at long-term storage and have provided industry-leading services to more than a million Australians. We're confident in our secure but affordable storage solutions, and you will be too.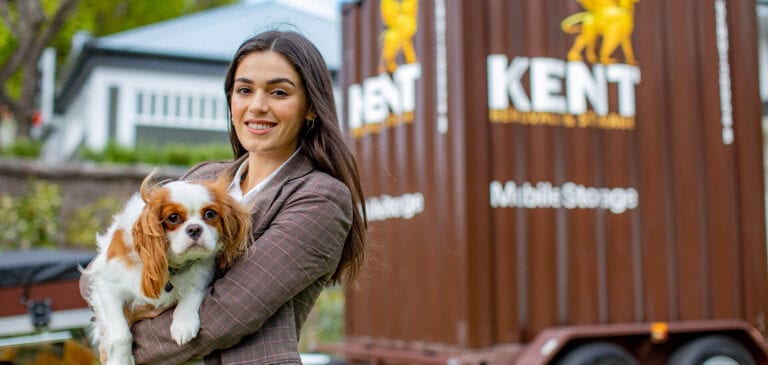 "Punctual, efficient and very careful with my antiques. Very professional approach which gives me confidence my belongings will be safe and secure."
Jane Raymond
Kent Storage Sydney Customer
Your nearest Kent Storage is on your doorstep
The Sydney storage team can help you with packing and loading your storage unit as part of our extended service range.
Kent Storage in Sydney services the entire Sydney region as well as outer lying areas.
Your closest Storage facility is at your front door
Easier, More Secure, and More Affordable Than Self Storage
Our removalists will travel anywhere in Sydney at your request to carefully inventory, inspect, wrap, pack, and deliver your belongings into our secure storage facility. No longer will you have to worry about finding the space in your car to collect all your things and drive them in yourself; we provide safer and more secure transportation and storage solutions.
How It Works
We get your call: You need our help, and our experts are standing by the phone ready to provide.
We schedule a pickup: Our removalists will travel to your location at your convenience.
We carefully pack your items: You trust us to handle your belongings, and we pack them carefully to prevent damage.
We store them: We put your protected belongings in steel containers within our private facilities where only authorised employees may go.
We redeliver anytime: We return specific items or your entire inventory whenever you need them.
Why Choose Kent Storage?
At Kent Storage Sydney, we offer more comprehensive safety and security for as little as half the price. Our goal is to free you from the stress and give you confidence that your belongings are in the safest place they could be.
Scheduling a pickup is easy: Just give us a call or select the "Quote and Book" button to get started. You tell us when and we'll send our removalists to wrap, pack, pick up, and securely store your belongings for as long as you want. Whenever you're ready to take home some or all of your things, we'll send them wherever you want them delivered. It's as easy as saying when.
Our experts will travel anywhere in the Sydney area to provide:
Free inventory
Condition reports
Receipts
Dispatch records
These documents allow you to keep track of and manage your belongings.
Why Kent Storage is Better Than Self-Storage
Generally speaking, both managed and self-storage options are suitable for long-term use, but Kent Storage goes above and beyond to make itself the clear winner:
Safety and Storage Conditions: Kent Storage uses 24/7 CCTV monitoring and does not permit public access. You can access your stored items with a staff member, but you never have to worry that an unauthorised person will take your things. Further, our storage facilities are climate-controlled to prevent environmental damage.
Item Management: With self-storage, you're responsible for gathering your belongings, driving them to the warehouse, and storing them yourself. Kent Storage will send staff members to do all the work for you.
Affordable: There's no reason to pay more than you need to. With Kent Storage, you only pay for the space your items occupy. Not only that, but you save hours of labor by letting our removalists handle the burden.
Unlike self storage:
You don't have to remember what you packed away or what condition each item is in. Our staff can easily retrieve and return individual items because we log exactly where we stored them.
You don't have to rely on flimsy plastic wrap that won't protect your belongings. Kent Storage uses industrial-grade wrapping when packing away items.
You don't have to waste hours wrapping your furniture. Our expert removalists take care of this when they pick it up.
You don't have to carry heavy boxes. Our staff is trained to move heavy items.
You don't have to lift a finger at all. We will skillfully pack, stack, and load your things into steel containers that further protect them during transit.
You don't need to guess the best way to transport your things safely. We will pick your belongings up from anywhere in Australia.
Our storage facilities are:
Monitored 24/7 using secure CCTV and back-to-base alarm systems
Protected with fire monitoring and control systems
Purpose-built structures with state-of-the-art equipment
Climatised environments protected from pests and dust
Need to store more than you realised? We're happy to return, wrap, and pick up additional items to keep at your request. We can also return specific items at the same time. If you prefer, you can also provide us with 48 hours' notice to place your container in a secure but accessible area for you during business hours.
More Secure than Self Storage
Once you leave your items at a self-storage facility, you're ultimately the one responsible for ensuring they remain in good condition. With Kent Storage, our experts take on the job for you. We also provide detailed inventory and condition reports so you can keep track of your items; with self-storage, the onus is on you to remember what you've left behind.
We strictly prevent the general public from walking into our storage facilities. With self-storage, your treasures are left in a shared building that anyone with a keycard can access. Kent Storage provides better safety and security.
We store your belongings in airtight containers that prevent dust, open air, and vermin from infesting the area. Many self-storage units rely on large wire meshes that even human fingers can slip through. We only use purpose-built containers built from reinforced steel, storing them inside a facility monitored by CCTV at all hours.
At Kent Storage, our professional packers skillfully store your items in an efficient but safe way. No longer will you have to worry about trying to play "storage Tetris" with your belongings.
Kent's Unique Four-Level Secure Storage System
At Kent Storage, we have established and implemented our Four-Level Secure System protection to ensure the continued safety and security of your belongings. We respect the amount of trust involved in choosing us to store your treasured belongings; every Kent Storage customer receives the same level of protection. Security is our number one priority.
Security Level One: Customised Wrapping
Our expert staff consists of professionally-trained packers who implement Kent Storage's unique Guardian Wrapping System:
Heavy-duty plastic covers protect large furniture, such as couches, mattresses, and chairs
Constructed boxes specifically built to protect uniquely-shaped items
Professional packers with expert training
Custom crating options for fragile and valuable items, such as priceless artwork
Use of industry blankets designed to add protective cushioning to large and fragile belongings
Comprehensive inventory and labeling processes
Security Level Two: Containers Built With Purpose
Unlike with self-storage facilities, our staff directly loads your items into reinforced containers as soon as we pick up and transport them. We then load these containers into our secure storage facilities using state-of-the-art crane and forklift technologies. Our tried-and-true process reduces the risk of damage and the added cost of double handling. Our containers are:
Constructed using reinforced steel for maximum protection
Purpose-built to keep your belongings safe on the road and in storage
Accessible from both ends for easy access with customised doors
Security Level Three: Superior Building Facilities
At Kent Storage, we are proud to have the most advanced storage facilities in the Southern Hemisphere. We prioritise superior security, ensuring our facilities are:
Private and without public access
Strictly only accessible to staff and authorised individuals
Fire monitored and protected with 24/7 CCTV security
Armed with back-to-base alarms
Climatised to prevent mould and mildew
Free from pests and dust
Security Level Four: Storage Insurance
We can arrange your moving and storage insurance coverage through our Customer Goods in Transit and Storage Insurance Policy.
Our comprehensive policy covers the whole removals process; from the minute we pack your treasures, right up until you sign for the delivery of your boxes.
Our range of insurance options include:
Ultimate Cover and Premium Cover
Pairs and sets
Mechanical and electrical derangement
Relevant Insurance Document
Benefits of Managed Storage Facilities
Kent Storage facilities provide several benefits for Australians moving to smaller homes. Instead of trying to fit everything into an apartment without enough room for all your belongings, you can count on us to hold them for you.
If you need to downsize, Kent Storage is worth calling for the following reasons:
Buy Yourself Extra Time
We will load all of your belongings into a storage unit, saving you time spent dealing with it yourself. If you bring all these items to your new home, you'll have to spend time going through each box and living among the towers of unopened packages. Leaving your items in storage allows you to take your time going through the inventory documents we provide to decide what to keep or sell.
Store Seasonal Items
If you're low on space, you can rely on Kent Storage facilities to hold onto your seasonal items. For example, you may want to box your winter clothes away as the summer approaches. When the weather changes, you can swap them out for your summer attire. This regular rotation frees up space at home and keeps you organised.
Store Valuable Items
Our facilities are climatised for your benefit. If you want to store valuable, fragile items somewhere other than your apartment, you can leave them with us without worrying about mould or mildew. Online business owners may also opt to house their inventory or supplies in storage.
Kent Storage Saves You Money
With Kent Storage, you have access to our stackable storage solution. We established this solution to ensure you only get charged for the space you use, not for the entire container regardless of how full it is. We don't believe in making the customer pay for empty space, which means you'll get the cheapest rates with our service.
Kent Storage offers the best rates for superior storage services:
Pick-up, loading, and delivery of your belongings to and from our facilities
Redelivery of your items from our facilities to anywhere in the world
Provide short- and long-term housing for furniture
Transit and storage insurance for additional protection and peace of mind
Moving boxes and industrial packing supplies and materials
Valet services, organising rooms, cleaning, and unpacking services
Custom-built protective crates for specialised, irreplaceable belongings
Heavy-duty plastic covers to protect soft furniture, such as mattresses, chairs, and couches, from moisture and mould
Free inventory and condition report, receipt, and dispatch records help you keep track of your belongings from anywhere in the world
Kent Storage's managed facilities save you even more money than you might realise. Not only do we offer cheaper rates, but you also save on:
The cost of renting a moving van to transport your belongings
The cost of hiring professional removalist experts to haul your things
The cost of buying protective packing materials, including heavy-duty industrial-grade plastic covers
The cost of organising your inventory and condition reports
The cost of buying everything a second time to bring it all home
The cost of figuring out how to ship your belongings somewhere else in the world
Kent Storage is:
Easier: Our storage process is easier for you and less stressful than using traditional self-storage facilities. At any time, you're only one phone call or a few clicks away from working with our expert staff. We skillfully pack and collect your belongings from anywhere in Sydney, whether you need them taken from your home, office, or current storage unit. We also respect your time and will redeliver your items as needed straight to your doorstep or anywhere else in the world.
More Secure: Don't let our low rates fool you; we don't compromise on the security or safety of our facilities or your belongings. We treat your things the same way we would treat our own, which is why we keep them under 24/7 protection with the help of our unique four-level security secure storage system.
Cheaper: Unlike other storage businesses that pass on overhead costs and charge higher rates per metre while making you pay for the entire storage unit, Kent Storage uses stackable containerised storage to cut down on costs. It's a more efficient way of storing your belongings without compromising their safety. You never pay for empty space with Kent Storage; when you add or remove items from your unit, we conveniently adjust your rates according to the amount of space used.
Kent Storage is the clear winner for managed storage in Sydney. We will pack, pick up, securely store, and redeliver all of your belongings for up to 50 percent cheaper than self-storage facilities.
Sydney, NSW and Other General Moving & Storage Information
Sydney, New South Wales has a population of 4,757,083. The Sydney postcode is 2000 and surrounded by suburbs: North Sydney, Manly, Coogee and Bondi Beach.
The median property house price in Sydney is $1,000,000. The distance from Sydney to the closest Kent Storage facility in Sydney is approximately 29.1 km.
Sydney is well serviced by public transport and lifestyle amenities. There are several local schools, various shopping precincts and the area enjoys a selection of healthcare providers.
Storage around Sydney, NSW Fast Facts
Sydney Postcode: 2000
State: New South Wales, (NSW)
Other 2000 Suburbs:

The Rocks
Parliament House
Haymarket
Millers Point
Barangaroo
Dawes Point

Surrounding Suburbs:

North Sydney
Manly
Coogee
Bondi Beach

Median House Price: $1,000,000
Distance from Sydney to Kent Removals & Storage Sydney: 29.1 km or 38 minutes by car
Distance from Sydney to Sydney CBD: 0 km or 2 minutes by car
Population: 4,757,083
Population Density: 380 people per square km
Local Government Area: 38 Local Government Areas make up Sydney
State Electorates:
Federal Electorate: 24 Federal Electorates
Relevant Sydney links:
http://en.wikipedia.org/…
http://www.cityofsydney.nsw.gov.au/…