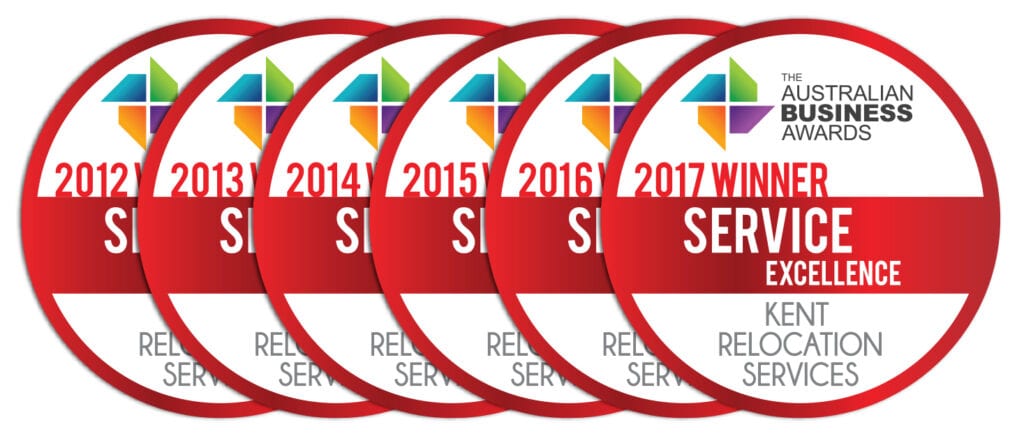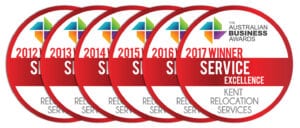 Kent Storage is pleased to announce that we have been awarded the 2017 Australian Business Award (ABA) for Service Excellence. This is the sixth consecutive year Kent has taken home the title, which is a highly-regarded honour within the global moving and storage industry.
Adam Blythe, Kent Storage CEO said, "The entire Kent team is delighted to be honoured as the winner of the 2017 Australian Business Award for the sixth consecutive year. Receiving this accreditation is well deserved recognition of our commitment to delivering exceptional customer service to every one of the 60,000 Australians that trusts us with their household treasures every year."
"We constantly seek to better ourselves as a company, providing superior care, customer service, and peace of mind to all our customers throughout Australia and around the world. We see this award as not only an opportunity to celebrate our past achievements, but also to look forward to continuous improvements."
"Throughout the past 12 months, the Kent Storage team has placed customer satisfaction at the forefront. We are constantly leveraging the needs of our customers to unlock further value within our organisation. With thousands of people choosing to store their belongings with Kent every year, we are concentrating on how we can improve our practices, helping to ensure our customers have peace of mind every time," said Blythe.
Kent invests in ongoing improvement of its people, systems, processes and technology. Our most recent initiatives include:
A unique online instant quote mechanism that provides immediate storage estimates 24/7, making Kent one of the first storage companies in Australia to provide quotes around-the-clock
For some years, Kent Storage has used an online customer satisfaction survey, with the results forming the basis of Customer Satisfaction Index (CSI). In 2014, we started applying this CSI data to specific teams and branches. As a result, we can reward or remedy issues, and quickly identify where improvements are required to provide even better customer service
An online customer service feedback mechanism that includes a public 'Compliments & Complaints' form on our website. This form automatically generates a priority internal customer service ticket that is immediately sent to senior management for urgent action
Real courtesy and professionalism, ensured via continuous customer service and conflict management refresher training
Superior customer service for every move we do, bolstered by a national 10-week customer service and sales development program.
The Australian Business Award for Service Excellence recognises organisations that have achieved outstanding results through initiatives that demonstrate leadership and commitment to service excellence. The ABA are the regional chapter of an integrated, hierarchical leadership program that transcends the national and international scale. The awards seek to recognise pioneers of the industry, and those who demonstrate a commitment to innovation leadership and excellence, within the pursuit of service.
View Kent's recent industry awards and accolades.