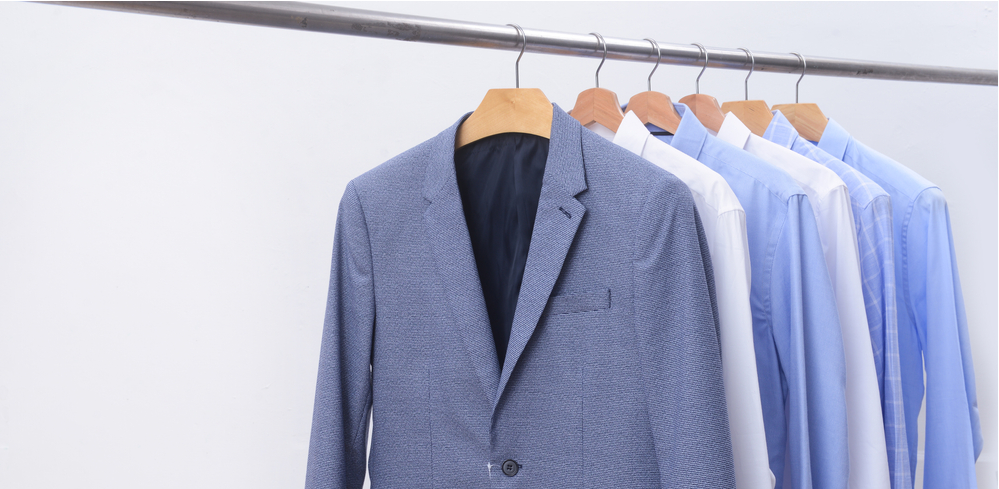 Need a definitive guide on how to pack clothes for storage? The best way to store clothes in a storage unit is:
Step 1: Wash all clothes before packing
Step 2: Only vacuum seal for short term storage
Step 3: Place clothes in plastic containers with clip-on lids
Step 4: Use cedar balls to prevent moth, mildew and musty odours
Step 5: Opt for a professional, climate controlled storage unit
Step 1: Wash All Clothes Before Packing
Before packing clothes for storage, wash and iron every single item of clothing. By only packing clothes for storage once they're clean, they will stay much fresher for much longer, effectively prolonging their shelf-life.
Plus, if you pack dirty clothes, chances are that any stains and odours contained within will settle in over time. You might never be able to wash the stains and smell away. Dirty clothes will also attract insects and other vermin.
When it comes to knowing the best clothing storage solutions, an all-important step is ensuring that all your clothes are completely dry before you pack them. This will help prevent mould, mildew and other odours from building up.
Washing your clothes is also a great excuse to do some sorting. Use it as an opportunity for a wardrobe clean out—a chance to decide which items you want to keep and which you want to sell or donate. Remember, you pay for storage based on volume—don't pay to store clothes that you're never going to wear again.
Step 2: Only Vacuum Seal for Short Term Storage
Some people think that the best way to pack clothes for storage involves the use of vacuum sealed bags. While vacuum sealed bags and plastic clothes covers are a great way to save space and maximise your storage space, the effect that they can have on clothes is sometimes detrimental. So, do vacuum bags ruin clothes? The answer is yes, long term they can ruin your garments. Lack of air inside a vacuum bag can cause the fibres in your clothes to compress, ruining their shape and fit.
Vacuum bags are fine for short-term storage, but should be avoided if you're going to store long term. Delicate or special items, such as wedding dresses, should never be kept in vacuum-sealed bags.
Step 3: Place Clothes in Plastic Containers with Clip-on Lids for Storing Clothes Long Term
The best way to store clothes in storage is to place all your clothes in plastic containers with clip-on lids. These will protect your clothes from moisture, dust, mould and mildew. Make sure you give your plastic containers a good clean and dry them thoroughly before you place any clothes inside.
For extra protection, you can line your plastic containers with clean, cotton sheets. And for particularly special items of clothing (such as a wedding dress or expensive vintage items), you may want to invest in acid free boxes lined with tissue paper, placed inside plastic containers.
How to keep clothes fresh in storage containers
You may notice clothes that have been stored for a while have a strange, musky kind of smell. The good news is, there are ways to keep your clothes fresh while in storage. Here are a few quick tips:
Deodorise before packing your clothes away
Protect your clothes with some essential oils (these smell nice while repelling insects like moths)
Hang your clothes to air out when taking them out of storage
Can you store clothes in cardboard boxes?
This is something that happens a lot, but it's important to know. While storing clothes in cardboard boxes may seem fine, it can actually ruin them long term. Cardboard boxes are easily infiltrated by vermin and pests like silverfish.
What about storing clothes in plastic bags? Same thing—it may sound odd, but your clothes need to breathe! They also trap moisture, which quickly transfers to your clothing, causing it to become mouldy. Storing them in a plastic bag is fine short-term, but longer term you'll want to use a different storage option.
Step 4: Use Cedar Balls to Prevent Moths, Mildew and Musty Odours
Cedar wood naturally protects clothes from moths, mildew and musty odours. So, the best way to store clothes in a storage unit always includes adding a few cedar balls. Best of all, wooden cedar balls last long term and offer a lovely, fragrant aroma. They are also a far superior option than any chemical treatments, which can leak and leave stains and toxic chemicals over time.
Step 5: Opt for a Professional, Ambient Regulated or Climate-Controlled Storage Unit
You need to choose a storage unit that will protect your clothes in the best way possible. This means choosing an ambient regulated or climate-controlled unit that is clean and free from dust, vermin and other harmful elements. Traditional self-storage units often fail to provide these all-important features. So, shop around to make sure that you opt for a professional, secure storage space that will give your clothing the protection it deserves.
So now you know the best way to store clothes long term is about keeping them free from the four M's: moisture, mildew, mould and moths! And if anyone needs to know how to store clothes in a storage unit, you'll be the expert!
Store Clothes with Kent Storage
Discover a reliable solution for your clothes storage needs with Kent Storage. Boasting a remarkable legacy of 75 years in the industry, Kent Storage offers a diverse range of secure storage options customised to your preferences. Across Australia, our cutting-edge storage facilities stand as guardians against temperature shifts and humidity, shielding your seasonal garments from potential damage. Looking for more tips on packing for long-term storage? You can also check out our blog for more great tips and tricks.
Make packing clothes for storage a breeze. Take the first step by securing your Free Quote today. Reach out by calling 1300 836 803 or Get in Touch for personalised assistance.