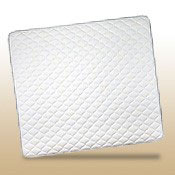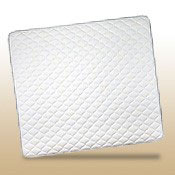 Follow these 4 steps on how to store a mattress, to maintain the maximum protection and condition of your mattress while in storage:
Step 1: Use a vacuum and upholstery cleaner to thoroughly clean your mattress.
Step 2: Wrap a mattress for storage with breathable material.
Step 3: If storing for more than 12 hours, lay your mattress flat.
Step 4: Choose a climatised location to protect your mattress from moisture and dust.
Step 1: Use A Vacuum and Upholstery Cleaner to Clean Your Mattress
If you're interested in how to store a mattress long term, then the most important place to begin is always with a detailed clean. Kent recommends using the combination of an upholstery cleaner and a vacuum. This will decrease the likelihood of your mattress deteriorating whilst in storage.
It goes without saying that the lifespan of a mattress can be significantly extended with intermittent cleaning. By ensuring your mattress is in the proper condition to be stored, you will allow your mattress to maintain its quality throughout a haul in long term storage. A comprehensive clean is a crucial step if you don't fancy your mattress to provide a lovely habitat for all kinds of mould during storage.
Step 2: Wrap Your Mattress with Breathable Material
If you're storing your mattress on a tight budget, then you might consider using blankets, towels or other fabrics to cover your mattress. This will provide some degree of protection from dust and other nuisances.
However, at Kent we recommend a more professionally minded approach. Plastic mattress covers provide a much more reliable degree of protection from dust finding its way into the micro-fibres of your mattress. Alternatively, stretch plastic wrap can also help protect your mattress.
However, the most important thing to consider is your balance of protection and breathability. Your material of choice must provide protection against dust build-up and inadvertent damage. But it must also provide a degree of air flow to discourage the formation of moisture.
So: how to wrap a mattress for storage?
Plastic wrap should be applied before you begin to move your mattress into storage as this will help to prevent damage that may occur during transit. The actual process of wrapping your mattress is relatively straightforward; aim to entirely cover your mattress, top to bottom, back to front. Try to eliminate any residual pockets of air whilst applying minimal pressure to the mattress.
Best of all, if you store with Kent, we provide heavy-duty plastic covers, completely FREE of charge!
Step 3: If Storing for More Than 12 Hours, Lay Your Mattress Flat
When it comes to the best way to store a mattress, placing your mattress on its side is the biggest mistake people make. Whilst storing your mattress on its side will save valuable square feet in your home, leaving your mattress in this position for more than 12 hours will risk damaging the internal spring structure of your mattress. Even if your mattress is designed without the use of coils, it has still been designed to maintain its shape under normal patterns of weight distribution.
This means if you want to know how to store a mattress long term, then laying it flat is the number one rule— it ensures a natural resting position. However, storing your mattress in this way comes at the cost of space in your home. And for many, that's simply not a feasible option.
Fortunately, professional storage locations provide the space you need to ensure your mattress will maintain its comfort throughout its storage term.
Step 4: Choose a Climatised Location to Protect Your Mattress from Moisture and Dust
Do not store your mattress in a damp or humid area. Dampness can lead to serious damage, particularly as damp, humid conditions provide the perfect environment for the development of mould.
Storing your mattress in garages, basements or roof space could be a serious mistake as these are often the dampest areas in a house. These areas may also have sharp objects or other items that could damage your mattress. If you've invested a serious sum in your mattress, then it's worth investing in the best possible storage solution for it.
Not only will professional storage locations provide the space required to a store a mattress correctly, they also provide an ideal atmosphere for long term storage.
The best way to store a mattress is in a climatised storage environment. At Kent, our storage units are designed to maintain the perfect air temperature and low humidity percentage that your mattress will love. If how to protect mattress in storage is your main concern, then the combination of our climatised storage spaces (that are free from dust, mould, mildew and vermin), along with our first class service is the way to go.
Best Way to Store a Mattress Bonus Tip
Once you have taken your mattress out of storage (if stored for more than six months), remember to remove the plastic cover and allow your mattress to breathe before making your bed. This will allow any odour associated with the plastic wrapping or storage area to dissipate.