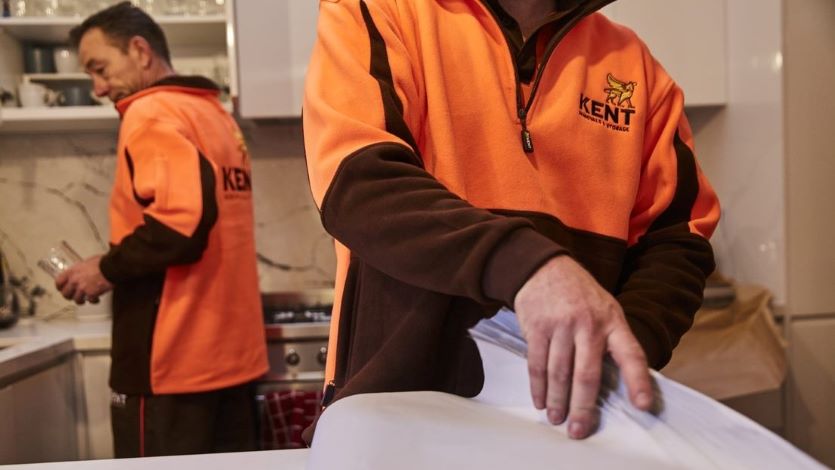 If you want to know how to pack glasses for storage and how to pack cups for storage you need a foolproof step-by-step procedure. Storage can be hard on your glasses and cups, so you need a plan in place if you're going to pack to protect. Luckily, we've compiled this step-by-step procedure for the best way to store glassware:
Step 1: Make an inventory of the cups and glasses you want to store
Step 2: Gather all the materials you need to pack and store your glassware and cups
Step 3: Assemble your storage boxes
Step 4: Thoroughly wash and dry each glass and cup that you're going to store
Step 5: Wrap each glass and cup following the correct procedure
Step 6: Carefully place your glasses and cups in your storage boxes
Step 7: Label and colour-code each box
Step 8: Place your boxes in your moving truck
Step 9: Pack your storage space with care and thought
Step 1: Make an Inventory of the Cups and Glasses You Want to Store
Before explaining the procedure on how to store glasses and how to store cups, you need to decide which glasses and cups you actually want to save. It's not just a case of emptying and wrapping the contents of your cupboards and display cabinets. The amount you need to store will determine your final storage cost, so you can save money by selling or disposing of the glasses and cups you don't use or need anymore.
Once you have decided on the items you will store, write up an inventory. This will be invaluable in ensuring that every glass or cup you wrap and pack ends up back in your possession.
Step 2: Gather All the Materials You Need to Pack and Store Your Glassware and Cups
If you were planning on using some old shoe boxes and newspaper to wrap and store your glasses and mugs, think again. When it comes to the best way to store glasses and glassware, you need high-quality packing materials to protect against the harsh environment of a storage space.
At a minimum, you will need to invest in:
New, double-corrugated storage boxes
Packing paper
Bubble wrap
Packing tape and tape cutter
Coloured stickers.
Step 3: Assemble Your Storage Boxes
Assembling your boxes is about more than folding out a few flaps. You need to prepare your moving boxes properly to ensure that they can fulfil their duty as the chief means of protection for your glasses and cups during transit and storage.
To prepare your boxes you should:
Line each box with a thick layer of bubble wrap
Reinforce the bottom of the box with lots of packing tape
Reinforce all the sides and seams of the box with packing tape.
Step 4: Thoroughly Wash and Dry Each Glass and Cup That You're Going to Store
When it comes knowing how to store cups and glasses, remember that you cannot store dirty or wet glassware. Your glassware will be sitting in moving boxes for an extended period, and if they are wet, they'll be mouldy when you pull them out of storage. If they're dirty, the dirt will spread and be impossible to remove.
So, before you begin wrapping, you need to wash and dry every glass and cup. You should do this at least 24-hours before you start to pack, to ensure they are completely dry.
Step 5: Wrap Each Glass and Cup Following the Correct Procedure
The best way to store glasses or cups is to follow the correct procedure. When wrapping and packing, follow this process exactly:
Prepare a clear, flat surface
Lay out a sheet of bubble wrap
Stuff the hollow sections of the glass or cup with packing paper to absorb any residual moisture
Slowly wrap the bubble wrap around the mug or glass
Apply a thicker layer of bubble wrap to any thinner sections like handles and stems
Use packing tape to secure the entire package.
Step 6: Carefully Place Your Glasses and Mugs in Your Storage Boxes
When it comes to placing glasses and mugs inside your storage boxes, you need to do so according to the nature of the item. Fragile items, like wine glasses and flutes, should be separated with cardboard inserts. Sturdier items like tumblers and coffee mugs can be stacked, by placing smaller cups inside larger cups.
Once you have filled the box, you need to fill in empty space with bubble wrap or packing paper. This will prevent any movement, and stop glasses and cups from clashing against each other while in transit.
You need to be careful not to overfill the boxes. This will make them difficult to carry, and it also increases the chance that the bottom will fall out when you pick it up.
Step 7: Label and Colour-Code Each Box
Labelling and colour-coding your boxes will make the entire storage process easier. When it comes to labelling, you need to be as specific as possible. So, instead of just writing 'Cups', write 'Tea Cups and Saucers' or 'Coffee Mugs'. The more specific you are with your labelling, the easier it will be to locate items when it's time to unpack.
Colour-coding your boxes will also contribute to an easy unpack. You can correspond your colour-coding with your inventory so you can tell at a glance exactly where each box is within your storage space.
Step 8: Place Your Boxes in Your Moving Truck
You don't want to go through all the trouble of wrapping your items, only to be careless during transit. You need to make sure that your boxes are secured within your moving truck. You also need to make sure that your boxes aren't placed anywhere that they could be damaged by a toppling object or another box.
For particularly fragile items, you should consider placing them in the front seat and securing them with a seatbelt.
Step 9: Pack Your Storage Space with Care and Thought
You must be methodical in the way you pack your storage space. Damp is a common factor in storage spaces, so you need to keep your boxes away from the floor and the walls. The best way to keep your boxes off the floor is to use wooden pallets to create a base on the floor.
You also need to make sure you don't stack anything heavy on top of your boxes, and place them well away from anything that could fall over.
That's all you need to know about how to store glassware and how to pack cups for storage. Remember, if you don't have time to devote the care you need to the process, contact a professional for a full pack, transport and store service.