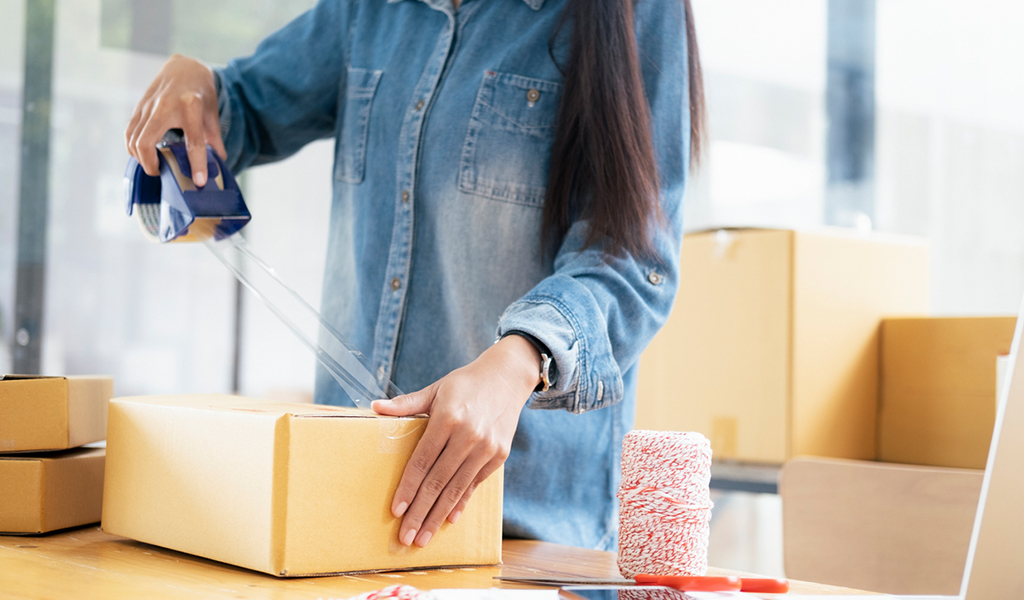 At Kent Storage & Removals we're not too fond of the term spring cleaning; it implies it is a once a year exercise when in reality it is something many households will benefit from twice a year – in both autumn and spring. We're already a few weeks into autumn, but the restrictions introduced over the last weeks to help curb the spread of the coronavirus disease (COVID-19) has simultaneously disrupted any routine many of us followed and created the perfect conditions for some deep cleaning and decluttering around the home.
Many people have had to switch to working from home, with opportunities for socialising or moving outside of your home severely limited. Some individuals may have adapted to this like the proverbial duck to water, while some may still be struggling to separate home from work, and regardless of which camp you fall into, a bit of seasonal cleaning could help get you active for a few days and allow you to create a dedicated home office space. Though your approach will need to be adjusted slightly to accommodate the changes brought about COVID-19 restrictions and recommendations.
Step 1: Know What You Are Going to Do With Unwanted Items
Step 2: Organise Boxes & Packing Materials
Step 3: Complete One Room at a Time and Box Items Appropriately
Step 4: Call Kent Storage & Removals
Step 1: Know What You Are Going to Do With Unwanted Items
When cleaning and decluttering seasonally you are going to end up with some – or many – items you don't need or want anymore. To be fair, you aren't going to want to get rid of all of these items; some could be tools or clothes you don't need now, but could or would need again in a few months times, while others will be a mix of things you don't want in your home anymore – but aren't ready to let go of – and things you are willing to let go of. Normally you would approach this by putting the items you don't need now – and the items you don't need but aren't getting rid of – into storage, and either donating or recycling the rest. But under the restrictions currently in place, recycling or donating unwanted items could be a little difficult, making some form of storage the best option for all items you want out of your home right now.
Even if you have space – and even if they are neatly packed in boxes or storage containers – moving them to another part of your home isn't really decluttering: it's just shifting the clutter. Using a professional storage solution is what is recommended, but traditional self-storage isn't ideal since once you are able to recycle or donate the items you no longer want, you're either going to be left paying for storage space you aren't using or having to move everything to a small storage unit. Our storage solution is better suited to seasonal cleaning because:
We bring our mobile storage unit to you, before taking it back to our secure, climatised storage facilities so there is no need to hire a truck or a van.
We give you 24 hours to load the unit yourself or if you need an extra hand our expertly trained removalist will help you load everything into it.
When you want some – or all – of the items taken out of storage, we deliver you storage unit to you again and return it to our storage facilities once you have removed what you want or need.
Step 2: Organise Boxes & Packing Materials
Kent Removals & Storage offer a wide range of quality packing materials and boxes suited for both moving houses and for putting items into storage, including a Fashion Pak that is perfect for storing seasonal clothes on the hanger, reducing creasing. Bubble wrap can be useful to pack fragile or delicate items, while packing paper is great for separating layers or filling in empty space to reduce movement of boxed items. You could use old newspapers for this purpose too. However, we recommend against it because there is a risk of the printer ink transferring to items, dirtying them or even permanently damaging items.
For each room that you work through, you are going to want at least three boxes: one for items you are keeping, but placing into storage, one for items you are going to donate, and one for items you are going to recycle.
Step 3: Complete One Room at a Time and Box Items Appropriately
Whenever you do seasonal cleaning, even under more normal circumstances, the best approach is always one room at a time. Because we offer boxes in all shapes and sizes, you don't need to worry about having to overlap rooms just so you are able to fill a large box. As you clean and declutter, create four groups of items: things you are keeping in your home, things you are keeping, but putting into storage, for now, things you want to donate, and things that can be recycled. Don't box anything until you have sorted through everything in the room – and this can include furniture, mirrors, and décor items. Only then can you start boxing whatever isn't being kept in the room. Always layer items as you box them, with heavier items at the bottom and ending with the lightest items, wrapping delicate or fragile objects with bubble wrap. Very small items can be packed into Ziploc bags to prevent them from rolling about or being lost. Furniture and items that are too big to be boxed should be wrapped in blankets or heavy-duty plastic to keep them free from dust and to protect them against tears or scratches.
Draw up a detailed inventory of the contents for each box, even those with items you plan on selling or donating, so you always know where to find anything you may need later. Finally, seal the boxes, and label them clearly, making sure the label matches your inventory lists. You can then proceed to clean the room and reorganise the items you are keeping. This also gives you a final opportunity to assess whether you have held onto something that should rather go into storage.
Decide on your own pace, but try to complete at least one room per day, without forgetting about your kitchen, bathroom, garage, and garden shed. In addition to being able to create closet space by placing seasonal clothes into storage, you can create space by putting certain garden tools and accessories into storage seasonally – anything you aren't going to need for the next four to six months can easily go into storage to free up space around your home.
Step 4: Call Kent Storage & Removals
Once you have worked your way through your home and have boxed everything for storage, donation, or selling, you're ready to contact us to arrange for your storage unit to be delivered to you. We have storage facilities in 11 locations throughout Australia but are able to deliver and collect our storage containers from literally any location in Australia. And because our services fall under transport and logistics, we aren't affected by any COVID-19 restrictions. But you can always expect our removalists to adhere to all health and hygiene requirements at this time, from the use of facemasks, gloves, and hand sanitiser, to adhering to proper social distancing recommendations, whether you choose to load the mobile storage unit yourself, or get our removalists to do it for you.
When loading your storage unit, it is important to also follow some basic principles:
Items you are keeping in storage for a long period of time should go in first, followed by items you are keeping, but will want to take out of storage sooner – seasonal items, for example.
Large boxes and heavy items should go in before smaller, lighter items that can be stacked.
Items you intend donating or selling once circumstances allow for it should go in last, since you would want to remove these sooner than anything else in storage.
Once your unit is loaded, you can lock it, and our removalists will then transport it to our nearest storage facility where it will be kept until you need some or all of the items taken out of storage again. Thanks to our approach to storage, our solutions are simpler and more secure than traditional self-storage. Contact your nearest branch of Kent Removals & Storage if you're ready to make cleaning and decluttering your home easier – whether you choose to call it spring cleaning, or seasonal cleaning.