Moving to Townsville? Top 5 Reasons for Living in Far North Queensland!
16th February, 2023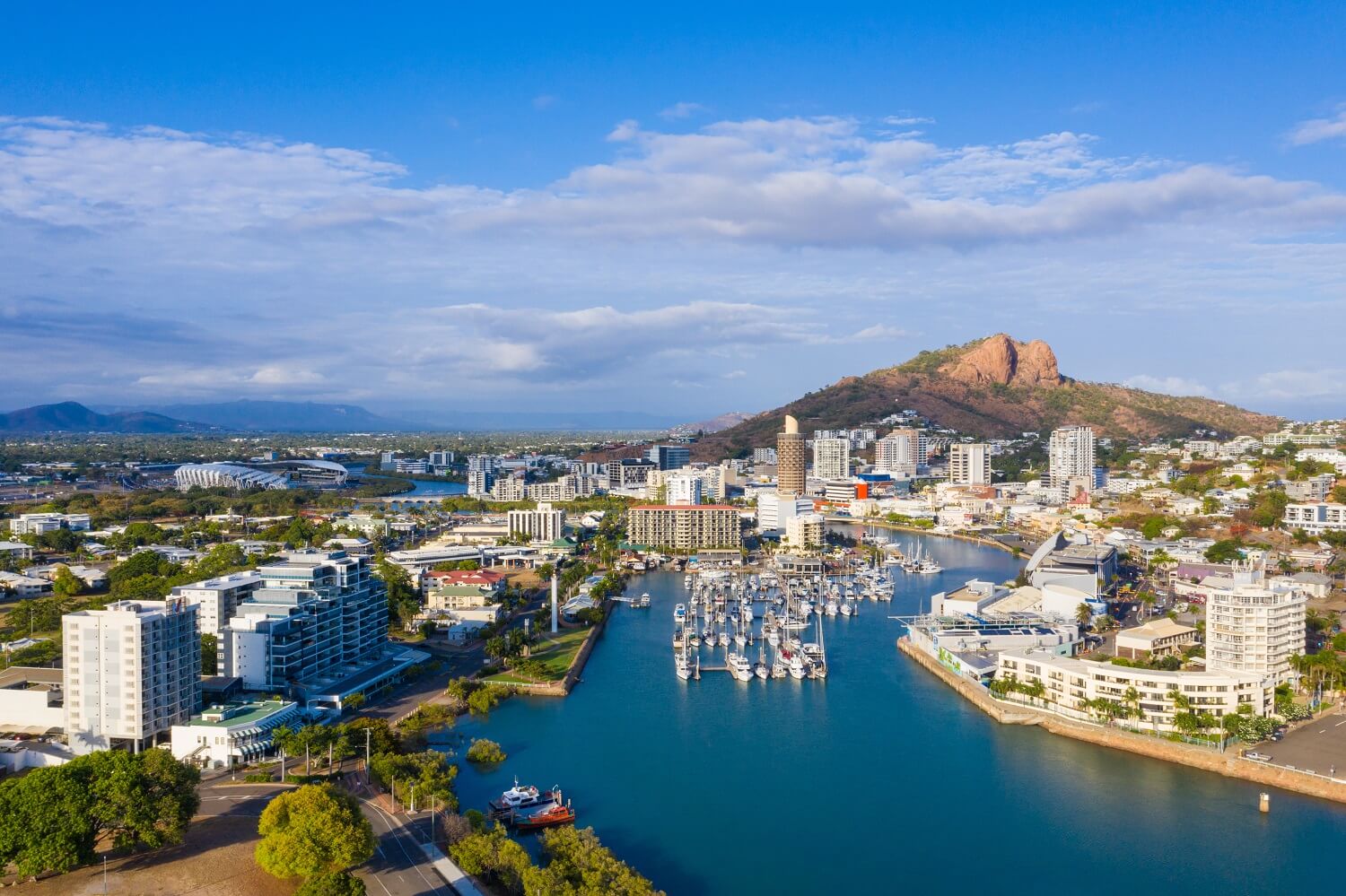 Whether you are moving to Townsville to advance your career, to study, to raise a family or retire, then you have made an excellent and unique choice choosing to live in Far North Queensland – a region that's home to Australia's famous Wet Tropics World Heritage Area and world-famous attractions such as The Great Barrier Reef and Daintree Rainforest to name just a few. Along the 450km of rugged tropical coastline here, you will see remnants of the lush, ancient Gondwanan Forest that once covered the Australian continent, stretching between Cooktown to Townsville; as well as Australia's largest flying foxes (also known as fruit bats) migrating across balmy, tropical night skies.
For many around Australia, Living in Far North Queensland would be a postcard dream come true, with its tropical offerings and proximity to remarkable natural wonders of which draw international tourists, year after year. With FNQ's two prominent, progressive, and multicultural cities – Cairns and Townsville (with well-stocked towns all around) you are provided with ample amenities and opportunities, giving you everything you'll need while living in the great Far North.
In this article, we focus on Townsville and what makes it such a fantastic place to live. Home to Australia's largest army base and a diverse mix of industries, this thriving precinct delivers excellent career progression opportunities for all. So, if you are moving to Townsville for employment, study, or a lifestyle change – read on. Here's 5 Reasons why Living in Townsville is an incredible place to live.
1. Moving to Townsville? Get the Fast Facts
1.1. Brief History & Population
 Founded in 1864 as a port for the pastoral industry in North Queensland and following the exciting discovery of gold in nearby hinterlands, Townsville rose to prominence as a principal centre and de facto capital of North Queensland. This was likely accelerated by Defence force expansion into the area over the last several decades, where the RAAF and Lavarack Barracks – Australia's largest army base – now reside.
Mix this in with proximity to tropical sunshine, the Great Barrier Reef, postcard-perfect beaches, waterfalls, and the stunning Magnetic Island, and it's no wonder Townsville is Australia's largest urban centre north of the Sunshine Coast, with a growing population upward of 195,000 and a population density of 249 people per square kilometre, ranking it 4th after Brisbane, Gold Coast and Sunshine Coast.
1.2. Weather
 Moving to Townsville for sunshine, heat, and tropical balmy evenings? Townsville will not disappoint thanks to being blessed with almost (always) year-round sunny weather, which is why outdoors activities – such as hiking, beach parties, barbeques on the esplanade, water sports, yachting and day trips to Magnetic Island, are such popular past times here.
Townsville has a dry tropical climate dominated by two distinct seasons – Wet Season (Summer) from November – April; and Dry Season (Winter) from May to October. Summer months in wet season are hot and muggy, with day temperatures averaging 29-31°C, and evening temps averaging 20-24°C. During these months, rainfall and humidity is high, averaging upwards from 60%-75% during this time, where a 32°C Day in Townsville would comparably feel like a 37°C Day in a drier climate. In winter months, it's comfortably warm and mild with day temperatures around 25-29°C and at night, a cooler 13-18°C. Making the best time to visit Townsville between May and September.
Concerned about the heat in Summer? Don't be. It's all very manageable. Thanks to the cool, consistent north-easterly afternoon sea breeze that Townsville experiences throughout the year, you'll be surprised at how well you can acclimatise when living in Townsville. 
1.3. Public Transport
 When living in Townsville, a vehicle is recommended to comfortably enjoy commuting and exploring the expansive region. However, don't fret if this isn't yet organised because Townsville does offer a public transport system consisting of bus services operated by Sunbus, a partner of Translink. Bus services are regular and connect people to all over Townsville and surrounding suburbs. Additionally available are taxis (13Cabs, Checker Cabs) and rideshares (Uber, DiDi, Ola, Shebah), as well as the opportunity to hire E-Scooters around Townsville centre.
As Townsville is a thriving precinct with many entertainment venues, including the Queensland Country Bank Stadium, events are well catered for – with the Hermit Park Bus Service also offering a charter service to any occasion.  
1.4. Employment & Education 
Thinking about what employment opportunities are available in Townsville? Retail, health and education services, government administration and defence, construction, mining, manufacturing, property, and business services, are among the important industries of Townsville's diverse economy. There are also employment opportunities in mining refineries and agriculture, with locally based refineries, and the Queensland Sugar Corporation Distribution Centre in the area.
If you are moving to Townsville for the army or air force bases, you will discover a welcoming Australian Defence Force community which also influences the local economy. Given Townsville is a major hub centre, you will have everything you need and more, including world-class regional health services at your fingertips, and excellent Universities to choose from to further your studies, such as James Cook University, CQ University, Tafe Townsville and more; as well as world-class research institutions such as Australian Institute of Marine Science and CSIRO.
2. Living in Townsville – Best Suburbs to Choose From
Moving to Townsville and haven't yet decided where to live? Compared to other areas in Queensland, property prices tend to fall at the lower end in Townsville, so you'll likely get some "bang for your buck" homes on sizable land at decent value.
As is common knowledge, property prices tend to reflect the demand of the area and suburb; so be sure to research the suburb ahead of time to ensure your living costs are not negatively impacted. If you can afford to budget for Townsville's most expensive suburbs, then take into consideration Castle Hill, North Ward, Belgian Gardens, and Black River, to name a few.
Thankfully, however, you don't have to move to an expensive suburb in Townsville to reap the rewards of nature, scenery, views, and convenience, with many more suburbs offering retirees, families, and singles alike, plenty of property options across a large range of budgets. Family-friendly suburbs like Alice River, Mount Low, Bushland Beach, Rangewood, Annanadale, and Gumlow rank very well.
Or how about living on Magnetic Island? With an estimated resident population of 2,486 and Townsville only 8km away, the island life could be calling you. Otherwise, consider checking out one of these other popular Townsville suburbs:
When looking at homes in Townsville, you will be impressed with the number of distinct charm and character of tropical Queenslander-style properties. Queenslanders are considered Australia's most iconic architectural style, characterised by a typically high-set, single-storey dwelling with a veranda, where the under-house area is utilised as extra living areas. Queenslanders are 'off the ground' for stylish and practical reasons – such as to combat pests, resilience against rainfall and downpours, providing air flow, and more storage.
3. The Best Things to do in Townsville
When living in Townsville, you are spoilt for choice on all the range of activities you can do, and attractions you can see. If you like keeping fit and enjoy hiking, then we highly recommend the Goat Track Summit Hill which is very popular with tourists and locals alike, giving incredible 360-degree views of Townsville. Other scenic trails are Mount Marlow via Lagoon Track, Mt Louisa Walking Track, Jezzine Park and Walk Track, Cudtheringa Track, Top Summit via James Cook University stairs, and Castle Hill lookout via Castle Hill Road.
If you're into water – you're in for a treat! Make a day trip to Magnetic Island, join a sunset sailing charter, or scuba dive the exceptional S.S Yongala Wreck on the Great Barrier Reef. Or how about heading into the air – on a scenic helicopter flight and take in the nearby Hinchinbrook Island while you're up there.
Or if it's raining, head to the museum! The two most popular museums in Townsville are Maritime Museum of Queensland and the Museum of Tropical Queensland.
4. Dining, Entertainment & Eating in Townsville
Moving to Townsville is cause for celebration, so grab your nearest and dearest and organise a night out on the town to toast to your move! With an excellent food, entertainment, and dining scene on offer, you are not short on options. If you like breweries, may we suggest Tiny Mountain Brewery, Townsville Brewing Co and TapHouse Brewing. Fancy yourself a wine or delicious cocktail? Head to one of the bars at Hooch and Fellow, The Heritage or 237 Flinders Street.
Coffee drinkers and smoothie-lovers rejoice! Plenty of cafes await to be stumbled up throughout the streets of Townsville, with Born Wild Wholefoods + Espresso, Betty Blue & The Lemon Tart, Café Nova & Gallery, Café Bambini Verde, Alt Brew, The Old Railway Café, Hoi Polloi Café and Tobruk Kiosk serving up a storm each day – and that's barely scratching the surface!
For those who love to walk their dog, or ride their bicycle or E-Scooter to the community markets, you've got choices too – such as Cotters Market, Townsville Rotary Markets, Otto's Markets and Market Renegade Handmade Markets. As for entertainment – given Townsville is Queensland's second unofficial capital city – be assured that world-class entertainment happens in Townsville regularly. Stay up to the date with Townsville's events calendar here.
5. Living in Far North Queenslandy
Living in Far North Queensland (FNQ) is reef and rainforest country – a dream getaway for many thanks to the region's breath-taking, Jurassic-style, outback, rainforest, and seascapes; and the laid-back, "island-like" lifestyle that is dished out on a daily, bright tropical platter.
Located in the northernmost region of Queensland, FNQ is home to three famous World Heritage Sites – the Wet Tropics, The Great Barrier Reef and Riversleigh, Australia's largest fossil mammal site. It also boasts over 70 diverse national parks and has Northern Australia and Queensland's highest peak – Mount Bartle Frere at 1,622 metres tall (5,322 ft).
In addition to snorkelling and diving the Great Barrier Reef and escaping into the Daintree Rainforest, why not explore one of these beautiful national parks – Paluma Range National Park, Magnetic Island National Park, Girringun National Park, Hitchenbrook Island National Park, and Porcupine Gorge National Park.
Another thing that makes living in Far North Queensland even more of a unique and exciting experience is not only its ancient and vibrant landscapes, buts its people too. With the Cape York Peninsula's geographical proximity to the Torres Strait Islands, Papua New Guinea, and numerous other inhabited islands; the Far North connects Aboriginals and Torres Strait Islander cultures from all over, lending itself to vibrant, multi-cultural communities, events, festivals, and delicious cuisine across Far North Queensland.
Conclusion? Queensland's Unofficial Capital Triumphs!
Surrounded by some of Australia's most iconic and spectacular national parks, rainforests, waterfalls, and unique wildlife; as well as being on the doorstep of the Great Barrier Reef, it should come as no surprise as to why Townsville is immensely popular with tourists and permanent residents alike.
If you are moving to Townsville for opportunity, growth, adventure or settling down, the quiet life or the active life, sunshine and outdoors, and making new friends, then the friendly bustling city of Townsville is for you. Indeed, Australia's tropical region is an incredible place to live, providing unforgettable experiences and memories that will surely last a lifetime!
We think you're making a superb decision moving to Townsville. Congratulations – this year will be your best year yet! Enjoy!
Kent Townsville Removalists Know Far North Queensland
Is your dream of moving to Far North Queensland and living in Townsville finally becoming a reality? Kent Removals & Storage has a state-of-the-art storage warehouse and facility in Townsville, located at 10 McHugh Ct, Stuart, QLD 4811. Talk to the Townsville Removalists Team today about removalist and storage solutions on 13 55 31.
Moving To Townsville? Hire a Professional Removalist
Whether you're moving from Townsville, or to Townsville – you can trust Kent Removals & Storage to get you there! Our Kent Townsville Removalists have you covered.
Book your move to Townsville with Kent or call: 13 55 31 now.
Blog Author: