6 Easy Steps To Pack Plates for Moving House- How to Pack Plates for Moving House
4th September, 2019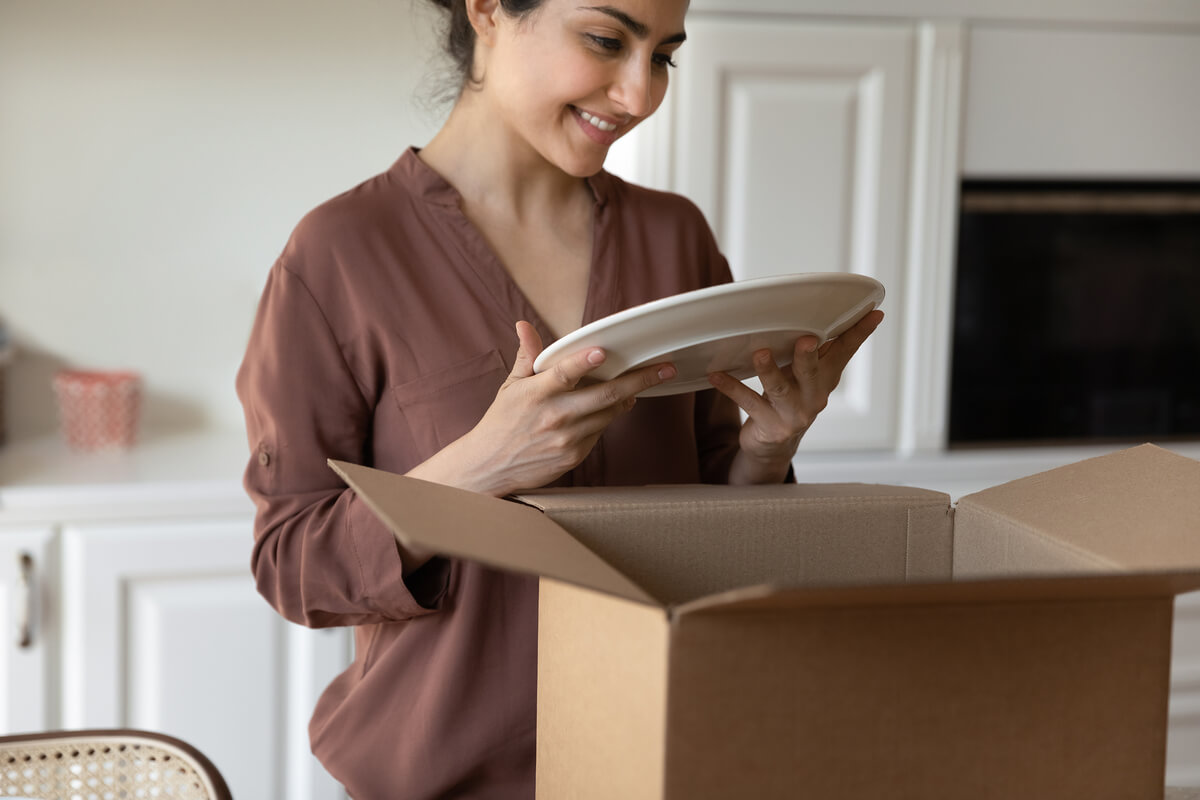 Follow these steps to know how to pack plates for moving house to ensure your dishes arrive safe and sound at your new home:
Step 1: Purchase the right packing supplies
Step 2: Prepare the moving box; tape the edges and prepare a soft base
Step 3: Carefully wrap your plates one-by-one
Step 4: Pack your plates sideways in the box
Step 5: Add more padding and seal the box
Step 6: Load the truck correctly
Step 1: Purchase the Right Packing Supplies
The key to understanding how to pack dishes for moving is knowing what supplies you need. Firstly, you'll need several medium-sized boxes. We suggest investing in high quality moving boxes. This way, you'll have peace of mind that they won't fall apart due to multiple use. You can even opt to buy specially built boxes that are designed to carry and protect plates.
For the packing itself, you will need the following packaging supplies:
Packing paper
Bubble wrap
Packing tape and a tape gun
A marker to label boxes
Step 2: Prepare the Moving Box; Tape the Edges and Prepare a Soft Base
The next step in learning how to pack plates when moving is preparing your moving boxes for fragile items. Here's how you do it: Adjust your first box into a standing shape by closing the bottom. Use your tape gun to seal that end by applying tape in both directions. The tape should stick the edge of the box flaps to the bottom, with another line of tape crossing over to reinforce it. Draw the tape about a third of the way up the sides of the box. Test the strength of the bottom using your hand. Still feels weak? Try adding a few more tape layers until it feels sturdy.
Once the box is ready, start scrunching up your packing paper into balls. This will provide a soft bed for plates to sit on and give the box better shock absorption. Bubble wrap can also be used for this, but it's more expensive and you might need it for wrapping later. You can also use soft household items like pillows and sheets.
Step 3: Carefully Wrap Your Plates One-By-One
To protect your plates from damage in transit they'll need individual wrapping. Find a large table or surface to work from, and place a stack of packing sheets out flat in front of you. Ensure the sheets are large enough to completely wrap the plates being packed.
So how do you pack dishes for moving? Start by placing the first plate in the middle of your packing sheets. Take one corner of the sheet, and fold it over the plate until it's completely covered. Pick up your next plate (one of a similar size) and place it on top of the first. Then grasp the remaining corners, and fold them over the second plate. Secure the pack of two plates using your packing tape. For your more expensive plates use bubble wrap and wrap each one individually.
Step 4: Pack Your Plates Sideways in the Box
The best way to pack dishes for long distance move is to place them sideways in the box. Make sure not to pack plates flat because this can lead to broken crockery. Plates sitting on their sides can sustain more pressure than those packed flat. Take care to arrange your plates so they are fitting into each other and lining up across the box. Fill until they're tightly packed together, with minimal space left.
Step 5: Add More Padding and Seal the Box
When the box is packed, it's time to add more padding and seal it up tight. This ensures the plates don't shift during transport and makes the box strong and secure. Scrunch up more packing paper and line the top of the box like you did with the bottom. Once the whole box has been padded well, seal it with several layers of packing tape. Label the box as 'fragile' with your marker. List what's inside the box, and write which location it's from i.e. 'kitchen'.
Step 6: Load the Truck Correctly
Move your fragile boxes in slowly once the truck arrives. The last thing you want is your valuables getting damaged before the move even starts! When you get to the truck, the correct place for your boxes with plates is on the floor. Because they are heavier, this will stop them moving around on the road or toppling over. If you're also moving furniture like desks and tables, place fragile boxes underneath them, protecting them further during transit.
If you follow these steps, you will know how to pack plates for moving house so they stay safe. However, if you still feel nervous about keeping your fragiles protected, call the professionals and they will ensure the safe transport of your possessions.
If you require any additional help for other household items, please take a look at our moving tips and tools. If you would like to speak to a moving expert, contact us today.
Infographics:
6 Easy Steps To Pack Plates For Moving House.