How to Pack Cups and Glasses for Moving
4th January, 2018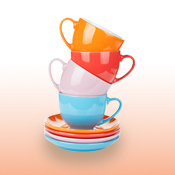 The key to understanding how to pack cups and glasses for moving is devoting time and care to the process. You need to be methodical in your wrapping and packing technique, so we've created a step-by-step process for you to follow to help ensure your glasses and cups arrive at your new home in perfect condition.
Step 1: Sort through your glasses and mugs and decide what you will pack
Step 2: Purchase and gather the materials you need to pack your glasses and cups
Step 3: Prepare your moving boxes
Step 4: Prepare a clear flat surface for wrapping
Step 5: Wrap each glass or cup carefully and methodically
Step 6: Place your glasses and cups in your moving boxes
Step 7: Seal and label each box
Step 8: Pack and secure boxes within moving vehicle
Step 1: Sort Through Your Glasses and Mugs and Decide What You Will Pack
Before you begin packing glasses to move, you need to decide which glasses and mugs you want to take with you. We tend to collect lots of glasses and mugs without using a lot of them. There's no point paying to transport clutter to your new home, so it's worth decluttering your cupboards and deciding what you really love and need. Once this is done, you can then sell or donate the excess. Chances are, you'll have cut your packing and wrapping time in half.
Step 2: Purchase and Gather the Materials You Need to Pack Your Glasses and Cups
Packing glasses when moving requires high-quality packing materials. Old boxes and newspaper just won't provide the protection you need. Old, second hand boxes are a liability because they can fall apart, and the ink on newspaper can run and ruin your glassware and mugs.
To provide your glassware and mugs with the top-shelf protection you need:
New, double-corrugated moving boxes
Packing paper
Bubble wrap
Packing tape and tape-cutter
Permanent marker
Cardboard dividers.
Step 3: Prepare Your Moving Boxes
You need to put as much effort into preparing your moving boxes as wrapping glasses for moving. To prepare your moving boxes you should:
Assemble the box
Line the entire box with a thick layer of bubble wrap
Reinforce the bottom of the box with plenty of packing tape.
Step 4: Prepare A Clear Flat Surface for Wrapping
If you're packing glasses to move, you need to have a clear, flat space prepared. Make sure this area is at a comfortable height, so all that wrapping doesn't hurt your neck or back. If you have the space arranged, you'll be able to work far more efficiently than if you have to battle with a cluttered and uneven workbench.
Step 5: Wrap Each Glass or Cup Carefully and Methodically
The best way to pack glassware is to follow a procedure methodically. If you want to protect your glasses and mugs, you need to know how to wrap glasses for moving:
Stuff the hollow section of the glass or cup with packing paper
Lay out a sheet of bubble wrap on a flat space
Wind the bubble wrap around the cup or mug
Add extra bubble wrap to thinner sections, such as handles and stems
Use packing tape to fasten the bundle together.
Step 6: Place Your Glasses and Cups in Your Moving Boxes
When packing glassware for moving, it's a good idea to use cardboard dividers to separate each item. Glass is incredibly fragile, and even the slightest impact could cause a break or chip. Cardboard dividers keep each glass separate and limit movement within the box.
Mugs and cups are hardier and, depending on how precious they are; it may be suitable to simply stack them inside your boxes box. You can also nest smaller mugs inside larger ones to maximise space.
Whether you're using dividers or a stack method, it's essential that you eliminate any excess space in the box. Space allows for movement and movement creates breakage and damage. The best way to remove space is to fill the box with bubble wrap or packing paper once all your mugs and glasses are placed inside.
Step 7: Seal and Label Each Box
When it comes to knowing how to pack glassware for moving, keep in mind that each box should only be packed to the point where the top flaps can be comfortably closed and sealed. Overfilling your boxes will increase the chance of the bottom falling out. They will also be harder to carry, which makes it more likely that you or the removalist will drop them.
Labelling is incredibly important. The first thing you need to do is mark each box with 'Fragile' on all visible sides, as well as 'This Side Up'. Secondly, you need to label the box according to the contents. If you have lots of boxes with glasses and mugs inside them be as precise as possible. For example, instead of just writing 'Glasses', write 'Champagne Flutes' or 'Coffee Mugs.' You don't want to have to unpack every box just to find your favourite mug for your morning coffee.
Step 8: Pack and Secure Boxes Within Moving Vehicle
The most dangerous part of the entire process is the journey from your old address to your new address. You need to make sure that movement is limited as far as possible during transit, and you can do this in a number of ways:
Use a large piece of furniture, like a table, to enclose the boxes containing mugs and glasses
Place the boxes in the corner of the vehicle, away from any objects that could topple over, and secure them with a rope
Place them in the front seat of the vehicle, and secure them with the seatbelt.
Follow this procedure, and you'll know how to pack glasses for moving. Of course, if you don't have time you can always contact a professional. A professional will provide you with a premium wrap, pack and transport service that will get your glasses and mugs to your new home in perfect condition.