How to Pack Blankets for Moving – Best Way to Pack Blankets
1st February, 2018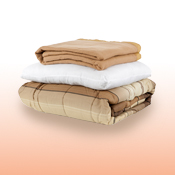 Need to know how to pack blankets for moving? If you're about to move home, you may be worrying about your glasses, electronics and other fragile items, but you need to look after your blankets too. Read through this step by step process on the best way to pack blankets:
Step 1: Declutter and Determine which Blankets to Pack
Step 2: Have your blankets dry cleaned
Step 3: Invest in high-quality packing materials and supplies
Step 4: Pack each blanket methodically
Step 5: Clearly label each box
Step 6: Carefully pack your boxes within your moving truck
Step 7: Make unpacking your blankets a priority
Step 1: Declutter and Determine which Blankets to Pack
If you've been living in your home for many years, you've probably filled your linen cupboard with all sorts of blankets. Chances are though, you probably haven't used the majority in quite some time—they may even be moth-eaten. As such, there's little point in going through the stress and cost of packing and moving these. To make your life easier, declutter your linen cupboard and only move your best and most loved blankets. Any blankets that you no longer need can be set aside and used to wrap fragile items.
Step 2: Have Your Blankets Dry Cleaned
The best way to pack blankets is to ensure that they are thoroughly clean to begin with. While it may seem as those your blankets are clean, you'd be surprised at how much dust, dirt and pests they can contain even if they are washed regularly. So, before you pack your blankets, drop them off at your dry cleaners. This way, you can fill the linen cupboard at your new home with the freshest, cleanest blankets possible.
Step 3: Invest in High-Quality Packing Materials and Supplies
Knowing how to pack blankets for moving is all about finding the right materials in which to wrap and protect them. To pack blankets, you should invest in:
Large double corrugated moving boxes or plastic tubs
Breathable plastic wrap
Packing tape
Permanent marker.
Wherever possible, be sure to use brand-new double corrugated moving boxes or plastic tubs. It's never a good idea to use old, second-hand boxes to pack blankets. Old boxes can have a musty odour that will transfer onto your blankets, meaning your freshly dry cleaned blankets will arrive at your new home smelling like musty, old cardboard.
Step 4: Pack Each Blanket Methodically
No matter what you're packing, you need to have a precise method in place. When it comes to knowing how to pack blankets, follow this method:
Lay the blanket out on a clear, flat space
Fold the blanket to approximately a fourth of its size, depending on its thickness
Wrap the blanket in breathable plastic wrap, making sure not to wrap too tight, or you may damage the blanket
Place the blanket inside your brand new box or plastic tub.
If you're looking to save space and boxes, instead of filling an entire box with blankets, you can use them to create a soft base for fragile items. For example, lay a blanket at the bottom of a box, place ornaments on top, and finish with a layer of bubble wrap or another blanket. That way, you can turn your fragile boxes into your blanket boxes too.
Step 5: Clearly Label Each Box
Whether you use each box to pack numerous blankets, or you use them to cushion precious fragile items, you need to clearly label each box. Labelling your boxes will make unpacking at your new address simple. Labelling is about more than just writing 'Blankets' or 'Blankets and Ornaments'. You need to be specific. Include the following on each box:
Number of blankets, and the room or cupboard to which they belong
Other items in box, such as 'lounge room ornaments' or 'dining room crystal'
'Fragile' and 'This Way Up' (if the box contains fragile ornaments).
Step 6: Carefully Pack Your Boxes Within Your Moving Truck
Knowing how to pack blankets for moving isn't just about getting them into boxes, it's also about getting them safely to your new address. You need to be careful about where you place them within your moving truck. If your blanket box contains fragile items, make sure it isn't set down somewhere where a heavy box could fall onto it, and never stack any other boxes on top. You also need to ensure that the box isn't anywhere near liquids that could leak and damage your blankets. Keep in mind that a box full of blankets will be light, so it's best to place it on top of a pile of heavier boxes.
Step 7: Make Unpacking Your Blankets a Priority
You should try to load your blankets near the door of the moving truck so that you can unpack them as soon as possible. The longer your clean blankets stay inside plastic wrap, the more likely it is that they will pick up an odour or lose their shape. Chances are your blankets will also be required for your first night's sleep—just another reason to make them a priority box.
Follow this step-by-step process, and you'll be an expert on how to pack blankets. The more care you put into the packing process, the better condition your blankets will be in for your first night. If you don't have the time to pack your blankets, contact the team at Kent Removals and Storage, and we'll take care of everything for you.