End of Lease Cleaning Checklist and Cleaning Tips Available Now
4th November, 2015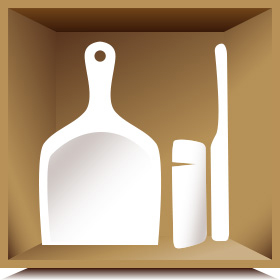 Our End of Lease Cleaning Checklist is available now! As experts in home relocation, with experience built over 75 years in the removals industry, we have learnt a thing or two about cleaning a rental property to ensure you are on your way to receiving a refund on your bond.
This cleaning checklist contains general end of lease cleaning tips designed to make the entire cleaning process easier, faster and more effective. Our moving out cleaning checklist includes handy hints like:
Keep all your cleaning supplies together in one bucket for easy access
Always cleaning from top to bottom, back to front, and left to right. Plus, complete any 'dry' cleaning before you do any 'wet' cleaning; dust before you wipe and vacuum before you mop
Work methodically through all rooms in your house, cleaning every surface in every room before moving onto the next area.
Our moving house cleaning checklist even includes room-specific cleaning tips:
In the kitchen:

Use a cup of baking soda with three tablespoons of water to clean your oven
Use baking soda on a damp cloth to clean your dishwasher
Remember to clean areas such as the range hood and sink drain; you may not even notice things like this but your landlord definitely will.

In the bathroom:

Fill a plastic bag with vinegar and let the showerhead sit in it overnight to remove any grime
Use baking soda and vinegar to clean any glass walls or doors
Use sugar soap mixed with warm water to remove any scuffmarks and spots on walls.
Last, but by no means least, our moving house cleaning tips even cover the exterior of your property. It covers mowing the lawns, clipping the edges and removing weeds. Remember, the house needs to look as it did the day you moved in, so if the garden was in immaculate condition you need to restore it that level.
So, if you want a stress-free move and assistance in receiving your bond back every time, then don't delay: download Kent Removals' End of Lease Cleaning Checklist now.