Adelaide Relocation – What to Expect When Moving to Adelaide
29th March, 2019
Adelaide is known as 'the city of churches', but it offers so much more than just an array of charmingly historical places of worship. As the gateway to the beautiful Barossa Valley and boasting beautiful beaches, renowned museums/art galleries and thriving markets/retail shopping, there is a lot that awaits. Adelaide also presents a quiet and restful escape, if that's what you seek.
If you are thinking of moving to Adelaide there are a few things you should know. Here is what you might expect upon relocation.
City overview
Adelaide is a very accessible city and yes, it's still actually possible to live in the CBD of the city without having to sell a kidney! Compare this with Sydney or Melbourne (or an international city like New York or Tokyo) and you'll understand just what a dream this is!  Adelaide is known as the '20-Minute City' – that's because you can reach any point in the city centre usually within a period of 20 mins from the outlying suburbs. Whether you base yourself in the city or suburbs, you can't really go wrong.
The downside for some is that shops close early on weekends and the tram will only take you as far as 25 km from Adelaide's CBD. However, that's all part and parcel of a city whose lucky inhabitants largely get to avoid a mind-numbing commute.
That is, after all, why the public transport system does not need to extend that far. The urban scrawl of Adelaide is still under control, public transport is relatively clean/reliable and travelling to the airport, city centre and beaches is an absolute breeze!
The environment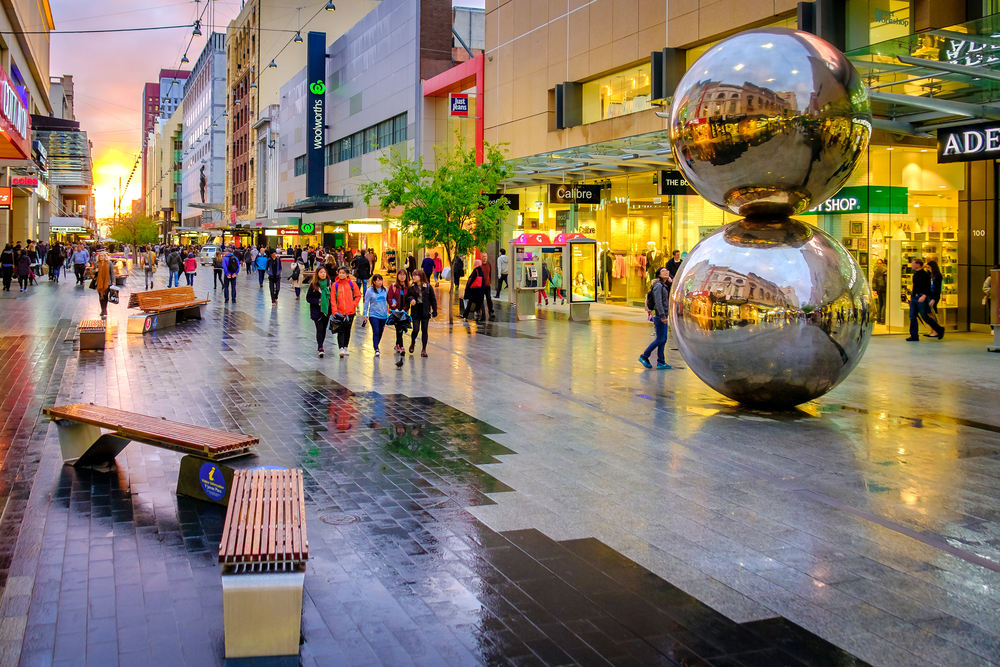 The climate in Adelaide is known to be quite dry and fairly warm – which is what makes the surrounding region perfect for wine production. The city itself is quite compact and contained within a grid format.
The River Torrens divides Adelaide, making for a lovely point-of-interest and place of leisure (check out the paddle boats). The city is known for its vibrant laneway culture, with an abundance of diverse restaurants and bars that make use of fresh local produce to good measure.
Suburbs flow out logically from parkland greenery that fringes the more cosmopolitan epicentre of Adelaide. You will find an array of 19th/20th-century architectural specimens to marvel at.
The property market
In terms of properties to call home, there are still a great number of houses with big backyards available, alongside chic urban apartments and many other options (at a median house price that still beats most other Australian cities).
If you are searching for a rental in Adelaide, the current median price is around $440 per week. However, you can pay far less in the outer suburbs. It's wise to plan a few trips to Adelaide (so you can get to know the city) before you make your final move and to ask family/friends in the city for their assistance and tips on how to secure your best living arrangement.
The people
The pace of Adelaide might be a bit slower than some of its counterparts but that doesn't mean that the city is at all backward. It's an incredibly progressive place; a 'city of firsts' – known throughout history for its free-thinking people. It was the first place in Australia to recognise Aboriginal land rights, to give women voting rights, to abolish sexual and racial discrimination, to abolish capital punishment and to even legalise nude swimming!  
~
Thinking of moving to Adelaide? Now that you know the basics you can set about putting your plans into motion. Contact Kent Removals and Storage. With over 75 years of interstate and overseas removals experience, we are here to take the stress out of any major relocation.
Blog Author: