Kent Wins Service Excellence Award for the Fifth Consecutive Year
12th August, 2016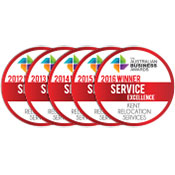 Kent is delighted to announce that it has won the Australian Business Award for Service Excellence for the fifth consecutive year. This highly regarded award is assessed by means of an objective and intricate framework, wherein eligible businesses are evaluated based on world-class performance standards.
Kent scored exceptionally well across all measurable components of the award category, demonstrating leadership and innovation in the pursuit of service excellence.
Kent CEO for Relocation and Removals services, Adam Blythe, said "We are delighted and honoured to be recognised as the winner of the 2016 Australian Business Award for the fifth consecutive year. At Kent we pride ourselves with providing superior care and peace of mind to our customers in Australia and around the world."
"The entire Kent team strives to enhance our continuous improvement and service excellence, and is committed to deliver exceptional customer service to benefit each and every one of the 60,000 Australians that trust us with their treasures every year."
Moving Forward
With a history of over 75 years, along with the trust of over one million Australians throughout that period, Kent will be focused on developing the systems and technology required to forge a successful future. A look into the recent strides Kent has made toward service excellence reveals the following:
The creation and maintenance of a 24/7, instant online quoting system
The promotion of customer satisfaction surveys, along with customer feedback tools. Kent takes the information gained via these resources extremely seriously, and will continue to act in response to any issues raised in order to ensure first-class standards of service
Kent is a renowned supporter of employee growth. Through training initiatives to develop the professional skillset of employees, Kent will continue to provide the level of service for which we've long been recognised.
With respect to training initiatives, we've targeted the following:
Enhanced packaging methodology. We're constantly developing innovative ways of storing more goods with less space. The efficient use of space equates to two main advantages. First, there's a cost reduction involved for the customer. Second, during the removals process, less space means less movement of goods during transportation; this amounts to more security and safety for our customers' possessions. Continued training programs are devised to ensure our professionals are up to speed with the latest methodologies
Customer service, courtesy and professionalism training. Throughout the year, our employees undergo refresher courses in conflict management, along with customer service and sales development programs.
Kent will continue to strive to provide service excellence long into the future.