Affordable and Secure Furniture Storage in Adelaide
Moving home, decluttering or needing more space, Kent storage have all your moving storage needs covered.
Kent Storage is Easier, More Secure, and Half as Expensive as Self-Storage
Not all storage facilities are alike. Many put the burden on the customer to pack up and store their own belongings, but Kent Storage goes above and beyond as a full-service facility. We will travel anywhere in Adelaide to inventory, condition report, protect, and deliver your things to our building. Whenever you need to add or remove something to your storage unit, our staff will take care of everything. We'll even send your things anywhere in Australia or overseas.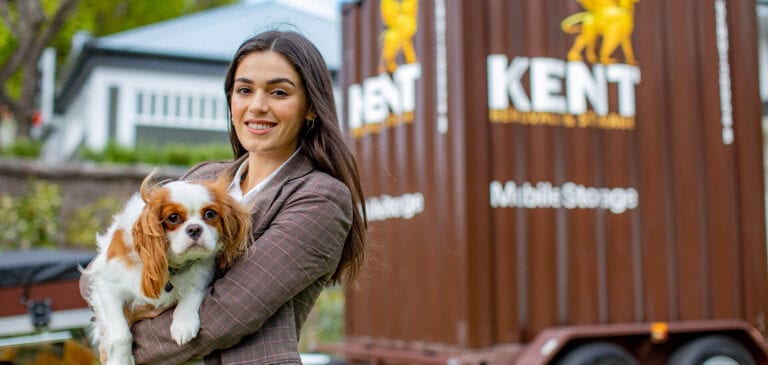 "Roger Moore, the estimator who visited our home was polite and extremely professional. Nothing was too much trouble and he came back on several occasions delivering extra boxes and tape. Ryan and Adam who packed and performed the removal were courteous, organised, and moved swiftly. Everything went to plan and we were extremely pleased with the results."
Jan Fletcher
Kent Storage Adelaide Customer
Your nearest Kent Storage is on your doorstep
Our Adelaide team can help pack, load and move your belongings into our secure storage warehouse.
No matter where you are in South Australia our friendly team of removalists are here to make your move easy and affordable.
Your closest Storage facility is at your front door
Why Choose Kent for Storage in Adelaide?
Kent Storage Adelaide does all the work for you, meaning you have less stress and fewer headaches to worry about. Not only that, but our purpose-built facilities have superior security installments and policies in place that prevent the general public from wandering in. When you can get all of this and more for half the cost of a self-storage unit, why wouldn't you choose Kent?
Call us today or fill out our online form to schedule your pickup at your earliest convenience. Our expert removalists will wrap, pack, pick up, safely store, and deliver your belongings from your home, office, or current storage unit in Australia to your new unit at Kent.
Choosing Kent Storage really is the easy choice: Our expert staff will go anywhere to pick up your things and itemise them for free. We provide copies of receipts, dispatch records, and condition reports so you can always keep track of your valuables even when they're out of your home.
Unlike self-storage:
You don't have to keep your own records about what you put away or what condition it is in
We can conveniently and easily use our inventory records to retrieve and redeliver any individual items from your list. We'll also deliver the entire contents of your container to anywhere in the world
We take extra care to wrap your belongings, especially chairs, mattresses, couches, and other soft furniture
Kent Storage uses heavy-duty removals-grade plastic for maximum protection against mildew, dust, and dirt while your things are away
Unlike self-storage:
You don't have to use poor-quality plastic wrap that is too flimsy to protect your belongings even from natural climate conditions; at Kent Storage, we bring industrial-grade wrapping supplies to wrap your things in
We understand your time is better spent doing more important things, which is why we wrap the furniture for you; let Kent's expert removalists handle everything
We will skillfully pack, stack, and load your valuables directly into our reinforced containers. Having fewer hands along the way significantly reduces the likelihood of accidental damage during transit and storage
Unlike self-storage:
It's not your responsibility to drag around heavy boxes or large furniture
Likewise, you need not guess the best way to protect and pack your belongings for efficient and secure storage
We will pick up your belongings from your Adelaide home, office, or current storage unit. Just give us the address and we'll go anywhere in Australia
Unlike self-storage:
You don't have to shop around or hire a moving truck or lure your friends and family with food to help you out
You don't have to lift a finger or struggle to pack everything you need into a small unit
We will deliver your belongings into our safe storage facility for as long or as little time as you need
Have peace of mind that your things are in some of the safest buildings in Australia
Kent Storage facilities are:
State-of-the-art structures built with secure purpose
Climatised environments that protect your belongings from mould, pests, and natural elements
CCTV monitoring throughout the facility 24/7, including back-to-base alarm systems
Fire monitoring and control systems also available
Whenever you need to add or remove items from storage, we will happily deliver in either direction with as much care and convenience as always. Because we will ship anywhere in Australia or overseas, you never have to worry about hiring a moving truck or going back to an old storage unit again.
If you prefer to handle your own items, you can do so by appointment. Give us 24 to 48 hours' notice for us to put your container in an accessible but secure area, and you can visit during business hours. You get the items you need, and we take care of everything else.
More Secure Than Self-Storage
Kent Storage takes on all the work of caring for your belongings and keeping them safe. We achieve this level of security by adhering to a series of strict policies:
We do not allow the general public to enter our storage facilities, unlike self-storage units where your valuables are stored in a building that anyone with access could reach
We create and provide detailed copies of inventory and condition reports, receipts, and dispatch records to ensure you always know where your belongings are and what condition they're in, unlike self-storage units where it's up to you to keep track of everything
Our facilities are safer and more secure than a self-storage solution because of the way we limit public access
We seal all of our storage containers, unlike self-storage units that use large-diametre wire mesh at the top, exposing your valuables to dust, open air, vermin, and even theft
Kent Storage containers are purpose-built using reinforced steel, and we keep them inside a building monitored 24/7 with a state-of-the-art CCTV security system. This setup allows us to safeguard your belongings far better than a flimsy plywood box with insufficient protection at the top
Our expert staff is trained to skillfully stack and pack items efficiently and safely, unlike self-storage units where it is up to you to figure it out yourself
Kent's Time-Tested Four-Level Security System
Every Kent Storage customer gets to take advantage of our unique four-level secure storage system. We respect the amount of trust you place in us to keep your belongings safe, so we prioritise their well-being for as long as we monitor them.
Security Level One: Customised Wrapping
Our time-tested guardian wrapping system is a multi-faceted process that includes:
Comprehensive labeling and inventory record-keeping
The use of industrial-grade packing blankets to keep your largest fragile items safe
Heavy-duty plastic covers that keep your chairs, mattresses, and couches further protected during transit and storage
Boxes constructed to protect hard-to-package goods
Custom crates to protect large, valuable items like artwork
All performed by professional packers with expert training
Security Level Two: Purpose-Built Containers
Unlike self-storage facilities, we take the time to load your items directly into steel storage containers, eliminating the need for you to transport and pack your own things. We then load these reinforced containers into our storage facilities with the help of state-of-the-art crane and forklift technology. With fewer people personally handling your belongings, the cost and risk of double handling are also reduced.
Our purpose-built containers are:
Designed to safeguard your most fragile belongings in storage and transit
Constructed using reinforced steel for the maximum possible protection
Built with custom doors so you can access them from either end
Security Level Three: Superior Storage Facilities
Nowhere else in the Southern Hemisphere will you find a more secure facility than with Kent Storage. Our facilities are:
Private and restrict public entry for your safety
Purpose-built, state-of-the-art structures
Monitored day and night with CCTV and fire monitoring
Fully equipped with back-to-base alarms
Climatised
Free from pests and dust
Security Level Four: Storage Insurance
We can arrange your moving and storage insurance coverage through our Customer Goods in Transit and Storage Insurance Policy.
Our comprehensive policy covers the whole removals process; from the minute we pack your treasures, right up until you sign for the delivery of your boxes.
Our range of insurance options include:
Ultimate Cover and Premium Cover
Pairs and sets
Mechanical and electrical derangement
Relevant Insurance Document
Cheap, Secure Storage Solutions
When you're ready to store your belongings in a secure storage unit, you can count on Kent to be your top choice for services in Adelaide. Not only are we safer than self-storage, but we also cost as little as half while providing twice the benefit.
One of the top reasons to work with Kent Storage is our stackable containerised storage solution. While a self-storage facility will charge you for the entire unit regardless of how many things you store in it, we will only charge you for the volume that your belongings occupy. Our storage system is efficient and inexpensive, allowing us to pass the savings onto you every time. If you add or remove items from the storage container, we'll adjust the rates for you.
With Kent Storage, you'll get the best rates on the best storage services:
Pick-up, loading, and delivery from anywhere in Adelaide to our storage facilities
Short- and long-term home, office, and furniture storage
Transit and storage insurance for additional protection from accidents
Redelivery of any or all of your stored items to any local, interstate, or overseas location desired
Time-saving packing techniques performed by our trained professional staff
Valet services to clean, unpack, and organise the home
Sturdy moving boxes and other supplies provided
Custom-built protective crates designed to keep your irreplaceable items safe during transit and storage
Heavy-duty plastic covers designed to protect your soft furnishings, such as chairs, couches, and mattresses, from dust, moisture, dirt, mould, and mildew
For added value, Kent Storage provides even more benefits for free:
Free inventory, condition, receipt, and dispatch records. These documents help you remember what you stored down the line.
You can even contact us with any inventory number, and we'll redeliver the item anywhere in the world you want.
Free use of industrial packing blankets to keep your large, fragile items safe
Choosing self-storage can lead to a huge range of hidden costs you don't have to worry about with Kent Storage. These include:
Renting a moving van
Hiring expertly-trained professional removalists
Buying supplies like heavy-duty plastic covers and protective packing blankets
Organising your own inventory and condition reports
Pros and Cons of Self-Storage vs. Kent Storage
Self-Storage:
Pro: You can visit your storage unit whenever you want.
Con: Anyone can visit the storage facility whenever they want.
Con: Facilities vary widely in security and hygiene quality.
Kent Storage:
Pro: We pick up and deliver your things from anywhere in Adelaide
Pro: We protect your items for safe transport and storage
Pro: We keep detailed records for your benefit
Pro: The general public isn't allowed inside without an appointment to see their own unit
Kent Storage Adelaide: The Right Choice
Kent Storage Adelaide is:
Easier: We designed our entire storage process to be easier and more efficient for our customers. After you schedule a pickup, our expert removalists show up anywhere you need to carefully pack and collect your belongings from your home, office, or current storage unit. We will also redeliver some or all of your items as needed to prevent you from having to keep driving back and forth between the facility. However, with 24 to 48 hours' notice, we are happy to arrange for you to have secure access to your storage unit during regular business hours.
More Secure: Our rates are cheaper than self-storage, but our security is superior. We treat your belongings as if they were our own, which is why we use 24/7 CCTV and fire monitoring for top-notch protection. Our four-level security system helps us keep your belongings safe.
Cheaper: Compared to traditional self-storage, our services are as much as 50 percent cheaper. We only charge you for the space you use because we don't believe in charging for a void. This adjustable rate means you can remove items from your storage unit and save even more money.
Kent Storage is the number one choice for storage in Adelaide; we securely transport, store, and redeliver your belongings for as little as half the cost of self-storage.
Adelaide, SA and Other General Moving & Storage Information
Adelaide, South Australia has a population of 1,291,666. The Adelaide postcode is 5000 and surrounded by suburbs: North Adelaide, Hindmarsh and Croydon Park.
The median property house price in Adelaide is $528,000. The distance from Adelaide to the closest Kent Storage facility in Adelaide is approximately 10.3 km.
Adelaide is well serviced by public transport and lifestyle amenities. There are several local schools, various shopping precincts and the area enjoys a selection of healthcare providers.
Storage around Adelaide, SA Fast Facts
Adelaide Postcode: 5000
State: South Australia, (SA)
Surrounding Suburbs:

North Adelaide
Hindmarsh
Croydon Park

Median House Price: $528,000
Distance from Adelaide to Kent Removals & Storage Adelaide: 10.3 km or 20 minutes by car
Distance from Adelaide to Adelaide CBD: 0.2 km or 2 minutes by car
Population: 1,291,666
Population Density: 659 people per square km
Local Government Area: City of Adelaide
State Electorates:
Federal Electorate: Adelaide
Relevant Adelaide links:
http://en.wikipedia.org/…