Tips for Moving Furniture – How to Move Furniture
7th December, 2017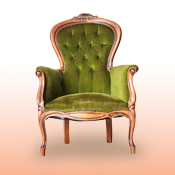 Moving furniture can be a particularly difficult aspect of relocating to a new address. Furniture can be big, heavy and awkward, and is often not designed to be moved. However, furniture moving doesn't have to be an impossible task, especially if you follow our expert step-by-step process to move furniture easily.
Step 1: Draft a furniture moving plan at both your existing and new address
Step 2: Assemble high quality moving and packing materials
Step 3: Properly prepare and wrap furniture, ready for moving
Step 4: Create a passage from the lift point to the exit point
Step 5: Use appropriate manual handling techniques to move furniture easily and safely
Step 6: Load furniture into your moving truck using a ramp or hydraulic lift
Step 7: Tightly secure your furniture within your moving truck
Step 8: Carefully follow your moving plan to ensure correct furniture placement
Step 9: Call the professionals
Step 1: Draft A Furniture Moving Plan At Both Your Existing And New Address
When it comes to furniture moving tips, the best advice we can pass on is to create a moving plan for both the uplift and the drop-off address. Furniture comes in all shapes and sizes. Chances are, your house wasn't built to accommodate for each and every one of these shapes and sizes. Plus, there's nothing worse than discovering your couch won't fit through your front door once you've already lugged it down two flights of stairs. So, create a thorough furniture moving plan by:
Plotting the quickest, easiest routes out and in of your properties. This route should limit any possible damage to your furniture, walls, doors, doorframes and any family members or friends who might be helping you move
Confirming your furniture will fit through all access points by:

Measuring the dimensions of any large or bulky items of furniture
Measuring the dimensions of doorways, hallways and stairwells
Comparing the two sets of measurements.

Creating a floor plan of your new address, complete with drawings of where your furniture will be placed.
If you put sufficient time and thought into this stage, it will make help ensure you can move furniture easily.
Step 2: Assemble High Quality Moving And Packing Materials
You'll need good quality moving and packing materials on hand if you're going to move your furniture without any damage or injury. You should purchase or borrow the following:
Packing wrap
Packing tape
Bubble wrap
 Moving dolly
Shoulder dolly
Lifting straps
Tie-downs.
Step 3: Properly Prepare And Wrap Furniture, Ready For Moving
No matter how careful you are, there's a high chance that your furniture will receive a few bumps and bruises during transit. As such, the best way to move furniture is to properly prepare and wrap it.
When it comes to preparing your furniture, you should focus on making the lift as comfortable as possible. This means emptying out pieces of furniture likes tallboys and cupboards, removing the backs from recliners, dissembling furniture wherever possible, and removing smaller pieces such as feet from couches and wheels from desk chairs. Don't try to move furniture intact if it's too heavy or awkward—you put yourself, your furniture and your property at a much higher risk of damage.
Once you've prepared your furniture, you should then wrap it. The best way to wrap your furniture is to use professional moving blankets to completely encase the piece, before applying heavy duty plastic wrap.
Step 4: Create A Passage From The Lift Point To The Exit Point
Your moving plan will contain a map of the entry and exit point at both ends. You should walk up and down these routes and remove any possible obstructions. This could include taping down loose pieces of carpet, moving rugs and taking doors off hinges. You should also ensure that pets and small children are safely out of the way. When it comes to moving furniture, you need to have the confidence of knowing that once you have lifted the furniture, you have a smooth passage all the way to the moving truck. So, before you lift a single item, ensure there are absolutely no obstructions that you could halt your progress.
Step 5: Use Appropriate Manual Handling Techniques To Move Furniture Easily And Safely
Tips for moving furniture related to manual handling technique are designed to keep you safe when moving furniture, while also making furniture moving as easy as possible. Follow these tips on technique:
When moving tall items, one person should hold the high end, while the other holds the low end. This helps keep item stable and steady, rather than top-heavy and more prone to toppling over
When picking up an item, always squat down, grasp it at the lowest point and raise yourself up using your legs—never your back
Wherever possible, slide, push and pull furniture to avoid placing unnecessary stress on your body. To push, pull or slide, slip a sheet underneath the item and perform the action relying on the power of your legs (not your back)
For particularly bulky items, you should use shoulder dollys or lifting straps. Shoulder dollys place all the weight on the larger muscles of your back, protecting the smaller muscles that are more easily damaged. Lifting straps allow you to slide objects along flat surfaces easily and can be adjusted to suit all sizes of furniture. The beauty of both of these tools is that they keep your hands free, which gives you more control. For further details, take a look at our advice on How to Move Heavy Furniture
Couches should be moved on their ends, to allow for easier manoeuvrability.
Step 6: Load Furniture Into Your Moving Truck Using A Ramp Or Hydraulic Lift
When deciding on a moving vehicle, you should always opt for one that has either a ramp or a hydraulic lift. You should avoid lifting furniture onto a truck wherever possible, as it increases the possibilities of you or your furniture getting hurt or damaged. When lifting to a higher point, you cannot avoid placing stress on your back, particularly your fragile lower back.
A ramp or hydraulic lift will make loading your furniture far easier. If using a ramp, all lifters need to be standing in front or to the side of the item. Never allow anyone to stand behind the item because if you lose control of the piece of furniture, they could be seriously injured.
Step 7: Tightly Secure Your Furniture Within Your Moving Truck
Now that you've done all the hard work, and your furniture is safely loaded inside your moving truck, you need to secure your furniture using heavy-duty straps. Most moving trucks will have anchorage points, so start by securing larger items to the walls. As much as possible, you should try to prevent all movement when securing your furniture. Movement can not only damage your furniture; it can cause dangerous imbalances in the vehicle.
Step 8: Carefully Follow Your Moving Plan To Ensure Correct Furniture Placement
When you arrive at your new address, carefully study your moving plan and move along the entry route, clearing any obstructions as you go. Take a look at the space where the furniture is to be placed so you have a clear visualisation of where you can place the items.
Step 9: Call The Professionals
Of course, not all of us were born to be furniture removalists. So, if you can't find any reliable helpers, or you just don't have time, why not contact the professionals? This way, you can put your feet up and rest easy in knowing that your furniture will be moved to the highest standards of care. Remember, no one knows how to move furniture better than a professional.
Follow our tips for moving furniture, and you'll have your new address full of all of your favourite items in no time.