Moving to Perth? Here's 6 Things to Know About Living in WA
3rd May, 2022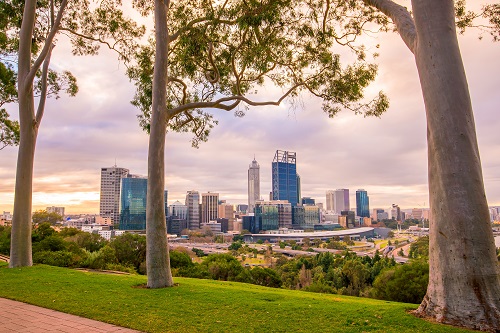 Sitting on the coast of the Indian Ocean in Australia's largest state is Perth, the capital of Western Australia and one of the world's most isolated cities.
Boarded by an expansive coastline (that stretches 12,889km) on one side, and the spectacular Aussie outback on the other – Perth is a thriving and bustling scenic city not to be underestimated. With a Mediterranean climate, refreshingly relaxed vibe and ample space to roam around – it offers stunning beaches, award-wining wine regions, road trip adventures, and a high quality of life for all to enjoy.
Moving to Perth is a fantastic choice to make – be it for a career move, a change of scenery, or the need to live closer to family. To help you prepare the big move ahead of time, here are 6 Things to Know about Living in Perth, Western Australia.
Weather in Perth
Although Perth tends to have comfortable thongs weather (that's "flip flops" for expats) all year round, it is important to consider weather and natural hazard risks before moving to Perth.
During the summer months (December – February), Perth becomes hot and dry. Temperatures average 17.5 – 30°C (63.5 – 86°F) and soar in February, the hottest month of the year, at an average high of 31.6°F (89.1°).
Thanks to Perth's proximity to the Indian Ocean, an afternoon sea breeze called the 'Fremantle Doctor' will provide you much needed relief from sweltering heat. If you opt to cool off at the beach like many do – don't forget your SPF-50+!
In contrast, winter months (June – August) bring much cooler and wetter days with temperatures ranging from 8 – 19°C (46.4 – 66.2°F), with the coldest month being July at an average of 18.4 °C (65.1 °F). Winter storms are occasional bringing downpours of rain and winds. Evenings are chilly – start the heater!
Autumn (March – May) and Spring (September – November) are the most comfortable months of the year. Days are warm and sunny, where the landscape transforms into colourful array of vegetation and wildflowers.
If you're moving to Perth and still considering where to live – make sure to factor in the real possibility of natural hazards. Prepare your bushfire plan and utilise free Government of Western Australia tools such as this Floodplain mapping tool.
Population of Perth
Perth is the fourth-largest city in Australia, with a population of slightly over two million people according to World Population Review.
Compared to the more established and densely populated cities of Sydney, Melbourne and Brisbane – Perth is still a relatively newer and smaller city, which helps it retain a somewhat 'country charm' thanks to its plentiful wide-open spaces, proximity to nature (Swan River, Matilda Bay and Kings Park to name some), artisan local corner stores, and a "no worries, mate" local attitude.
The benefit of being a smaller city means Perth can provide a stronger sense of community, and a new appreciation for freedom, flexibility and space. Not only that – but the rapid growth Perth is experiencing creates plentiful business and job opportunities too.
So, if you are looking to live in a beautiful city with fewer people (but with lots of hustle, bustle and business growth), then moving to Perth is a great option.
Since Perth is one of the most liveable cities in Australia, there are plenty of beautiful suburbs for you to live in, including North Perth, South Perth, Highgate, Ashfield, Crawley, Rossmoyne, Rivervale, Riverton, Burswood and Subiaco.
Commuting in Perth
Since Perth is a thriving city showcasing rapid growth and popularity, you can expect public transport to be a reliable way to get around the city and beyond.
Called Transperth, the Perth public transport system offers regular bus, train and ferry services to and from the outer suburbs. While the Central Area Transit (CAT) buses provide free bus loops in the inner city.
The Government of Western Australia have also delivered on their commitment to cap public transport fees, which sees all public transport travel capped at a two-zone fair, helping train commuters save thousands annually.
While there are great incentives to catching public transport, nothing beats having your own vehicle to freely explore. Given that the Perth region is rather spread out (with a northern and southern corridor, and hills to the east) a car in Perth is essential if you are wanting to journey beyond the CBD fringes.
It is important to clarify that there are no toll roads in Western Australia, including within the city of Perth. However, much like other cities, there are parking fees, so do pay attention to where you park as Parking Inspectors will be watching.
Outdoor Active Lifestyle
One of the best things about moving to Perth is its unmatched outdoor and active lifestyle, as well as the friendly, laid-back attitude of the locals.
Gorgeous, award-winning beaches, the plethora of river systems and the nearby Rottnest Island beckons you to take up water sport activities such as swimming, fishing, surfing, windsurfing, kitesurfing, stand-up paddle boarding, kayaking, snorkelling, scuba diving and much more.
Or perhaps a leisurely bike ride sounds rather nice, instead? We'd suggest a short ferry ride to Rottnest Island to visit Pedal & Flipper Hire – it's the largest bike hire facility in the Southern Hemisphere with over 1,890 bikes and equipment for hire.
Some of the best beaches in Perth region include:
Rottnest Island
Swanbourne Beach
If you're a camping fanatic you will love all the off-the-beaten track camping destinations on offer, with some located not too far away from Perth city. Many camp spots in WA offer free camping (and legal beach camping), where you can also take your 4WD vehicle onto the sandy white beach for off-road fun!
Given Perth's sprawl and how vast Western Australia is, heading on road trips in Perth is a common and popular activity, and how many choose to spend their long weekends. In fact, a 3-hour or so trip down to WA's famous Southwest wine region is a favourite local pastime, where the charming town of Margaret River (and even better surf at Gracetown) awaits. Take your time and enjoy the ride!
Spending days at the beach and camping are some of the most popular things Perth locals love to do. If this appeals to you, then you will love moving to Perth!
Explore Western Australia
Since Western Australia is the biggest state in the country with the most expansive coastline stretching 12,889 km (20,781 including islands), you can expect there to be plenty of unique natural attractions and experiences on offer.
Exmouth – a small resort town on Western Australia's Northwest Cape, located some 1,200 km (745 miles) north of Perth is worth a visit. Not only will the Exmouth Peninsular be the lucky place to experience the 2023 Solar Eclipse, but it's also the gateway to the UNESCO World Heritage-Listed Ningaloo Marine Park (Ningaloo Reef) where marine life is colourful and prevalent. It's also one of the best places in the world to swim with beautiful and harmless whale sharks.
Quick tip: to escape the tourists, head to the quieter Coral Bay (which still has just as much life and colour). A snorkel from Coral Bay shore will delight your senses!
Overall, some of the best places to explore in Western Australia include:
Albany
Bremer Bay
Broome
Coral Coast
Denmark
Esperance
Ningaloo Reef
Karijini National Park
Rottnest Island
The Pinnacles, Nambung National Park
The Kimberley Region
Wave Rock, Hyden
The next time you're planning a trip, make sure to explore Western Australia. For it is only then, you will gain a newfound appreciation for this awe-inspiring state.
Budget & Save Beforehand
The cost of living in Perth is generally considered to be more affordable than the eastern capitals. However, its geographical isolation can influence and inflate some costs, and this is particularly seen on freshly imported produce in major grocery stores. Thankfully there are a variety of local farmers markets and stalls where you can buy direct and save on money.
On the plus side, the wages are high in Perth, compared to many other places in the world – making Perth a very attractive place to work and live.
It is important to note that the cost of living in Australia is rapidly rising for all states. Be smart with your finances and save enough money before moving to Perth, so you can experience the best of what Perth city and Western Australia has to offer, well after you make the move.
Conclusion? West is Best!
As the author of this article and a proud Perth-born West Australian, I can tell you first-hand that you will not regret moving to Perth because the quality of life is just fantastic! Don't just take my word for it – in a recent worldwide survey on liveable cities, Perth was ranked among the most liveable in the cities in the world at #6!
Originally ranking #14 in 2019, Perth skyrocketed into the Top 10 during the COVID-19 pandemic thanks to its strong border and geographical advantages keeping life in WA relatively normal. Fast-forward to 2022; and Perth remains immensely popular, highlighting what a remarkable and sustainable place Perth is to live in.
Be excited for your interstate move, because waiting for you in Perth is exciting, new opportunities, experiences and new friends to be made.
While there are many things to consider before moving interstate – make sure to do your own research and plan ahead to avoid surprises at the last minute.
Moving To Perth? Hire a Professional Removalist
Whether you're moving from Perth, or to Perth – you can trust Kent Removals & Storage to get you there! Our Kent Perth Removalists have you covered.
Book your move to Perth with Kent or call: 13 55 31 now.
Blog Author: