Moving to Melbourne? 10 Reasons why Living in Melbourne is Simply Awesome!
22nd June, 2022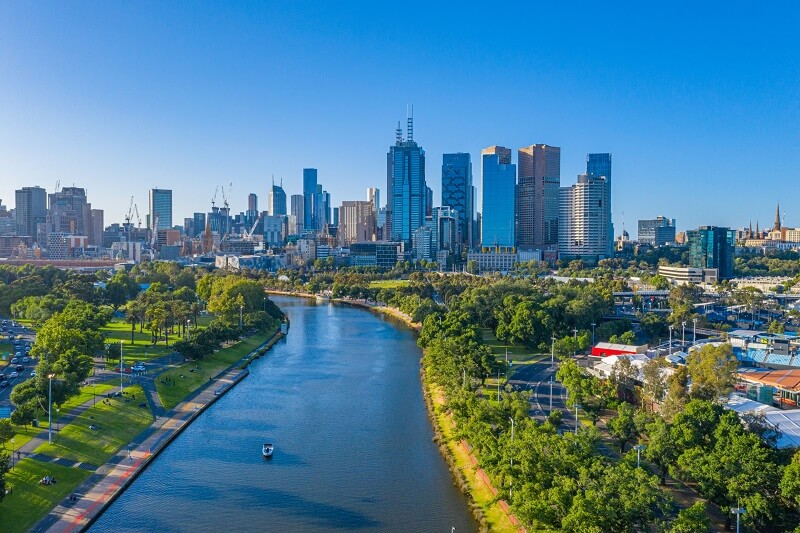 Moving to Melbourne for a fresh start? Consistently rated as one of the world's most liveable cities, the eclectic "cultural capital" of Australia will offer something for everyone, spoiling you with choice and delighting all your senses.
As the capital of Victoria and Australia's second-largest city, Melbourne is a thriving and booming metropolis that showcases the finest in Australian arts, architecture, culture, coffee, cuisine, character and scenery. It's vibrant mix of multi-cultural influence, hidden city laneways, picture-perfect beaches, sporting phenomena and sprawling street art will have you hooked and wanting more.
Whether you are moving to Melbourne to study, change careers or simply start afresh, living in a thriving, multicultural cosmopolitan city like Melbourne will reward you time and time again with its culinary wonders – and undisputedly, the best coffee in Australia.
Certainly, the idea of Living in Melbourne may overwhelm one at first, given its worldwide appeal and immense popularity. With so many things to see, do and taste – where does one simply start? Take a deep breath – with a little prep and know-how beforehand, you'll have the basics covered before you even land!
Turn those pre-move jitters into excitement, with Top 10 Reasons on Why Living in Melbourne is Simply Awesome!
1. Living in Melbourne
Moving to Melbourne soon, but haven't yet decided where you want to live? The Yarra River divides the city of Melbourne between the north and south, sparking a topic that never fails to divide: that age-old cliché of the north-south rivalry. So, which side will suit you better? Let's get to know them.
The Northside of Melbourne is a political, music-filled, creative and artsy hotspot filled with beer gardens, terrace residences, artistic haven hideaways and laneways galore. If you like underground music, nature, terrace houses and quirky heritage buildings – the northside may be for you. North Melbourne, Fitzroy, Carlton, Collingwood, Abbotsford, Thornbury, Brunswick, and Coburg are among some of Melbourne's popular northern suburbs.
The Southside of Melbourne, in contrast, offers the sea breeze and upscale living, where celebrities are spotted amidst the abundant designer stores and shopping on offer (special mention to Chapel Street), as well as ample brunch and bottomless wine options. If you like plenty of choice, accessibility, proximity to footballers and a regular cool, bay breeze – the southside may be for you. Some of Melbourne's affluent southern suburbs include St Kilda, Port Melbourne, Toorak, South Melbourne, Prahran, Windsor, and South Yarra.
However, it's not as cut and dry as this. For the truth of the matter is, there's a Melbourne suburb to suit every type of lifestyle, no matter what side of the river you are on. To get a bigger picture of suburb liveability, check out Realestate's Melbourne's Top 50 Most Liveable Suburbs Revealed, where you can start to familiarise yourself with high ranking suburbs such as East Melbourne, Fitzroy North, Elwood, Footscray, Melbourne, Hawthorn, Windsor, Richmond, Kensington, Northcote, Southbank, Flemington and Prahran.
2. A Multicultural Melting-Pot
Melbourne is a true, multicultural metropolis. Around 66% of Melbournians were born overseas, representing 200 nations, 233 languages and 116 different community groups. A large proportion of Melbourne's population is British, Indian, Chinese, Vietnamese, Italians, and Greeks, which explains the diverse range of cuisines and cultural festivals and events available.
Did you know? Melbourne has the 10th largest immigration population among world metropolitan areas (with Sydney coming in at #9). As a result of large migrant populations shaping Melbourne's food and coffee scene, you will discover an unrivalled 'foodie culture' here that will make a lasting impression.
Explore some of Melbourne's favourite food areas, such as:
Italian – Lygon Street, Southern End, Carlton (Little Italy)
Lebanese and Turkish – Sydney Rd, Coburg/Brunswick (Little Lebanon)
Indian – Robinson, Walker and Foster Streets, Dandenong (Little India)
Chinese & Vietnamese – Victoria St, Abbotsford/Richmond (Little Saigon)
Chinatown – Little Bourke Street, eastern end, Melbourne City
Greek – Londsdale St, Top End, Melbourne CBD.
Korean – Koornang Rd, Carnegie
Spanish & Latin-American – Johnston St, western end, Fitzroy
Mixed Cuisine Variety – Dandenong, St Kilda, Ormond, Brunswick, Melbourne CBD
There is also religious diversity in Melbourne, with many ethnic, multicultural and religious festivals and events in Melbourne and Victoria, and places of worship.
So, feel assured that no matter where you come from in the world, you will quickly find your place and community once living in Melbourne. That's the most beautiful thing about Melbourne – it welcomes everybody.
3. The Cultural Heart of Australia
Melbourne is well-known for its eccentricity, innovation, and appreciation of the arts. Consider it a melting pot of creativity; expressed in its arts and entertainment scene, design, fashion, events and professional street graffiti. From theatre shows and comedy clubs, to live music, street performers and fashion shows – the culture scene in Melbourne is vibrant and alive as ever before.
Want to become more cultured? Moving to Melbourne will give you access to The National Gallery of Victoria, the Australian Centre for Contemporary Art, and the Australian Centre for the Moving Image, all of which are great places to visit if you want to learn about Melbourne's culture. In addition, the city is home to a slew of underground arts activities, including zine fairs (look for the Festival of the Photocopier), artist collectives (special mention to The Fitzroy Art Collective), record stores, swing dancing clubs, and much more.
4. Wonder Through Laneways
You'll never run out of things to do living in Melbourne. Not sure where to start? Consider spending a lazy afternoon exploring the many twists and turns, laneways, basement-turned bars, rooftops, and back alleys to find some of the city's best cafes, bars and boutiques on offer.
Love art, modelling and photography? You are in for a treat. Many of the laneways in Melbourne are known for their ever-changing street art graffiti. Make sure to check out AC/CD Lane, Hosier Lane, Duckboard Lane, and Tattersalls Lane for your next Instagram Shoot!
5. Incredible Coffee
Can't get through the day without your morning cup of coffee? We have some good news for you: Melbourne is a coffee-crazed city that has the finest café culture in Australia! Dare we say – some consider Melbourne to not only have the best tasting coffee in Australia, but in the world too!
Melbourne's love affair with coffee can be traced back to the arrival of Greek and Italian immigrants after World War II. Fast forward to now, and that distinct, high quality European influence can be found throughout Melbourne's cafes, where world-class baristas go above and beyond to roast the highest-quality sourced beans and pour you that perfect caffeine hit. It's almost like coffee science here.
When you are living in Melbourne, there is an overabundance of coffee places to visit. To make narrowing down your options easier, start your homework with Broadsheet's Best Coffee in Melbourne, Boss Hunting's 25 Best Coffee Shops in Melbourne and The Urban List's 2022 Guide to the Best Coffee in Melbourne.
6. World-Class Universities & Education
If you are an expat or international student moving to Melbourne, feel assured to know Melbourne is a scholarly city, boasting universities that rank among the best in the world.
Australia's second oldest university, The University of Melbourne, is the highest rated of universities in Melbourne and is ranked 31st in the world. Or at 55 years old, perhaps Monash University might tick your boxes, ranking in the world's top 10 universities in the fields of pharmacy and pharmacology. There's RMIT University (Royal Melbourne Institute of Technology) which was founded in 1887 and has a strong focus on design and technology; La Trobe University that boasts two art museums and is highly regarded for its arts and humanities subjects; Swinburne University of Technology for public research and focus on technology; Victoria University offering a spectrum of teaching levels, short courses, apprenticeships to postgraduate degrees and finally, Deakin University – one of Melbourne's top Universities in Melbourne excelling in a range of subjects. Your studying options are endless in Melbourne – we're just getting started!
So, if you are studying in Melbourne, you've come to the right place! Being a creative city with world-class academics and an exciting atmosphere for start-ups, you'll be acing your exams and thinking outside of the box in no time.
7. Australia's Best Student City
There is good reason on why Melbourne is consistently voted as Australia's 'best student city' for both domestic and international students (and is considered the world's third-best student city). Melbourne outperforms other cities in terms of affordability, employer activity, appeal, and student perception.
For students hoping to start their own business in Melbourne, you will discover an amazing number of business events, clubs, societies, networking events and opportunities made available to students to help get them inspired, motivated and on the right path.
Launching a start-up? Melbourne loves innovators and people who think outside the box! Head to Startup Melbourne and Startup Victoria and get all the resources you will need for your start-up to flourish.
8. Public Transport & Trams Galore!
When it comes to variety and breadth of public transport, Melbourne outshines other cities in Australia. Called Public Transport Victoria (PTV), the Melbourne public transport system is impressively sized and well-equipped, making it easy for locals and visitors alike to get around Melbourne and Victoria by metro, train, bus, ferry, light rail, coach and trams!
Before moving to Melbourne, make sure to obtain a Myki smartcard so you can access all the great public transport options on offer in Melbourne and Victoria. Myki is your ticket to travel on the city's trains, trams and buses. Simply add value before you travel and tap on/off to pay your fare.
Did you know? Melbourne has the largest operational urban tram network in the world, with trams running continuously since 1885. Melbournian's love catching trams, making it the second most popular form of transport in the city (after the train). Just hop on and off, as often as you like, and whenever you see specially marked tram stops. For real-time tram arrival information, download tramTRACKER® to your device or call 1300 MYTRAM.
Free inner-city travel is also available thanks to the 35 City Circle Tram (Free Tourist Tram). Enjoy travelling on an iconic heritage W-Class tram with audio commentary that provides details of city landmarks and major attractions along the route (including Melbourne Museum, Parliament House, State Library Victoria, Docklands, Federation Square, Sea Life Melbourne Aquarium and the Princess Theatre to name some).
There is also a free city hotel shuttle available called the SkyBus Link – which safely transports people between the Southern Cross Station and one of 8 convenient stops around Melbourne's city centre – with each stop has been carefully chosen to cater to over 100 hotels.
9. Sports, Events and Action Aplenty!
Need another reason to validate your move to Melbourne? Sport-lovers rejoice, because living in Melbourne means living in the 'Sporting Capital of the World' – where world-class sporting events happen so regularly, you'll struggle to keep up!
From AFL (Australian Rules Football) to the Australian Open, Melbourne Cup Carnival, Cricket Boxing Day Test Match and Formula 1 Australian Grand Prix to name just a handful – there is a sport here for everyone to get in on the action.
Not into sport? Melbourne has an ever-rotating events calendar that is jam-packed with things to do throughout the year, from big-ticket events and speaker conferences; to restaurant launches, underground gigs, major festivals and much more. Some of these include the Moomba Community Festival, the Melbourne International Comedy Festival, the Melbourne Food and Wine Festival, the Melbourne International Film Festival, the Melbourne Writers Festival, Rising Arts Festival, Melbourne Fashion Week, and Vision Australia's Carols by Candlelight.
You are truly spoilt for choice when it comes to great weekend escape ideas in New South Wales, and all are within driving distance from Sydney. Sure, some may be longer in distance than others, but who doesn't love planning a road trip for an upcoming 3-day public holiday?
10. Explore Regional Victoria
Once you have settled into Melbourne, make sure to venture beyond the CBD fringes and explore what Victoria has to offer. If you like the high country, national parks, wineries, animal encounters, and surfing beaches then you're in for a treat.
Here are some of the best places to visit in Victoria:
Yes, you are truly spoilt for choice when it comes to great weekend escape ideas in Victoria, with many only a short daytrip away – perfect for those 3-day public holiday weekends!
Conclusion? Melbourne is for Everyone!
It's no wonder that Melbourne consistently rates as the most liveable city in the world. Numerous public transport options, low crime rates, plenty of career opportunities, a fantastic arts and cultural scene, excellent universities and a relaxed lifestyle makes Melbourne the place for anyone and everyone.
For those who are curious, adventurous, and creative; and want to live, study and work in a bustling city (that always has something going on) – Melbourne calls to you. From its laneways and street art to its large, lush parks, galleries and museums, you will never be bored, but rather, always learning something new.
Congratulations again on moving to Melbourne – you're going to have an incredible time and make memories that will last a lifetime. Enjoy!
Moving To Melbourne? Hire a Professional Removalist
Whether you're moving from Melbourne, or to Melbourne – you can trust Kent Removals & Storage to get you there! Our Kent Sydney Removalists have you covered.
Book your move to Melbourne with Kent or call: 13 55 31 now.
Blog Author: