Moving to Canberra? 5 Great Things About Living in Canberra!
15th August, 2022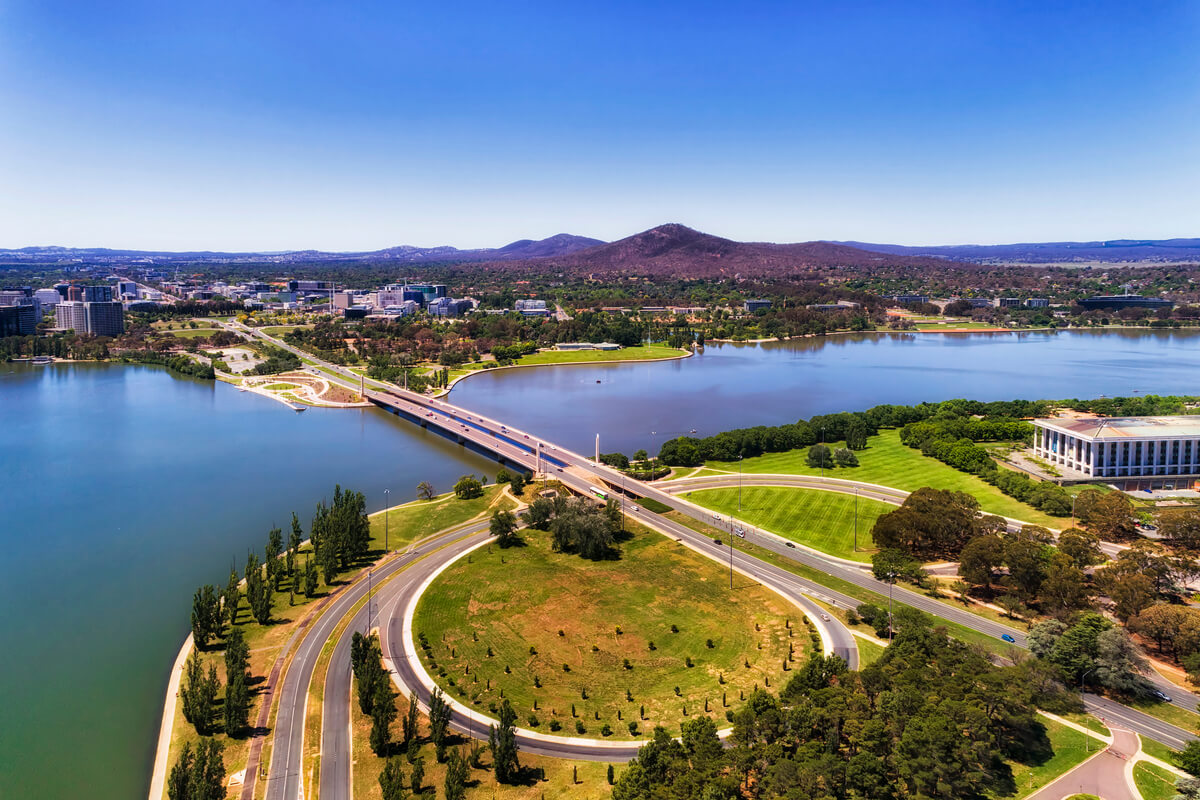 If you are moving to Canberra for a fresh start; whether to study, work, or simply a much-needed sea change, then you have made an excellent choice in choosing to live in Australia's beloved 'bush capital'.
Need some quick convincing? Look no further than these two brag-worthy state-of-the matter facts: Canberra was voted the world's most liveable city in 2014 by OECD (Organisation for Economic Cooperation and Development), and had also featured in Lonely Planet's "Best in Travel 2018" as the world's 3rd best city to visit.
As Australia's largest inland city, and eight-largest city overall, the capital city of Australia has more going for it than just politics, monuments, and museums. Don't be fooled by its understated appeal, because Canberra is a youthful, energised, and spirited city where you will find the most educated, vibrant, intelligent, and progressive minds on the continent, and arguably – the world. Just look at its world-class universities, medical science discoveries, and 6 Nobel Prize winners.
When living in Canberra, you can say goodbye to big city annoyances, like heavy traffic and air pollution; and a big hello to open space, easy travel, lots of nature, and opportunities galore. For Canberra not only has world-class attractions and amenities at your doorstep, but it also boasts sweeping nature reserves, strong environmental and biodiversity protection laws, and the cleanest air quality in the world.
The perfect lifestyle awaits you in Canberra and everyone is welcome –   from students and ambitious entrepreneurs: to families and retirees alike, you will fall in love with the easy lifestyle and strong community vibe here.
But before you go, know what to expect when living in Canberra. Read on for our 5 Great Things to Know Before Moving to Canberra.
1. Living in Canberra
Canberra is a great place to call home and a beautiful place to explore thanks t0 50% of the ACT being national forest. Said to have Australia's "most physically active population", you will see a love for the outdoors here – where a vast majority of suburbs in Canberra are filled with leafy streets, parks, bicycle lanes, open spaces, and proximity to nature – perfect for hikers, sporting enthusiasts and campers alike.
Canberra also boasts the highest average income, highest level of education, strongest job growth, and lowest unemployment in Australia. Not to mention it's also one of the safest cities in the world with very low crime rates.
Moving to Canberra and haven't yet decided where you want to live? First, you will have to pick a side. Divided by Canberra's most beautiful landmark, Lake Burley Griffin, the city is split between the north and south. Much like other cities in Australia, you will find a friendly rivalry and banter between the two sides here, both of which offer excellent lifestyle offerings and affordable suburb options.
Broadly speaking, the north side has newer suburbs and builds, while the south side tends to have more established suburbs and bigger blocks. Check out some of our favourite suburbs in Canberra below:
Amaroo – a safe and affluent area with ample green spaces to enjoy the great outdoors, located 25 minutes north of the city. Houses are spacious, private and sit on large blocks with backyards.
Belconnen – Built around Lake Ginninderra, the suburb is ideal for families and young professionals; located 7km north-west of the Canberra CBD.
Calwell – Medium-sized suburb filled with parks and amenities, located close to Monaro Highway, a direct route to Canberra City and Airport.
Conder – One of the three suburbs in the Lanyon Valley, located 20 km south of Canberra, backing onto Tuggeranong Hill Nature Reserve.
Dickson – One of the best-connected suburbs in Canberra, sitting 8km from the Canberra CBD; popular for proximity to attractions and services.
Gunghalin – located at the Northern side 10 km from the CBD, this fast-growing suburb offers luxury living with its many shopping precincts, schools, clubs, and restaurants.
Holt –On the North-Western fringe is considered one of the best performing suburbs in the ACT; desired for its affordability, views over nature reserves and the Murrumbidgee River, plus excellent local amenities.
Jerrabomberra – Awarded Canberra's "Best Suburb" in 2013 and sitting on the southwest of South Canberra, this community has everything you need.
Kambah – Nestled among Urambi Hills and Mount Taylor is this affordable northernmost suburb with decent local amenities, attracting a mix of families, professionals, retirees, and students, being 20km from the CBD.
Kingston – a trendy and coveted suburb known for its leafy streets, foreshore, and cultural delights, located just 4km from the city centre.
Manuka – an affluent, leafy area known for its upscale dining scene, upmarket boutiques, and designer homeware stores. One of Canberra's oldest precincts and filled with historic charm.
Mawson – Located in the district of Woden Valley 10 kms south southwest of Canberra, is this suburb named after the Antarctic explorer Sir Douglas Mawson. A multi-cultural and family friendly vibe with recreational areas.
Mitchell – considered Canberra's 'Leisure Capital', located 7kms north northeast of Melbourne, boasting many entertainment businesses.
Monash – Named after General Sir John Monash who commanded the Australian Army in France in the First World War; this popular suburb is located at the centre of Tuggeranong Valley, with a variety of housing opportunities ranging from large family homes to townhouses and complexes. Great for nightlife, parks, amenities, and rental value.
Nicholls – another popular suburb famed for its liability, parks and amenities – located 13km from the centre of Canberra.
Phillip – Located in Woden Valley, 11km from the CBD is this popular, multi-cultural suburb, a hit with migrants (accounting for 42.8% of the suburb's population)
Queanbeyan – Located 15 km to the west, this 'commuter' town is affordable with good capital growth, taking 20 minute to drive into the city.
Wallaroo – On Canberra's doorstep, is this ideal country base (19km northwest of Canberra is this rural home to wineries, outdoor experiences and excellent accommodation.
Yass – Town centre located 50 minutes from Canberra, known for leafy riverside parks and gardens, and attractions, such as Banjo Paterson Park, named after the famous Australian bush poet who lived in Yass as a boy.
2. Weather & Transport in Canberra
There is another good reason why Canberra's population are Australia's most physically active residents. The air quality and weather here is absolutely sublime!
Considered one of Australia's sunniest capital cities, you will get an average of 7.7 hours of sunshine every day. Combine that with arguably the cleanest air in the world – and you are truly living in 'Aussie paradise' – one of the most breathe-easy parts of the world.
With its oceanic climate, the warmest month is January, with an average high of 29°C. In contrast, its coldest month is July – where the average high drops to approx. 12°C. Frost can be common in winter, so don't forget to bring your Ugg Boots! The most pleasant months are Spring (September to November) where the days are comfortably 'just right' and the mornings and nights are cool.
When it comes to transport in Canberra – you will save on money here, because the city is incredibly well-connected, and everything is within easy reach.
Don't have a car, or feel like walking? You can use Transport Canberra's bus and light rail networks to commute around easily, using the MyWay smartcard to tap on/off. For detailed light rail frequency, visit the Canberra Metro operations site.
The free Culture Loop Service is a popular bus service that makes travel within Canberra CBD centre a breeze, connecting you to all of Canberra's iconic, cultural institutions, such as Canberra Centre, National Film and Sound Archive, Canberra Museum and Henry Rolland Park and Parliamentary Triangle to name a few.
3. Museums, Politics, History, Events & More!
It should come as no surprise when moving to Canberra – the capital city and political heart of Australia – that you will be inundated with so many exciting, educational, and enjoyable things to see and do, many activities of which delve deeper into Australian history.
Living in Canberra means being closer to some of Australia's most iconic and famous cultural attractions, galleries, and museums. Better get a diary! They are:
4. Culture, Unique Events, and Quirky Facts!
Canberra is a wonderfully rich, multi-cultural city that is not only well-connected locally, but also in touch with the wider, global community.
With one in four of Canberra residents speaking a language other than English at home, and Canberra typically hosting 19,000 international students annually – you will discover a unique cultural diversity in Canberra that furthers accentuates its unique character and identity. Get a taste of this by visiting one of the many bustling local arts, crafts, and farmers' markets in Canberra.
Another must-do? Grab tickets to the annual Enlighten Festival – an outdoor annual art and cultural festival featuring light installations, projections, performances, a short film festival and the famous Canberra Balloon Spectacular.
Sure, Culture has top-notch museums and exhibits, amazing events, and unmatched arts and culture scene. But how much do locals and visitors really know about the nation's capital? Here's some quirky facts:
The name 'Canberra' is derived from the Ngunnawal people. It means 'meeting place'.
In 1912, the Australian Government hosted a Federal Capital Design Competition to find a design for Canberra city, receiving 137 entries from around the world. The winner was American Architect, Walter Burley Griffin.
Canberra has three sister cities – Nara (Japan), Beijing (China) and Wellington (New Zealand).
Canberra has several suburbs named after ex-Prime Ministers. (Deakin, Watson, Fisher, Cook, Hughes, Curtin, and Fadden).
Beneath Canberra's streets, there are multi-level secret tunnels and underground highways that connect many government buildings.
Canberra is the only city in the world where you can skydive over the country's parliament house.
The Captain Cook Memorial on Lake Burley Griffin shoots water as high to 147mm into the air.
We hope these interesting facts will give your group a needed advantage in your upcoming trivia night!
5. The Great Outdoors & Country Life!
Once you have finished exploring Canberra's numerous beautiful parklands, lakes and recreational spaces on foot, bicycle, light railway, bus or by vehicle – it's time to leave the CBD fringes and see what country life has to offer.
With 45 national parks located inside the ACT, you're certainly not short on camping and hiking options. To keep this article relatively short – we'll narrow it down to the two locals' favourites – Namadgi National Park (excellent hike trails) and Tidbinbilla Nature Reserve (see the elusive platypus here!). Located 45 minutes from Canberra, they sit on the northern edge of the Australian Alps, which border Kosciusko National Park and the Brindabellas.
Or at the very least, just go for a short road trip. A drive south of Canberra will see you spotting famous Australian animals, basking in the picture-perfect landscapes, and why not stop into the Deep Space Communication Complex.
Fancy a drink? Canberra has a thriving and award-winning industry of brewers, distilleries, and winemakers. Visit Canberra Wines, and TripAdvisor for all the info.
Yes, you are truly spoilt for choice when living in Canberra, Australia.
Conclusion? Canberra is the Heart & Soul of Australia!
Canberra is a young, progressive city with big, bright plans – where all views and opinions are welcomed, challenged, and embraced here. With everything within easy reach here – there is plenty of time to see truly discover this incredible city.
Thanks to its world-class education, bustling multi-cultural communities, and political gatherings for growth and change – Canberra draws people together from Australia and all over the world. Whch makes it so fitting that the name 'Canberra' translates to 'meeting place' in the Aboriginal language of Ngunnawal.
Escape the rat race of big city life and discover the sanctuary that is Canberra. As one of the best and safest cities in the world to make your home, with excellent proximity to majestic national parks – it really is undervalued and overlooked. Go on, make the lifestyle and career change you have always wanted in Canberra!
Again, congratulations on moving to Canberra. You're going to have a blast and create lifelong memories. Enjoy!
Moving To Canberra? Hire a Professional Removalist
Whether you're moving from Canberra, or to Canberra – you can trust Kent Removals & Storage to get you there! Our Kent Canberra Removalists have you covered.
Book your move to Canberra with Kent or call: 13 55 31 now.
Blog Author: