How To Pack Ornaments – Tips for Packing Ornaments
8th October, 2018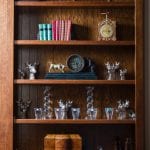 Learning how to pack ornaments is important for those who want to protect their fragile and sentimental belongings during a move. Ornaments come in all shapes and sizes but are generally small fragile items that require attention to detail. If you are moving house soon and need some tips for packing ornaments, then you are reading the right article.
Tips for Packing Ornaments
Depending on the number of ornaments you have in your home, this can be quite a time-intensive process. It is a good idea to organise all of your ornaments in one place, then start organising all of your packing supplies. Make sure that you have enough packing paper and bubble wrap – because you will be using a lot!
How To Pack Ornaments
Step 1: Organise Your Ornaments
Step 2: Clean Your Ornaments
Step 3: Fill Any Voids With Packing Paper
Step 4: Individually Wrap Each Ornament
Step 5: Double Wrap Especially Fragile Items
Step 6: Label Ornaments
Step 7: Prepare Moving Boxes
Step 8: Pack Boxes
Step 1: Organise Your Ornaments
Organisation is vital for packing a home and this is also true for packing ornaments specifically. It is a good idea to find a surface large enough to put all of your ornaments. That way, you can group your ornaments by room and pack them into their own room-specific boxes. Organising your ornaments also allows you to get a better idea of how many packing supplies you will need.
Step 2: Clean Your Ornaments
Ornaments can collect a surprising amount of dust sat on a mantlepiece or windowsill. It's probably best to not bring this dust with you into your new home and instead give them a gentle wipe. For the extremely fragile ornaments, it is important to use a soft cloth and very gently wipe them down, as some dust particles can actually scratch the surface!
Step 3: Fill Any Voids With Packing Paper
You should ensure that, when packing ornaments, they are structurally secure and that any fragile voids are filled tightly with packing paper. This will help prevent and breakages during the move and grant you additional peace of mind!
Step 4: Individually Wrap Each Ornament
Each ornament should be individually wrapped using specialist packing supplies. You should avoid using newspaper as the ink can occasionally rub off on to the ornament itself.
Traditional packing paper is perfect for the less fragile items. Lay an appropriate amount of moving paper on a surface place the ornament towards one side. Now roll the edge of paper closest to the ornament and use sticky tape to secure the edge to the ornament. Continue rolling until all faces are covered sufficiently. Once wrapped, make sure to secure the paper with tape so that it fits snugly.
Step 5: Double Wrap Especially Fragile Items
For the more fragile items in your collection, an additional layer or two of wrapping is required. Once the first layer has been added, place a sheet of bubble wrap on the table and use the same technique to secure it around the ornament. You can even add a layer of moving paper to the exterior to make labelling a little easier.
Step 6: Label Ornaments
Using a black marker pen, label the items as fragile. You can also label the item for what it is and for which room it will be presented in your new home. This makes the unpacking that much easier, and as we said previously, organisation is the key to any successful move.
Step 7: Prepare Moving Boxes
Now that your ornaments are all wrapped and labeled, it's time to prepare the moving boxes. Each box should be lined with newspaper or some sort of protective layer to add a buffer layer between the sides of the box and the wrapped ornaments. You can use anything soft really, but newspaper is probably the cheapest option. You won't have to worry about the ink rubbing off as the ornaments are safely wrapped.
Step 8: Pack Boxes
Gently place the wrapped ornaments in the box. Be mindful of not over packing your boxes given that, as a general rule, less is better. Just use your common sense and you should be fine. Keep ornaments from a single set together for an easier unpacking process. This is also true for ornaments that will live in the same room in your new home.
~
For more helpful moving tips and tools, click here. We offer a plethora of helpful guides written to make your move just a little bit easier. If you would like to speak to a moving expert then please call us on 1300 379 190.