How to Pack Mirrors for Moving – How to Move a Mirror
9th March, 2017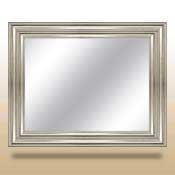 Learning how to pack mirrors for moving is simple if you follow these steps:
Step 1: Invest in good quality packing materials
Step 2: Tape an 'X' onto the glass using packing tape
Step 3: Use corner protectors to guard the edges from damage
Step 4: Cover the surface of the mirror with a layer of cardboard
Step 5: Cover the surface of the mirror with a layer of Styrofoam
Step 6: Place the mirror inside a custom-made box
Step 7: Label the box clearly on all sides
Step 8: Keep the mirror upright, with nothing stacked on it, while in transit
Step 9: Unpack carefully, remembering to keep the mirror upright.
Step 1: Invest in Good Quality Packing Materials
The fist step in knowing how to pack a mirror for moving is arming yourself with the right supplies. This means investing in good quality packing materials. To move a mirror properly, you're going to need packing tape, bubble wrap or moving blankets, corner protectors, Styrofoam, and a custom-made box. This may seem a little excessive but these materials are what will prevent you from having to replace your mirror once your move is done. So, invest now to prevent unnecessary spending later. Remember, all of these materials are useful for moving a whole range of other household items, making them a worthy investment.
Step 2: Tape an 'X' onto the Glass using Packing Tape
A simple 'X' on your glass can really save your mirror. By using packing tape to create an 'X' formation on the surface of your mirror you can help to prevent the glass from shattering. And, if the glass does suffer any damage, the 'X' will prevent any damage to the frame. This way, you can just replace the pane of glass instead of replacing the entire mirror. If you want to know how to pack mirrors like a pro, then don't forget the 'X'.
Step 3: Use Corner Protectors to Guard the Edges from Damage
When it comes to knowing how to move a mirror, you need to think about more than just the glass. The frame of your mirror is vital in protecting the glass and if the frame is damaged, the pane won't be far behind. The corners of the frame will suffer the most impact so they need a little extra protection. If you're dealing with a right-angle frame, then corner protectors will work perfectly. If your mirror has curved or odd-shaped edges, then you may have to get a little creative; fixing bubble wrap onto the oddly shaped edges will do the trick.
Step 4: Cover the Surface of the Mirror with a Layer of Cardboard
Make sure you measure your mirror first so you know what you're cutting, then just use a Stanley knife to cut out the section you need. Place the piece of cardboard over the surface of the mirror and affix using some tape.
Step 5: Cover the Surface of the Mirror with a Layer of Styrofoam
For unbeatable protection, cut out a piece of Styrofoam in the same size and shape of the cardboard then place it on top of the cardboard. Once that's done, wrap the entire bundle in either bubble wrap or professional moving blankets. Once all that's complete, you can rest easy knowing that you've turned your fragile mirror into an impenetrable bundle of cushioning.
Step 6: Place the Mirror Inside a Custom-made Box
A custom-made box offers a number of advantages. It makes the mirror easier to carry and because it provides a snug fit it will prevent the mirror from bouncing around during transit. Professional removalist companies will be able to provide a box that fits the dimensions of your mirror. For particularly expensive, delicate or oddly-shaped mirrors, a professional removalist company will even be able to build a custom wooden crate. This step is very helpful for those that want to learn how to move a large mirror as the box will protect it from any accidental bumps or wall grazes on the way to the truck, and while the mirror is in transit.
Step 7: Label the Box Clearly on all Sides
So many people do all the careful packing and wrapping work only to forget this one crucial step in knowing how to pack mirrors for moving; mark any boxes or items that require special care with 'Fragile' on every side; mirrors are no exception. Not only will your 'Fragile' labels jog your memory, they will also indicate to your removalists that they need to take extra special care, which is particularly helpful if you're not around to tell them yourself.
Step 8: Keep the Mirror Upright, with Nothing Stacked on it, While in Transit
Laying a mirror on its back or on its front puts too much pressure on the glass. It also increases the likelihood of the glass shattering due to something falling on top of the mirror. So, if you want your mirror to enjoy a safe journey, make sure it is placed upright with nothing nearby that can topple over and fall on it. When it comes to knowing how to transport mirrors safely, a good idea is to place your mirror behind a couch that is up against the wall of the moving truck. This way, your mirror has something soft to rest against and it won't move around too much during transit.
Step 9: Unpack Carefully, Remembering to Keep the Mirror Upright
Don't undo all your good work by rushing through the very last step. The best way to unpack your mirror is to keep it in its box until you are ready to hang it on your wall. Once you have your mirror in place, very slowly slide the mirror out of the box, keeping it upright the entire time. Then carefully unwrap the mirror making sure that you are on the lookout for any traces of glass. If you notice any glass, exercise even more caution.
Now you know how to pack mirrors and how to move mirrors. Follow this advice and your mirror will arrive at its new address in perfect condition.