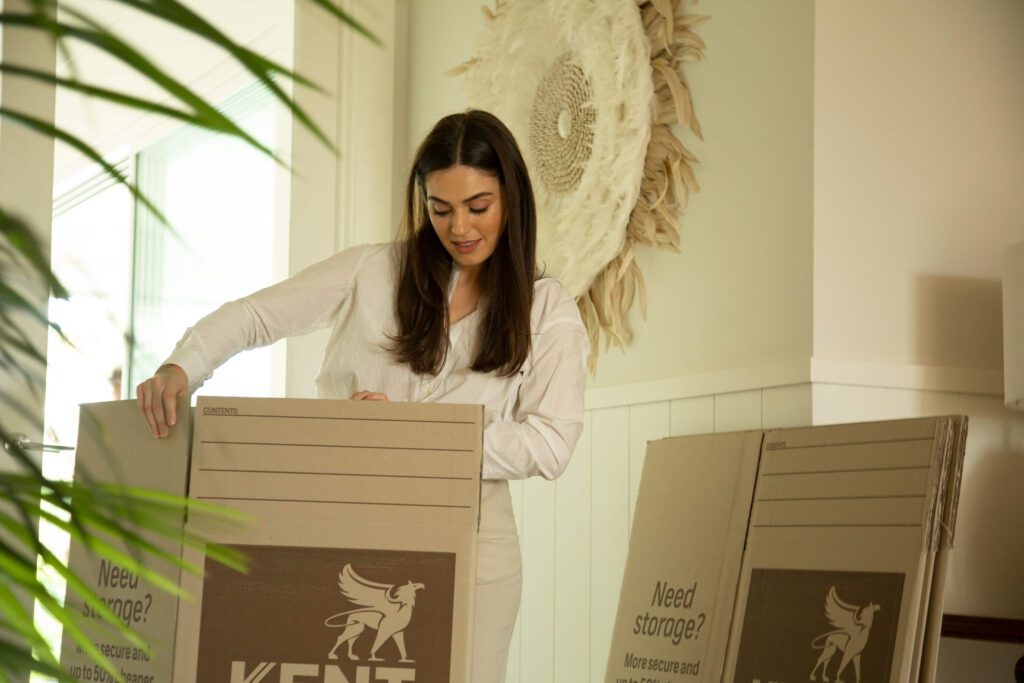 Whether you're spring cleaning, moving house, or looking into storage options, don't underestimate the importance of selecting the right moving boxes and packing materials to expertly store and safeguard your items for a stress-free, and cost-effective, relocation and storage experience.
Why is this so important? For one, selecting the right moving boxes from the start will help minimise storage space required, therefore reducing the cost of storage in the long run. And two, using the right type of moving box and packaging will ensure your valuables are protected, therefore minimising any accidental damage during transit.
Assuming you've already downloaded our excellent Kent Storage Checklist and Tips guide, it's now time to consider what moving boxes and packing materials you will need. Though picking the right moving boxes (and estimating enough boxes for the task at hand) can feel surprisingly overwhelming – we have got you covered. Keep on reading to get the shortcut answers below.
The Importance of Moving Boxes
Packing up your life and moving locally, interstate, or overseas can certainly be an exciting, albeit bewildering experience, with much to pre-empt, consider and navigate – but what if we told you that it need not be anywhere as stressful as one may think?
Sure, hiring a professional removalist (like Kent Removals & Storage) to do all the planning, packing, and heavy lifting for you is the ultimate solution. But for those who would like to be independent and exercise more control over how their items, furniture and valuables are packaged prior to transit and storage, you'll need to get familiar with the types of moving boxes out there.
Why? Simply put, storing, and packing your contents (into their right, custom-made moving boxes) will ensure the integrity of these moving boxes are not compromised in any way – meaning your contents are protected during transit (no matter the distance), and have guaranteed protection during storage (no matter the length of time).
If you keep in mind that boxes are lifted, shifted, stacked on top of each other – and sometimes out in harsh weather elements (which is not ideal, but can happen) then it's easy to see the importance of selecting the right moving boxes and utilising the correct packing materials to avoid common mistakes, disappointments, and damage. It all comes down to preparing ahead!
Packing Material Questions to Consider
Without making this overcomplicated, here are three questions to ask yourself before you start packing. They are:
Know & Measure Your Items (weight, shape, and size of objects)
What is the moving distance, or your storage options?
Who will be helping you to move?
1. Know & Measure your Items
Avoid confusion and last-minute panic on wondering where your items are, by drawing up an inventory of the contents of each moving box before you seal and label the boxes. We also suggest you measure the items that you wish to pack, taking into consideration their quantity, weight, shape, and size – because all these factors will greatly affect the type of moving box (i.e., light, heavy, cardboard, plastic) that you will need.
This is key to remember – that the items you are packing, will determine the size and quality of the box you will need. For example, should the moving box be too thin for the weight of your items, then there is a higher risk of damage during a move, or even when its first loaded onto the truck for transit.
Fortunately, nowadays, many moving boxes are created today with moving and storing specific items in mind. For example:
For optimal reliability, many feel secure using brand new moving boxes that have not been used before, as it is rare to come across second-hand moving boxes that still contain the hardiness they once had. However, should you wish to save on money, you can certainly find second-hand boxes at local recycling centres.
And to accommodate for buffer room and some overlap, shop for moving boxes that are slightly larger than what you need to allow enough room for packing and stacking inside the box.  
2. Consider the Distance & Your Storage Options
Are you moving to a new home within driving distance? It may not be necessary to buy too many moving boxes, as you may just need smaller boxes for packing your more breakable items, such as glassware and kitchenware. For these short distance moves, cardboard boxes work very well, because they are easier to carry and are inexpensive. You may even be able to repurpose towels and blankets as temporary solutions to safeguard your objects during these short distance moves.
If you are planning to move interstate or overseas, however, then you will want to acquire heavier duty moving boxes in different sizes, as well as specific packing materials such as packing tape, butchers packing paper, bubble wrap, foam peanuts, and foam inserts depending on item-specific requirements. We also suggest wrapping large items in padded blankets to safeguard against scratches, and to keep the dust out. For these long-distance moves, plastic moving boxes are often ideal as they are light, durable, and waterproof.
When it comes to storage solutions, hiring self-storage mobile storage units are an easy storage solution that can help you cut down on the need for too many boxes. Designed to fit the contents of a small 1-bedroom unit, these mobile storage units are affordable, providing flexibility and convenience for the customer by being delivered to your front door and allowing you to have the option to load the unit yourself.
The key to packing one of these mobile storage units is preparation. We suggest packing as many loose items (all your bits and pieces) into sturdy little boxes, and wrapping any delicate items in packing paper or bubble wrap, with heavy items always sitting at the bottom of each box. If you expect to remove some items from storage earlier, pack them in last so they are easier to access later.
Or perhaps you need a storage solution to fit the contents of a 2–3-bedroom home which may include a fair amount of furniture. This is where a larger Container Storage option comes into play, where the removalists themselves can expertly load up the container for you.  
3. Who will help you Move?
Some people make the move all on their own, or with a partner, while others may recruit their family members and friends to help ease the burden of any heavy lifting. Some even go one step further to ensure optimal success (and a stress-free experience) by hiring a team of expert furniture removalists such as Kent Removals & Storage.
With all this in mind, consider who will be helping you move furniture and all your moving boxes, as this will affect the quantity of boxes required for the task at hand. For example, if you are lucky to have several physically fit people ready to assist, you can opt for a smaller number of larger, heavy-duty moving boxes where you'll be able to fit many items into the box at once (Tetris-style). While this may be heavy, it can be safely lifted by two, or more people to its destination.
However, if you are planning on packing and moving all on your own, you may need a larger number of smaller, light cardboard boxes that are easy to lift individually. Consider buying or hiring a moving dolly to help transport everything from your car to the new home. Or why not leave it to a professional removalist company such as Kent Removals & Storage to handle your entire door-to-door packing and moving process.  
Make it Easy with Moving Box Bundles
Whether you are moving house or spring cleaning, finding moving boxes to pack your things need not be an overcomplicated exercise with so many great value bundles available online that have everything you need to get started immediately. Following the philosophy of "work smarter, not harder", Kent Storage offers three exclusive bundles that cater to multiple bedroom apartments and homes and includes custom-made moving boxes and packing accessories to get you sorted. Browse below to see which is for you.  
2-3 Bedroom House (Silver Bundle)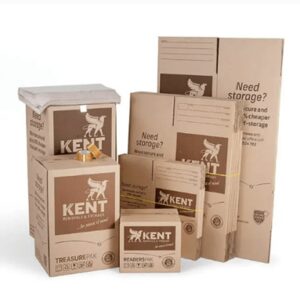 Need to move contents from a 2–3-bedroom home? Peek inside our Silver Moving Boxes Bundle, which contains 22 boxes in total, including packing tape and packing paper. Here's a breakdown of what this bundle contains:
10 x Heavy Duty Double Thickness Cartons for Breakables (Treasure Pak)
10 x Lightweight Cartons for Heavier Items (Readers Pak)
2 x Portable Wardrobe Boxes (Fashion Pak)
2 x Rolls of Packing Tape
½ a bundle of Packing Paper (375 sheets, 7.5kg)
Purchase the Silver Bundle today.
3-4 Bedroom House (Gold Bundle)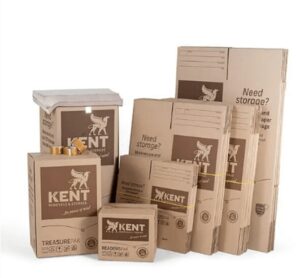 Our Moving Boxes Pack (Gold Bundle) contains 34 boxes in total, including packing tape and packing paper. It can accommodate storage for up to a 3-to-4-bedroom house. Here is what is inside the gold bundle:
20 x Heavy Duty Double Thickness Cartons for Breakables (Treasure Pak)
10 x Lightweight Cartons for Heavier Items (Readers Pak)
4 x Portable Wardrobe Boxes (Fashion Pak)
3 x rolls of Packing Tape
½ a bundle of Packing Paper (375 sheets, 7.5kg)
Purchase the Gold Bundle today.
5-6 Bedroom House (Platinum Bundle)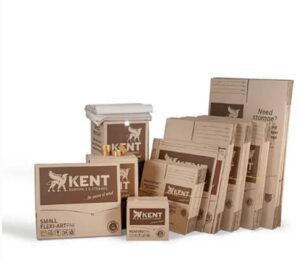 Moving contents for a 5–6-bedroom home? No stress! Our Moving Boxes Pack (Platinum Bundle) contains 58 boxes in total, including packing tape and packing paper. This one has you covered, containing:
30 x Heavy Duty Double Thickness Cartons for Breakables (Treasure Pak)
20 x Lightweight Cartons for Heavier Items (Readers Pak)
6 x Portable Wardrobe Boxes (Fashion Pak)
2 x Flexible, Extendable and Adjustable Cartons (Flexi-Art)
4 x Rolls of Packing Tape
1 full bundle of Packing Paper (750 sheets, 15kg)
Purchase the Platinum Bundle today.
Conclusion
Packing is an important first part of moving and storage. Often underestimated, it plays a large influence into the preservation of your items. Whether you are planning a short distance or long-distance move, or simply require temporary storage while on holiday, purchasing the right moving boxes and packing materials will ensure secure storage, and safe transit. By considering the size and shape of your valuables, as well as the number of people that will help assist, to even the type of box used, you can ensure everything will arrive safely at its intended destination.
Shop Now: Moving Boxes & Packing Materials
Did you know? At Kent Removals & Storage, our very own online 'Box Shop' provides a complete range of affordable moving boxes, packing materials and packing accessories to help you prepare, pack, and take care of your valuables for transit and storage. Don't leave it to the last minute to organise your things – order your moving boxes and supplies from the Box Shop now.
Storage Solutions with Kent Storage
Looking for easy, secure, and affordable removalist and storage solutions? Whether you are moving house locally, moving interstate or moving overseas; or simply require short or long-term secure storage – trust the storage experts at Kent Removals & Storage to be at your call, providing unmatched exemplary removalist services and storage solutions so you can focus on the bigger picture. As Australia's #1 leading removalist and storage company, with the largest state-of-the-art storage facilities in the Southern Hemisphere, Kent Storage has the nationwide operational capacity, infrastructure, peoplepower, and resources to ensure we deliver upon our purpose and promise, while you can sit back and enjoy the stress-free experience.
Contact Kent Storage today or call: 1300 840 987 now.
Blog Author: