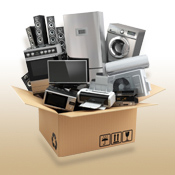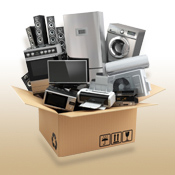 Have a big move coming up and need to know how to store electronics? Follow these steps to ensure your gadgets are stored as safely and securely as possible:
Step 1: Create an inventory of electronics you're storing
Step 2: Round up your original packaging
Step 3: Organise quality packing supplies
Step 4: Prepare small electronic items for storage
Step 5: Pack your small electronic items into storage boxes
Step 6: Prepare large electronic items and whitegoods
Step 1: Create an Inventory of Electronics You're Storing
When storing electronics in a storage unit you first need to decide what's going in. Create an inventory list of your electronics. Write in each item going into storage including which room of the house it's from and any extra notes needed. It's a good idea to mark extra big or heavy items because these might need special packing materials. An inventory allows you to stay on top of the packing process so nothing is left out.
Step 2: Round Up Your Original Packaging
Once you know how to pack electronics, you will never throw out another original box! It might take up valuable space, but original packaging is designed to keep your electronics perfect protection during storage. The cardboard cut-outs and foam inserts are for keeping devices safe. Look for everything you've kept, and place it all together to use later. Mark relevant items off your inventory with a symbol like 'X'. This will help assess what other packing materials you might need for the rest.
If you don't have your original boxes that's ok, you can use Kent's range of specifically designed quality moving boxes and packing supplies for everything else!
Step 3: Organise Quality Packing Supplies
Knowing how to store electronics involves using the right packing materials to protect them. Looking at your inventory you can assess how much packing supplies you need. You will need them to wrap items that don't have packaging. Moving boxes are your first focus. These will be used to house your small and medium sized electronic equipment. Medium sized boxes are best for this, and there are extra-strong moving boxes you can buy specifically for electronics, such as Kent's Electronics-Pak. If you have small items without existing packaging, source some smaller boxes to put them in for added protection.
Extra supplies needed include packing paper, packing tape and gun, bubble wrap, zip ties, and plastic bags (resealable is best). Coloured labels are great for items with lots of cords or cables.
Step 4: Prepare Small Electronic Items for Storage
This is how to store electrical equipment and other small electronic items; start preparing each electronic item by tagging cords and cables with coloured labels. Use your camera to capture an image of the wire connections on the back. This will help you re-connect the device at a later date. Roll the cords up neatly into circles and use a zip tie to pin them down. If you're moving items into storage for a long period, it's a good idea to also remove volatile parts like ink cartridges or batteries. If stored for too long or at the wrong temperature, they can spill and cause damage.
Next, lay out a sheet of bubble wrap and use it to wrap up the electronic device like a gift. Use tape to secure the top. You can then place it in the original packaging, along with any other relevant devices or pieces. If you don't have the original packaging, use Kent's Electronic-Pak, and scrunch up packing paper to fill in the gaps until it's tight.
Step 5: Pack Your Small Electronic Items in Storage Boxes
If your boxes aren't yet made up, take your moving box and fold it out. Seal the bottom with several tape layers using your tape gun. Flip it over and line the floor of the box with scrunched up packing paper. This will give the box more shock protection. When this is done you can start placing your devices inside the moving box. Heavier items are best put closer to the bottom for better centre of balance. It stops the box moving during transport and sustaining damage. Continue adding items until the box is full, being careful not to make it too heavy.
When the box is full, fill the gaps again with packing paper or household linen. Make sure the items can't move inside. Use your tape gun to close the top of the box with packing tape. Write 'fragile' on the box, and assign it a number. You can use 'Living Room 1', for example. Include this in your inventory so you know where to find the item.
Step 6: Prepare Large Electronic Items and Whitegoods
Large electronics need extra care. It's easy for them to get a part dislodged in transport which stops the device working, being very costly and time-consuming. Each item also has different instructions to store it better over time. Here's a guide on how to store whitegoods and other large items:
Televisions, large stereos and similar: Wrap with professional packing materials from your removalist. Storage pads can also be used. Make sure the material is soft to avoid scratches and rubbing. Read the manufacturer information for extra storage requirements like room temperature.
Fridges: Remove all food, defrost and clean before storage. Leave the door open while in storage as this stops mould and mildew from building up in the interior.
Washing machines: Read the manufacturer details carefully, and ensure your washing machine's transit bolts are fitted to stop the barrel moving. Leave the lid open for a day or two before storage to fully dry it out.
Dryers: Clean your dryer of lint and residue after your last use. This will stop it attracting insects. As with washing machines, it's recommended you leave your dryer door open a day or two for airing out.
Now that you know how to store electronics you can use these steps to prepare any device in your house. By taking the time to package electronics properly they will stay safe, secure and ready for use after unpacking. If you get stuck, give the professionals a call to help you out.