Moving to Brisbane? 9 Reasons You'll Love Living in Brisbane!
7th July, 2022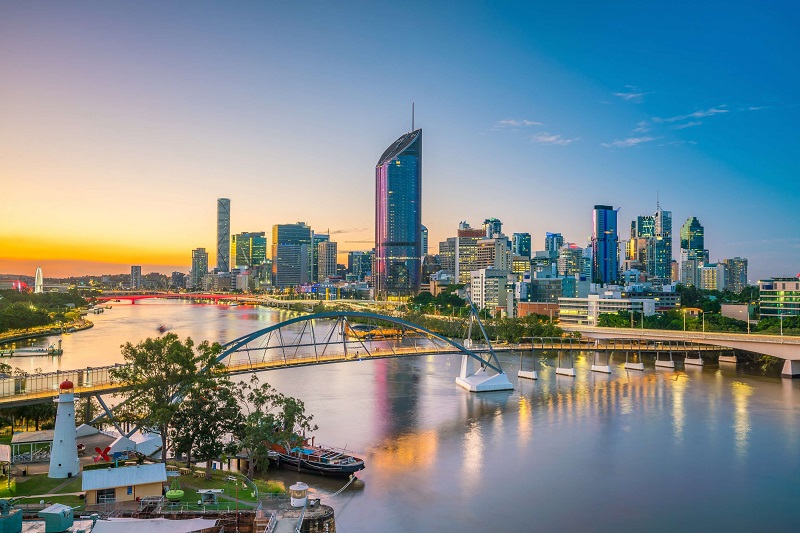 If you're moving to Brisbane for new beginnings, to study, or change in career, then you have made an excellent choice! Rated back in 2021 as the 10th most liveable city in the world, and now a confirmed 2032 Olympics Games Host City – there's never been a greater time to become an honorary Queenslander before the rest of the world flocks to the famous "River City" called Brisbane.
As the capital of Queensland and Australia's third-most populous city (after Sydney and Melbourne, respectively), Brisbane is an energised city on everyone's radar and there is good reason for why. As Australia's fastest growing and most diverse destination, its youthful spirit, vibrant love of the outdoors, proximity to heritage-listed natural wonders (quick flight to the Great Barrier Reef, anyone?) and 283 days of sunshine every year has everyone coming back for more.
While Sydney is dazzlingly global, and Melbourne rich in European charm, Brisbane will serve up the most local Australian culture and flexible outdoor lifestyle options you could ever ask for. Boasting a subtropical climate, pristine beaches, plentiful and diverse heritage-listed national parks, and some of Australia's most iconic attractions – Living in Brisbane will inspire and motivate you to get out into nature and enjoy all that Queensland has to offer.
After moving to Brisbane, you will feel welcomed, relaxed and very much at home, we're sure of it! Now kick your feet up and relax with our 9 Reasons You'll Love Living in Brisbane!
1. Living in Brisbane
Brisbane is renowned for its river life, natural beauty, beaches, nightlife, and distinctive way of life. With a population of 2,472,000, it boasts exciting cultural and entertainment precincts, natural splendour all-round, plentiful work opportunities and excellent study options. In comparison to other Australian cities, you can enjoy lower cost of living in Brisbane, where your dollar goes a lot further.
Moving to Brisbane and want to secure a suburb that offers a little bit of everything? According to RealEstate, here are some of Brisbane's popular lifestyle
When living in Brisbane – getting around is super easy too! Like other Australian cities, Brisbane offers an excellent public transport system, called Translink. Simply acquire yourself an electronic Go-Card ticket to access all Translink bus, train (including Airtrain), ferry and tram services in greater Brisbane, Ipswich, Sunshine Coast and Gold Coast regions. The free City Loop and Spring Hill Loop bus services make travel within Brisbane CBD a breeze, and features popular stops of City Hall, Central Station, Botanic Gardens, Riverside and Eagle Street Pier to name some.
Want to catch the ferry? CityHopper is a free, inner-city ferry service for the Brisbane River, servicing 8 stops between North Quay and Sydney St, New Farm.
Another thing you will love after moving to Brisbane? With tree-lined streets, plentiful pedestrian routes, scenic sidewalks, and bike hire options – you will be motivated to take up running, walking, or cycling to get from A to B!
2. The Sunshine State
The Sunshine State nickname for Queensland is no exaggeration. Brisbane enjoys almost 300 days of sunshine annually, making it easy to enjoy outdoor activities and attractions. Considered a subtropical paradise, Brisbane boasts a long-term annual average high temperature of 26.4°C and minimum low of 16°C.
While the weather is generally warm and host for most of the year, Summer does bring the highest rainfall, along with thunderstorms and occasional floods. In Winter, early mornings and nights are crisp – but rarely does it drop below 9°C. For Spring, expect sunny days tempered by cool sea breezes, and with Autumn, low humidity and minimal rain will be experienced.
There is no doubt about it – if you are a sunseeker, living in Brisbane will offer the perfect climate for living life in the great outdoors.
3. Wildlife Experiences Aplenty!
Here's an interesting fact – moving to Brisbane means living near the world's first and largest koala sanctuary! Founded in 1927, Lone Pine Koala Sanctuary is an 18-hectare koala sanctuary located in the Brisbane suburb of Fig Tree Pocket. Home to more than 130 koala's and other native wildlife, enjoy getting up-close and personal with Australian animal icons at this iconic attraction.
Speaking of koala's, your spoiled for choice with another option – the Daily Hill Koala Centre, built by the Queensland Government as a dedicated koala facility, located 25km south of Brisbane. This conservation centre features observation decks and interactive displays where you can spot koalas in their natural setting.
And let's throw in one more wildlife sanctuary for good measure. Make sure to visit the Kumbartcho Sanctuary, nestled upriver on the banks of the South Pine River. This 6-hectacre site allows visitors to explore its rainforest ecosystem, featuring a dam, bird hide, bushwalking trails, nocturnal display and 4-foot-long fish tank.
4. Bohemian Markets & Shopping Delights
When living in Brisbane, you are spoiled for choice with bohemian markets that offer everything from fresh food to clothing and handmade goods. To experience local cuisine, history, musicians, and culture, may we suggest visiting West End, Bakery Lane, or Boundary Street, or broaden your horizons by visiting one of the many markets with Partisan, Asian, or African themes that can be found across Brisbane city and its suburbs.
When it comes to shopping in Brisbane, there are some fantastic shopping precincts located near the CBD. Check out The South Bank, West End, New Farm, Portside Wharf, Fortitude Valley, Sunnybank, Bulimba, Mount Coot-tha, Spring Hill, Manly Harbour, St Lucia, South Brisbane, Toowong, and Indooroopilly.
5. World-Famous Australian Icons
Living in Brisbane means living close to some of Australia's most iconic attractions, such as Australia Zoo, home of the world-famous Crocodile Hunter, Steve Irwin, and his wildlife warrior family – Robert, Bindi, and wife, Terri.
Feeling thirsty exploring Brisbane? Drop into the XXX Castlemaine Brewery which is now housed in Brisbane. Here, you can tour the ale house and sample some of Australia's best exports.
If you love your sport, you'll have a great time living in Brisbane. While Melbourne has the MCG and Perth the WACA; Brisbane is mighty proud of The Gabba Stadium, located in Woolloongabba. Formerly known as the Brisbane Cricket Ground, this site is quickly becoming renowned amidst sports enthusiasts. Head here to watch the Brisbane Lions or Brisbane Heat, and Queensland Cricket.
Like history and architecture? Many find Brisbane's architecture to be particularly fascinating. Among must-see structures are the Old Windmill on Wickham Terrace, the Customs House situated next to the river, the Cathedral of St John (which once held the record for the city's tallest building) and lastly, City Hall.
6. Brisbane is Student-friendly!
If you are moving to Brisbane to study, you're in for a treat, because Brisbane has been rated the fourth most affordable city for students in Australia! Costs of living (in comparison to other Australian cities) are lower in Brisbane – and this is felt from transport, accommodation to dining out – perfect for those on a budget!
You'll appreciate studying in Brisbane for a variety of reasons, including its offering of top-rated educational institutions, comfortable warm climate, and its proximity to some of the most breath-taking natural wonders for that well-deserved break.
Some of Brisbane's top universities include Griffith University, the Queensland University of Technology, and the University of Queensland, which has won numerous awards. With a selection of high-quality, purpose-built student housing accessible to all colleges, as well as many events on offer to bring students together – international and local students alike will feel a sense of community and settle in with ease.
7. Culture and The Arts
Everywhere you walk in Brisbane, one of Australia's fastest-growing cities, you can count on being surrounded by vibrant, powerful, and diverse communities. Just look at Brisbane's cram-packed events schedule on VisitBrisbane!
Indeed, Brisbane has just as much to offer as Melbourne when it comes to culture, the arts, world-class events, entertainment, and experiences. Festivals such as The BrisAsia Festival, the Spanish Film Festival, the Alliance Francaise French Film Festival, Cinco de Mayo, the Paniyiri Greek Festival, the India Day Fair, and the Luminous Lantern Festival are all significant multicultural events, and that's only the beginning! Brisbane likewise dedicates an entire month of the year to celebrating multiculturalism – called Multicultural Queensland Month – it's held in August each year, and is the state's largest multicultural celebration.
When it comes to museums and galleries, you will not be disappointed. The Queensland Art Gallery & Gallery of Modern Art, Museum of Brisbane, Queensland Museum, The Queensland Performing Arts Centre, and host city of the Asia Pacific Screen Awards will have you intrigued, inspired and educated.
8. Outdoor Activities and Natural Wonders
Brisbane, located in central-western Australia, is renowned for its accessibility to spectacular beaches, islands, rainforests, wetlands, and views. When living in Brisbane city, you can expect to enjoy the following:
Yes, you are truly spoilt for choice when it comes to planning an afternoon or weekend, with many just a short walk, ferry or drive away from the city centre.
9. Exploring Queensland!
Queensland is most notably famous for its Great Barrier Reef, Daintree Rainforest, pristine beaches, and tropical vibes. However, it also boasts an exciting red dirt 'country outback' experience for camping and 4×4 adventurists. With over 200 national parks covering more than 65 hectares across the state – whatever you are into – you can enjoy it here, with its lush mountainous rainforests, bushlands, creeks, flat table lands and more!
Once you're done exploring Brisbane, don't waste time venturing outside of the city fringes. Here's some of the best natural attractions in Queensland (many of which are Heritage-listed) to keep you entertained, active and busy. Get that suitcase ready:
Or how about swapping that swimsuit and shopping spree for a 'fair dinkum' Aussie experience in the outback of Queensland? Don't forget your camping gear, and sense of adventure at some of these iconic places:
Conclusion? Brisbane is an Iconic Aussie City!
As the second largest state in Australia offering sunshine, affordability, culture, entertainment, attractions, and nature, it's no wonder people flock to Queensland and Brisbane for their interstate holidays, year after year.
Not just warm in weather, but also in hospitality – you will feel welcomed and right at home living in Brisbane. With its laid-back atmosphere, and open-minded locals, you will make friends in no time – especially if you decide to take up an 'outdoorsy' hobby! Offering so much Aussie charm, Brisbane will feel like an old friend, always welcoming you back – no matter how long you are gone away for.
Seemingly combining the best bits of every other capital city combined – Brisbane is absolutely flourishing with an even brighter future ahead, teeming with everything you could possibly want in a true Aussie city.
Again, congratulations on moving to Brisbane. You're going to have a blast and create lifelong memories. Enjoy!
Moving To Brisbane? Hire a Professional Removalist
Whether you're moving from Brisbane, or to Brisbane – you can trust Kent Removals & Storage to get you there! Our Kent Brisbane Removalists have you covered.
Book your move to Brisbane with Kent or call: 13 55 31 now.
Blog Author: