Moving to Adelaide? 6 Reasons You'll Love Living in South Australia!
29th July, 2022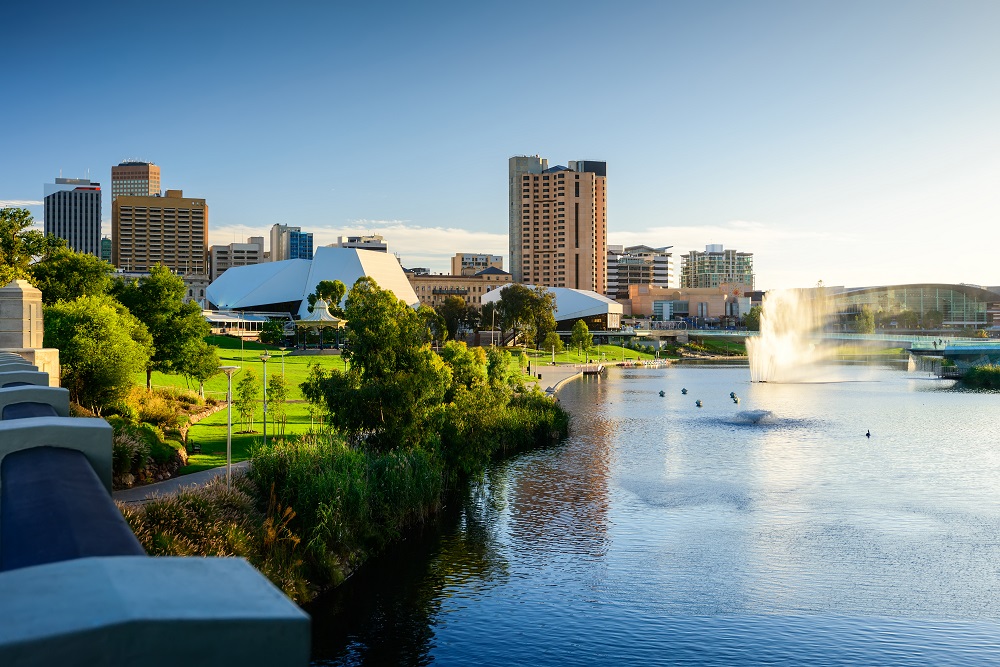 Moving to Adelaide? Whether it's a temporary or permanent move, you are making an excellent choice moving to the capital of South Australia. Don't be fooled by its smaller population, nor its understated, quieter appeal compared to its larger and noisier rival city counterparts – because Adelaide is a hidden city gem that will exceed your expectations and provide everything you need.
As Australia's smallest and fifth-populous capital with a population of 1,355,522 million, Adelaide is considered one of the more elegant cities with its Victorian-style parks, tree-lined streets, offering of space and solitude, and strong sense of community. It's also the only capital city of Australia that was not settled by convicts, but rather, was planned and established in 1836 for free British settlers.
Deemed a 'civilised, calm and sustainable city', you will love living in South Australia for its beautiful rural landscapes, sandstone cityscapes, action-packed festival calendar, incredible food, diverse communities, proximity to famous Aussie national parks and icons, as well as its lush, world-class wine regions. Its thriving local industries, excellent academic institutions, low unemployment rates and a healthy economy creates a smorgasbord of opportunities for all who enter.
We hope this has whet your appetite for great things to come. Start getting about moving to Adelaide! Here's Our Top 6 Reasons You'll Absolutely Love Living in South Australia!
1. Living in Adelaide is Affordable!
It's been said that Adelaide is Australia's most affordable capital city, making it an ideal city to live in and explore! With average rent almost 45% lower than Sydney, Adelaide is one of the most cost-effective capital cities to reside in, making it a magnet for families, students, and business-savvy entrepreneurs alike.
When it comes to living in Adelaide, get yourself up to speed with the city and its layout by familiarising yourself with the Adelaide Visitor Guide book of 2022 and its excellent downloadable city map.
Still deciding where to live in Adelaide? Feel reassured to know that no matter where you choose – Adelaide is one of the world's most liveable cities and any choice you make will be a good one. However, some suburbs do shine a little brighter than others in terms of tourist appeal and your specific preferences.
Here are some excellent Adelaide suburbs for you to consider:
2. Convenient Transport in Adelaide
When it comes to public transport – you can move around easily and affordably thanks to Adelaide's public transport system, the Adelaide Metro. Simply acquire yourself a metroCARD (great for regular users) to use on buses, trains, and trams.
Yes, that's right – Melbourne isn't the only one with trams! In fact, Adelaide boasts
a multitude of inner-city trams that wind through the city centre, which add to the city's unique appeal. Make sure to jump on The Glenelg tram, a free and fun way to explore the city – it's been rated the #3 things to do in Adelaide on TripAdvisor!
Alternatively, why not consider renting an E-scooter to explore the city! Jumping on the popularity of E-scooters across Australia, the City of Adelaide has provided two e-scooter operators with a trial permit to operate within the areas of the City and North Adelaide. Simply download the Beam or Neuron app to your mobile, create an account (includes payment) and read the terms and conditions. Once your account is set-up, use the app to locate and unlock an E-scooter near you!
Adelaide is also a bicycle-friendly city, with many secure bike lanes seen interwoven through the city and its suburbs. Another great incentive by The City of Adelaide is a bike sharing hire service called Airbike, which is a station-less bike sharing platform also operated and paid for using your smartphone. Much like the process for E-Scooters, download the Airbike app, set-up your account, and locate and unlock an Airbike near you!
3. Get Cultured in Adelaide!
Many of South Australia's most important artistic and cultural institutions are found right in the centre of Adelaide, and most of them are completely free to visit! For an epic day out learning and getting cultured, make sure to visit The State Library of South Australia, the South Australian Museum, and MOD (Museum of Discovery) – Australia's future-focused museum located at the University of South Australia. Like wine – don't miss National Wine Centre of Australia!
When it comes to museums, there's plenty to see. Consider delving into Australia's history at the South Australian Maritime Museum, Migration Museum, the Adelaide Gaol or visit the significant cultural tourism attraction that is Carrick Hill.
If you appreciate art, the Art Gallery of South Australia is incredible and worth a visit. Or head to The David Roche Foundation House Museum, which houses one of the greatest decorative arts collections in Australia. Alternatively, grab yourself a coffee in Adelaide city and head into the West End (Adelaide's creative precinct) to check out the Jam Factory Contemporary Craft and Design studio – an excellent centre featuring four exhibition spaces and a retail gallery.
4. Festivals, Food & Wine Galore!
While Adelaide may be one of the smaller capitals in Australia, it still packs a punch, delivering the most epic markets and festivals you have seen yet!
Home to Australia's first multi-purpose arts centre is the Adelaide Festival Centre (and home of South Australia's performing arts), where you can expect to see excellent artistic and musical performances such as The Australian Ballet, Adelaide Symphony Orchestra, Australian Dance Theatre and much more.
You can also get a hefty dose of culture at the massive Adelaide Fringe Festival, the internationally-acclaimed Adelaide Festival or WOMADelaide – an open-air, four-day annual festival set in Adelaide's botanic gardens. Other excellent festivals hosted in Adelaide are the LGBTIQ+ Feast Festival, the OzAsia Festival – an Asia-focused arts festival, and Indofest – Adelaide's free annual family festival celebrating Indonesian food and culture.
For culinary delights, head into Adelaide's hippiest rooftop bars and hidden laneway pubs or make another trip into Adelaide's West End – named by Lonely Planet as the "coolest neighbourhood in Australia". When it comes to markets – don't miss The Adelaide Central Markets – home to 80+ vendors selling organic fruit, premium meats, and more. For excellent shopping, head to Rundle Mall.
5. Calming & Relaxing
After all the whirlwind festivals, museums trips and gorging yourself on quality food and wine, it's time to take some time out and relax. What better way to find peace and tranquilly than in a smaller city like Adelaide – with less people and easier access to nature.
Start by immersing yourself into the Adelaide Botanic Gardens, which not only provides delightful flora to meditate in, but also provides a unique learning environment for all ages – offering festivals, events, workshops, masterclasses, traineeships, kid's activities, and school learning programs! Check out their What's On event program.
Once you've had your nature reset at the spectacular Botanic Gardens, get your 'zen on' in the Himeji Garden – built to commemorate the Japanese city of Himeji (one of Adelaide's sister cities), this garden is a true oasis, showcasing the work of Japanese landscape designer Yoshitaka Kumada and volunteers.
If you love animals or have children to entertain – the Adelaide Zoo ticks all the boxes. As Australia's second oldest zoo, it's home to 2500 animals and 250 species of exotic and native mammals, birds, fish, and reptiles.
Feeling a little adventurous? Get your hike on and chase waterfalls at Waterfall Gully! Located in the foothills of the Mount Lofty Ranges (within Cleland National Park), it's a 5km drive east-south-east of Adelaide city.
6. Explore South Australia
Once you're done exploring Adelaide, don't waste time venturing outside of the city fringes. When it comes to weekend getaways, living in South Australia will provide you with endless adventures, many of which are only a short drive from the city.
If you love good food and wine, then you're in luck moving to Adelaide – because South Australia's wild seas and pastoral land (fed by the Murray River) offers up a bounty of fresh delights, grapes, cheeses, and excellent seafood to keep foodies and wine connoisseurs very satisfied.
South Australia also boasts Australia's most famous, award-winning wine regions – the Barossa Valley, McLaren Vale, and Clare Valley, as well as quality seafood along its famous "seafood frontier" – the Fleurieu Peninsular and Eyre Peninsula. For an enjoyable drive, head to the twists and turns of the Adelaide Hills to spot koalas, venture out to the charming countryside villages such as the German-style town of Hahndorf which is a unique tourist attraction, and home to the famous Beerenberg Farm that supplies excellent condiments Australia-wide.
Or how about escaping to the arid wilderness of the outback for the road trip of a lifetime – drive the great Nullabor Plain, visit the Great Australian Bite, before venturing inland to explore the opal mines of Coober Pedy and the peaks of the Flinders Ranges. If you just want to relax and immerse yourself in nature and wildlife – Kangaroo Island is only a short drive and ferry away from Adelaide.
Conclusion? Adelaide Is a Balanced Beauty!
If you are looking for a city that offers excellent lifestyle options, affordable living, adventure on your doorstep, while also being family-friendly, relaxing, and balanced – Adelaide is your answer. This vibrant city offers affordable and relaxed living, and an exciting arts, music, wine, and food scene to keep you hooked. With an ever-rotating events and festivals calendar and an abundance of outdoor activities, parks, and attractions to explore state-wide, you'll feel right at home.
Moving to Adelaide is going to be a phenomenal experience. We hope you enjoy this beautifully balanced city that offers everything for everyone. Have fun!
Moving To Adelaide? Hire a Professional Removalist
Whether you're moving from Adelaide, or to Adelaide – trust Kent Removals & Storage to get you there! Our Kent Adelaide Removalists have you covered.
Book your move to Adelaide with Kent or call: 13 55 31 now.
Blog Author: