Kent Wins Customer Service Excellence Award for the Sixth Consecutive Year
17th August, 2017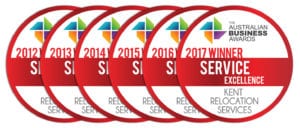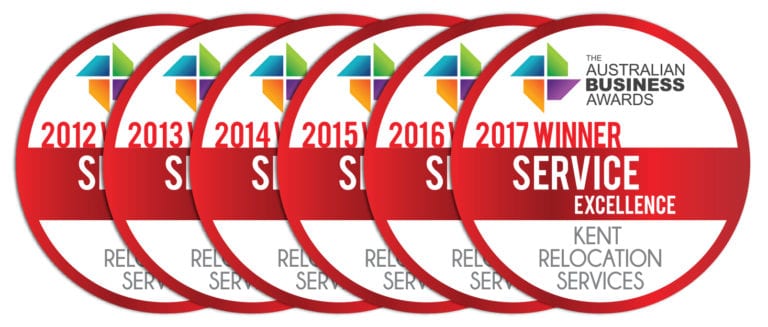 Kent Removals & Storage is extremely proud to announce that we have won the 2017 Australian Business Award (ABA) for Service Excellence. This is the sixth consecutive year that we have taken home the highly-regarded title.
The ABA Award for Service Excellence recognises organisations that have achieved outstanding results through initiatives that demonstrate innovative service strategies and outcomes.
Kent Removals & Storage CEO Adam Blythe said, "We are delighted and honoured to be recognised as the winner of the 2017 Australian Business Award. Receiving this accreditation for the sixth consecutive year demonstrates Kent's commitment to going above and beyond, providing superior care and peace of mind to our customers throughout Australia and around the world."
"The entire Kent team sees this as an opportunity to recognise our achievements, as well as an opportunity to continuously improve our practices. This award is a true reflection of our commitment to deliver exceptional customer service to every one of the 60,000 Australians that trusts us with their valuables every year."
"Our 70 year history inspires us, as well as the trust of the one million Australians we have helped move since Kent was first established. Moving forward, Kent will continue to place customer satisfaction at the forefront of all we do," said Blythe.
Most recently, Kent Removals & Storage has improved upon its delivery of service excellence through a variety of initiatives:
Pioneered the creation and maintenance of a 24/7, instant online quoting system, making us the first removals provider to do so
The promotion of customer satisfaction surveys, along with customer feedback tools. Kent takes the information gained via these resources extremely seriously, and will continue to act in response to any issues raised in order to ensure first-class standards of service
Placed emphasis on employee growth, providing training initiatives to develop the professional skill set of employees, Kent will continue to provide the level of service for which we've long been recognised
Constant development of innovative ways of storing more goods with less space. Through our enhanced packaging methodology, we've been able to discover two main advantages. First, there's a cost reduction involved for the customer. Second, during the removals process, less space means less movement of goods during transportation; this amounts to more security and safety for our customers' possessions. Continued training programs are devised to ensure our professionals are up to speed with the latest methodologies
Customer service, courtesy and professionalism training. Throughout the year, our employees undergo refresher courses in conflict management, along with customer service and sales development programs.
The Australian Business Awards are the regional chapter of an integrated, hierarchical leadership program that transcends the national and international scale. The awards seek to recognise industry pioneers that demonstrate innovation, leadership and excellence in the pursuit of service.
As honoured as Kent Removals & Storage is to have received this industry award, nothing makes us prouder than knowing our customers are happy.