How to Choose a Moving Company?
4th February, 2016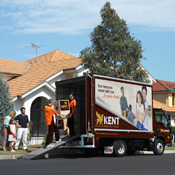 Choosing the right moving company can make or break your move. Follow Kent Removals tips on how to choose a moving company, to ensure a safe, secure, stress-free move. The right moving company should fulfill 10 key qualities:
1. Be 100% licensed and accredited
2. Employ professional, highly trained, experienced removalists
3. Demonstrate clear evidence of customer satisfaction
4. Provide free-of-charge moving quotes and free in-home visits
5. Carry all necessary insurance, including Workers' Compensation and Public Liability Insurance
6. Offer a comprehensive range of additional services
7. Offer comprehensive, flexible moving and storage insurance options
8. Provide secure storage
9. Accept all forms of payment
10. Offer fair and reasonable cancellation policies.
10 Key Qualities to Help You Choose a Moving Company:
No matter how near or far your destination, moving always involves the upheaval of your life and precious household treasures. During this stressful time you need a moving company that has the resources, experience and expertise to remove this stress and ensure your move is as smooth and efficient as possible. Choose a moving company by ensuring they have these 10 key qualities:
1. 100% Licensed and Accredited
Licenses and accreditations are proof that trusted third parties have inspected and approved the procedures and processes of the moving company in question, including:
Moving industry accreditations: look out for AFRA, FAIM and FIDI industry accreditations. To become a FIDI or AFRA Accredited Mover, moving companies must prove compliance with very strict quality requirements during regular assessments by independent auditors. Other criteria for membership include experience, superior quality standards, strong business ethics, and financial security
ISO accreditation: look for ISO accreditation, particularly when it comes to Occupational Health and Safety, and Quality Assurance. If a moving company makes an effort to keep their employees and customers safe, chances are they will also be more careful with your treasures.
2. Employ Professional, Highly Trained and Experienced Removalists
Choose a moving company that is prepared to invest in their employees and provide them with the regular, ongoing training needed to conduct exceptional moves. Removalists should look and act professionally (including arriving in clean, presentable uniforms and moving trucks) at all times. In addition, professional moving companies will have superior in-house quality standards that all removalists must adhere to, particularly in relation to packing processes.
3. Demonstrate Clear Evidence of Customer Satisfaction
If you are using a removalist service for the first time, without recommendations from family or friends, then we recommend investigating feedback posted online by other customers. There are any number of review websites that you can check, as well as social media, and even the moving company's website itself. Don't be afraid to ask for references.
4. Provide Free-of-charge Moving Quotes and Free In-home Visits
Choose a moving company that provides a moving quote based on a free in-home visit, to ensure the most accurate quote possible. During an in-home visit, a professional removals expert will get an accurate idea of the volume of items you wish to move, how much this will cost, and how long it will take. As a result, there is less risk of price blow-outs and delays due to a lack of resources on moving day. If your mover won't provide an in-home quote, or asks for payment for this service, try someone else.
5. Workers Compensation and Public Liability Insurance
Reputable moving companies all have one thing in common, they care about their employees, and have Workers Compensation to ensure their employees are covered if they are injured at work. They also carry Public Liability Insurance. This insurance is incredibly important in the removals industry; it ensures that you (or any other third party) are covered if an injury is suffered during your move. Without Public Liability Insurance, you may have to pay your own medical bills or undertake a costly court battle if issues arise. Moving companies should be able to provide copies of these Insurance Certificates on request.
6. Offer a Comprehensive Range of Additional Services
While many removalists offer a straightforward furniture removal service, some boast a range of additional services that can turn a good move, into a great a move. These services include things like professional packing and unpacking services, packing boxes, and even car transportation. If you find yourself running short on time as moving day approaches, you'll be thankful to have a mover that offers this additional support.
7. Flexible Moving and Storage Insurance Options
The offer of comprehensive and flexible moving and storage insurance options is the marker of a company that is confident in their ability to uplift and deliver your belongings safely. Choose a mover that will provide you with a range of insurance options tailored to suit your specific needs.
8. Provides Secure Storage
In the case of any unforeseen delays, it is always a good idea to opt for a moving company that also offers secure storage solutions. This storage should be security monitored 24/7 with back-to-base alarms and fire monitoring systems in place. It should also be located in an area that is not prone to flooding. It is a good idea to drive past the storage facility and make sure it looks safe and secure before placing any of your treasures into storage.
9. Accepts All Forms of Payment
Moving companies that only accept cash should be avoided. The most obvious reason to avoid paying cash is that there is no paper trail of your cash payment. If something goes wrong, it is far easier to chase up refunds when you have paid via electronic means. Asking for cash payment can also be a sign that the company is trying to avoid legal requirements, such as paying tax and showing evidence of earnings.
10. Fair and Reasonable Cancellation Policies
Sometimes unavoidable problems occur; tenants fail to vacate on time, or builders delay hand over; which mean you need to cancel or postpone your move. You should always enquire about cancellation polices before you accept a quote; otherwise you may be forced to foot the bill for a move that didn't occur.