How to Move House With COVID-19
9th April, 2020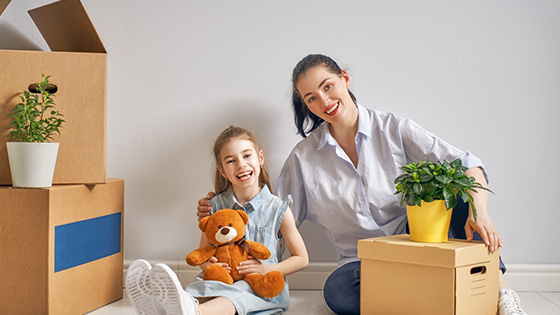 At the best of times moving to a new house can be a stressful experience, but moving house in the middle of a global health crisis – such as we are currently experiencing with the COVID-19 outbreak – brings with it new levels of uncertainty. The good news is that, under most circumstances, local house moves within your current city, town, or state/territory are still possible, though it remains advisable to use a reputable removals company to assist. Removal companies – as transport and logistics services – are exempt from many of the restrictions currently in place, while also having the requisite knowledge about specific federal and state/territory regulations regarding movement and measures and actions required to limit the spread of the coronavirus disease (COVID-19). Kent Removals & Storage have compiled the following six-step guide to moving house during COVID-19 restrictions.
Step 1: Check State/Territory Guidance and Restrictions
Step 2: Contact Kent Removals & Storage
Step 3: Arrange Disconnections & New Connections
Step 4: Organise New Moving Boxes & Packing Materials
Step 5: Prepare & Pack Your Belongings
Step 6: Move Day
Step 1: Check State/Territory Guidance and Restrictions
While the general advice is to delay any house moves until coronavirus (COVID-19) restrictions are eased or lifted, it is also understood that due to contractual obligations this won't always be possible. As such, moving to a new house locally or within your current state/territory is still allowed at this time. However, each state/territory has different guidelines regarding this, and in some cases, some restrictions or special requirements may apply. By way of example, Western Australia has imposed restrictions on regional (intrastate) travel, which require an exemption to be granted in advance. Our resources as the end of this article include the URLs for each state or territory's communications relating to COVID-19, which include specific guidelines or restrictions relevant to the region.
Removal companies such as Kent fall under transport & logistics services, which are currently automatically exempted from any restrictions on local, regional, or interstate travel. But this does not apply to you or your family. Kent Removals & Storage are constantly monitoring state and territory regulations relating to the outbreak of the coronavirus disease (COVID-19), but it is essential that you are also aware of the regulations that may affect your move.
Step 2: Contact Kent Removals & Storage
With them categorised as an essential service, and therefore being exempted from most travel and movement restrictions, using a reputable removals company such as Kent Removals & Storage is highly recommended while any form of coronavirus restrictions are in place. At Kent we are not only aware of all restrictions and requirements relating to local and interstate house moves, but we have also adapted all our services to ensure they meet or exceed any recommendations for keeping you, your family, and our team of expert removalists safe during this time.
If you have already booked a move booked with us, we recommend you contact us ahead of time to confirm that you are still moving, and to check if there are any new special requirements for you to follow or implement. We are also available for scheduling new local moves, whether on short notice or for weeks from now, and can arrange for quotes and advice on our extra moving services that are available, all while still ensuring they are carried out in ways that keep you, your family, and our removalists safe.
Step 3: Arrange Disconnections & New Connections
Arranging the disconnection of your current services and utilities and scheduling new connections for these in the home you are moving to are usually done within two weeks of your move date. However, while all essential services are meant to continue during any stage of coronavirus related restrictions, many service providers could be operating with a reduced staff complement or shortened working hours. So, scheduling these as soon as you have confirmed your move date – and that you will still be able to move to your new address – is critical. Doing this well in advance of any major move preparations gives you sufficient opportunity to reschedule your move if any utilities or essential services can't be connected in time due to limited operational capacity. There are no industries that haven't been affected by the COVID-19 outbreak in some way, so you shouldn't be expecting any services to operate the way they normally do.
Step 4: Organise New Moving Boxes & Packing Materials
Your good health should be a priority, now more than ever. There are many aspects of COVID-19 that experts remain unsure of, particularly when it comes to how long the virus lasts on different surfaces. With this in mind, it is wise to only use new moving boxes and packing materials to pack all your belongings, instead of recycled or discarded boxes. And this applies to both DIY or self-moves and moves using a removals company. Kent is able to supply a wide range of boxes and packing materials suitable for all types of household belongs, from large TVs and appliances, through to clothing, books, and fragile items. And because we follow all recommended guidelines relating to combating the spread of COVID-19, you can be sure this also applies to keeping our boxes and packing materials free from any possible contamination.
Step 5: Prepare & Pack Your Belongings
Our moving house checklists are a great resource for helping you to prepare for your move, broken down into steps up to two months ahead of your actual move day. Using these checklists will not only help guide you on when and how to pack different household items, they also remind you of crucial steps and actions you need to follow to make your move as stress-free as possible. There are also checklists for packing tips and end-of-lease cleaning advice, with the Kent Ultimate Moving House Checklist available as a free, downloadable PDF document too.
Kent's professional packing and valet services are still available during this time, but you should contact us or your Move Consultant to learn more about how these services will operate during any stage of coronavirus restrictions in place in your state or territory. Our valet services are particularly useful for ensuring your new home is spotlessly clean before you and your family arrive, even including unpacking and arranging the contents of all your moving boxes, and styling the furniture for you, if needed.
If you choose to pack all your boxes and wrap all your furniture yourself, it is crucial that you properly label all boxes and furniture clearly, so that our expert removalists know where to place the items in your new home. This not only reduces the time spent loading and unloading the removals van, but also limits unnecessary interaction under these unusual circumstances.
Step 6: Move Day
Limiting interaction is encouraged at the moment, so while you can still expect the same award-winning customer service from our removalists that Kent is known for, you can also expect some small changes. These include our staff refraining from shaking hands and maintaining a safe distance from you and each other throughout the move, in accordance with recommended social distancing practices. Our removalists do travel with and use hand sanitiser throughout each move, in addition to using essential personal protective equipment (PPE) such as gloves and face masks.
Other steps you can take, though not required, include:
Limiting the number of people in the house on move day, ideally to just one responsible person, aside from our removalists.
Having your own pen close at hand for any documentation you may need to sign.
Providing our removalists with access to a washroom or bathroom, so that they can regularly wash their hands throughout the move, in addition to using the hand sanitiser they all travel with.
Either move all boxes into a single room close to the entrance our removalists will use, or moving them into a single space within each room. This helps speed up the actual move, while also limiting unnecessary movement through your home.
Provide our removalists with floor plans for each room in your new home, showing where they should place the boxes or specific furniture items when offloading your belongings. Alternatively, if you aren't making use of our valet services, you could also tape off sections of the floor in your new home indicating where items should be placed.
Note that none of the steps listed above are required for house moves taking place during coronavirus restrictions on movement and interaction, but they can make the move a little easier and safer for everyone involved.
At Kent, we understand that some house moves in the middle of COVID-19 restrictions are unavoidable for many reasons, and we are able to provide advice and a tailored package to suit your needs. Get in touch with your local Kent Removals & Storage office before making any hasty decisions.
Resources
https://preview.nsw.gov.au/covid-19
https://www.covid-19.sa.gov.au/
https://www.coronavirus.tas.gov.au/
https://www.dhhs.vic.gov.au/coronavirus
https://www.wa.gov.au/government/covid-19-coronavirus
https://www.covid19.act.gov.au/home
https://coronavirus.nt.gov.au/
https://www.covid19.qld.gov.au/